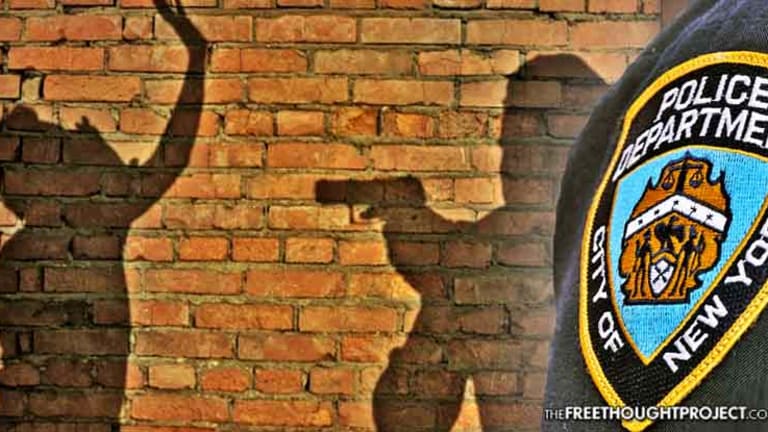 Video Proves Cop Robbed Innocent Man at Gunpoint—Blamed Robbery on Innocent Bystanders
A police officer held an innocent man at gunpoint, stole his pants, money, and phone, and smacked him with his service weapon, and then filed a false report claiming he was the victim.
New York, NY — When a New York Police Department officer reported that he was robbed at gunpoint, his colleagues took his words seriously and arrested the alleged armed robbers. But surveillance footage showed a very different story in which the only one who was at fault was the officer who claimed he was the victim.
Anthony Delacruz, 34, claimed he was the victim of an ambush in which he was held at gunpoint outside of a nightclub while he was off-duty. According to a report from the New York Post, Delacruz said he was robbed by five men who stole his gold chain, Rolex watch, and a gold ring.
However, the claim that Delacruz's Rolex was stolen was later retracted, and when officers found a shell casing at the scene that matched Delacruz's department-issued gun, they realized that his story did not add up.
While the officer eventually changed his story to add the part where he exchanged gunfire with the robbers in his attempt to escape, the New York Daily News reported that Delacruz also raised red flags when he insisted on the presence of a union representative each time he was asked about basic details of the incident.
While Delacruz's fellow officers were quick to arrest the men he claimed robbed him at gunpoint, those suspects were released from jail within a day. As the Post reported, surveillance footage revealed that instead of being the victim, Delacruz was actually the perpetrator who robbed another man at gunpoint:
"Yet his story began to unravel when surveillance footage showed the men weren't involved in any robbery, and instead revealed Delacruz pointing his department-issued gun at Justin Eilely. He then ordered Eilely to disrobe, took his cash and cell phone, and smacked him across the face with his service weapon, authorities said.

A casing that matched the cop's gun was later found, and the muzzle tested positive for Eilely's DNA, according to prosecutors. More footage allegedly shows Delacruz and an accomplice fleeing the scene carrying clothes and shoes, and a man wearing only underwear and a T-shirt wandering back into the frame."
Not only did the surveillance footage help investigators to learn what actually happened, it also led to Delacruz's suspension. While the accomplice who was with Delacruz has not yet been arrested, the NYPD officer has been charged with 14 counts of robbery, assault and filing a false report, and he faces up to 25 years in prison.
In response to the incident, Brooklyn District Attorney Eric Gonzalez said he plans to hold the officer accountable for his actions.
"This defendant's alleged brazen and criminal behavior was in direct contradiction to the oath he took to protect and serve," Gonzalez said. "He then allegedly made a deplorable situation worse by falsely accusing multiple individuals of robbing him. We will now seek to hold him accountable."
As The Free Thought Project has reported, the phenomenon of police officers filing false reports to cover their tracks, and then being exposed as liars once the dash camera, body camera or surveillance camera footage is released, is not uncommon.
In one case, police shot and killed a man sleeping in his car, and it was not until the Body Cam footage was released that it was revealed that the officer lied about why he opened fire on the sleeping man who did not appear to be a threat. In another case, police claimed they shot and killed a mentally ill man because he charged towards them with a weapon. However, Dash Cam footage revealed that the only thing the man was armed with was a water main key, and he did not charge towards the officer who unloaded an A-15 targeting him, and taking his life.