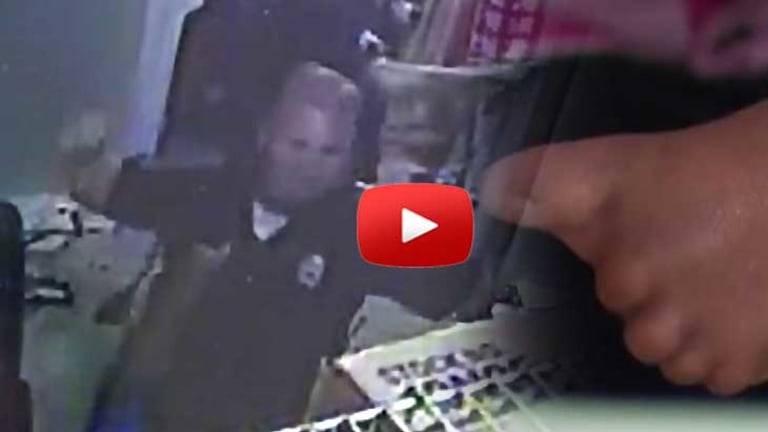 VIDEO: Cop Brutally Attacks Innocent Disabled Man with One Hand -- Then Arrests Him
An innocent man with one hand has been vindicated after surveillance footage proved he was the victim in the assault -- not the cop.
Providence, RI -- Surveillance video from an assault on a police officer case shows how cops will lie and deprive people of their freedom to cover up their violent ways.
Last year, Esmelin Fajardo was arrested and charged with resisting arrest and assault on a police officer. However, the only one assaulted in this incident was Fajardo.
The incident happened last September as police were shutting down a nightclub for being open too late. As police were 'protecting' society from the dangers of people being in a private establishment past 2:00 a.m., Fajardo tried to tell them that he worked at the club. However, officers weren't having it.
As cops were escorting everyone out of the building, all hell broke loose when one of them attacked Fajardo.
According to the cowardly officer's report, Fajardo balled up his left fist and attempted to swing at him. But, because of a birth defect, that is impossible.
"There was no way for me to make a fist," Fajardo said. "Especially with my left hand."
Fajardo's left hand has been disabled since birth and has no fingers with which to even make a fist.
"I stepped away. You can see it in the video," he said. "He grabbed me, punched my face, hit me with a flashlight. I was just trying to save my life."
Fajardo, fearing that he was going to be killed by this maniac officer, simply put up his feet in defense. This defensive move was interpreted by the cop as an attack, so he became even more violent.
"I just thought I was going to die that moment," Fajardo said. "I thought I was going to lose my life."
The video then shows Fajardo getting up, with the officer who had punched him striking at him again. Fajardo picked up a broomstick, again, in a move to simply protect himself as the pepper spray had blinded him.
"I couldn't see or breath after the pepper spray," Fajardo said. "I was scared."
As the officer took out his baton, the assault finally stopped and Fajardo was arrested.
According to the Providence Police Department, the unnamed officer is still on the force. However, they assure the public that he was disciplined. When asked what punishment the officer received for assaulting an innocent man and attempting to deprive him of his freedom for years, the department wouldn't say.
Luckily for Fajardo, after the video surfaced, prosecutors realized they don't have a case and are allowing him to plea not guilty.
Amy Kempe, the Public Information Officer for the Rhode Island Attorney General's office, explained that this matter will soon be off his record. "He was allowed to enter a not guilty plea," Kempe said. "If he stays out of trouble, the matter is off his record."
"I'm very relieved," Fajardo said. "It was very stressful. You don't even know what I went through over the past year. It was painful."
This case highlights the dangerous nature of violent cops. This officer committed a crime, on video, and could have ruined an innocent man's life. However, because he carries a badge and a gun, not only will he not be charged, he won't even lose his job.
[author title="" image="https://tftpstagingstg.wpengine.com/wp-content/uploads/2016/03/magorist-e1456948757204.jpg"]Matt Agorist is an honorably discharged veteran of the USMC and former intelligence operator directly tasked by the NSA. This prior experience gives him unique insight into the world of government corruption and the American police state. Agorist has been an independent journalist for over a decade and has been featured on mainstream networks around the world. Follow @MattAgorist[/author]