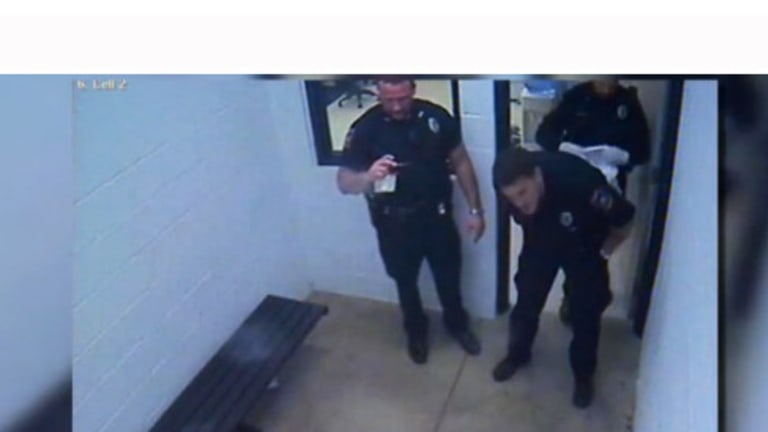 Surveillance Video: Cop Disfigures Handcuffed Man in Prison Cell. Films it With His Phone
Former Pennsylvania police officer, Walter Johnson disfigured a handcuffed man in a prison cell and no charges were filed. He was later fired, not for the brutality, but for refusing a drug test. However, shortly after he was fired for refusing the drug test Avalon Police 'miraculously' learned that a surveillance video existed that showed Officer Johnson abusing prisoner Robert Szilagyi.
This raises the question, would this tape have ever been released had Johnson not been fired? There are clearly other officers in the room witnessing the abuse, why aren't they under investigation for the cover up?
Johnson was seen heckling and filming the severely beaten man, whose teeth were later found in his throat and jaw broken. The police claimed that Szilagyi's injuries were due to a struggle during his arrest. But after the release of this video, Walter Johnson has been convicted of beating a handcuffed prisoner in a holding cell and covering it up.
According to WTAE 4 Pittsburgh,
 Walter R. Johnson, 38, of Oakdale, was convicted at a non-jury trial of simple assault and official oppression -- the cover-up charge. An Allegheny County judge on Monday also sentenced him to two years' probation and two weeks in jail, though Johnson doesn't have to serve that time until January. Johnson's defense attorney, James Wymard, didn't immediately return a call for comment and the officer doesn't have a listed home telephone.
As expected the sentence is hardly comparable to the atrocity that this raging tyrant committed, but at least he is no longer in a position of power to legally oppress anyone else.
Scroll Down inside this window to watch the video.