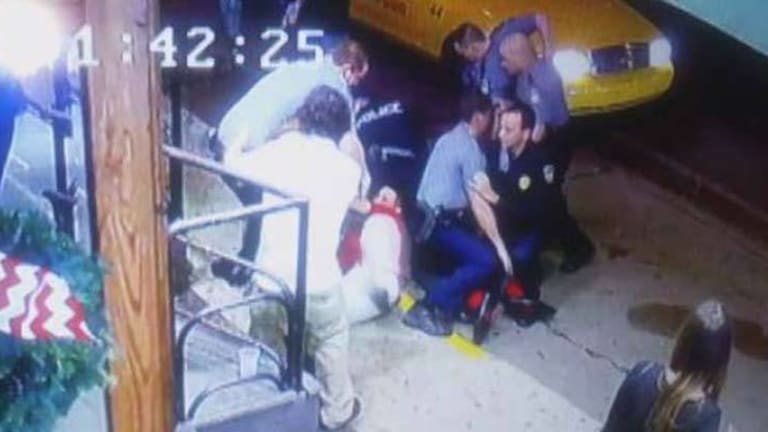 Surveillance Video Exposes Cops as Liars After Assaulting and Arresting a Man Filming Them
Baton Rouge, LA -- A Virginia man visiting a friend in Baton Rouge was thrown to the ground, assaulted and arrested after filming an officer roughing someone up.
Daniel Clement, 22, of Flint Hill, has now sparked an internal affairs investigation within the Baton Rouge Police Department as the surveillance footage he obtained disputes the claims made by officers.
According to WAFB, Clement was one of several people police arrested outside the Varsity Theater near LSU just after midnight Monday. Witnesses say paramedics were first called to the scene to assist a female who had passed out after a holiday party that was being held inside.
Police were then called to the scene "in reference to EMS and Fire needing assistance with a large hostile crowd making threats and not letting them do their jobs," a responding officer wrote in his probable cause report tied to Clement's arrest.
However, the police apparently did not know their actions were caught on the building's surveillance cameras and clearly lied about what happened, claiming that Clement "jumped on that officer and began pushing that officer off of his friend."
Clement told WAFB a different story and one that lines up with what we see on the surveillance footage.
"I saw a police officer push somebody and I've always been told if something like that is going on, it's important to have an objective source of data for what happened," he said. "So, I pulled my phone out and I started filming."
That is when a Baton Rouge police officer is seen on surveillance video walking over to Clement and snatching his phone away.
"It got ripped from my hands and as I turned to see who ripped it, another officer slammed me into the railing outside," Clement added.
That officer is then seen on surveillance video putting his hands around Clement's neck and body slamming him down to the ground where he partially landed on top of another officer who was apprehending someone else.
"They threw me on the ground and started throwing their knees into me," he explained.
 "I'm not allowing them to treat people this way. Any media that can shine light on this is good because unless people are educated on problems, there's no progress," said Clement.
Clement was booked into the East Baton Rouge Parish Prison on charges of public intoxication, battery on police, resisting an officer and remaining after forbidden. He still hasn't received his phone.
WAFB 9 reports:

Police spokesman Cpl. L'Jean Mckneely said there is very little he can say about the incident because of the ongoing internal affairs investigation.

"Right now, everything is under review," Mckneely said. "We're doing a thorough investigation. The chief is trying to get down to the bottom of it to find out exactly what happened. After the investigation is completely over, he's going to make a decision and whatever his decision is it will be done swiftly and effectively."

Mckneely added that in general, there is nothing illegal about recording the actions of police, if the person is doing so from a safe distance.

"If they're in a safe area and they're not interfering with any activities that the officers are doing, then they are able to use their cell phones to record any incidents or actions that are taking place," he said.

Mckneely would not comment on whether Clement was recording from a safe distance, citing the ongoing investigation.
Watch the video below, does it look like Clement jumped on the officer?

H/T PINAC