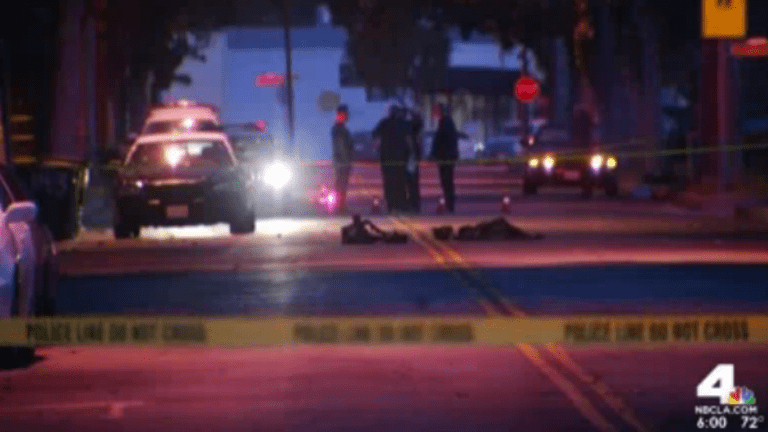 Man Charged With Murder After SWAT Officer Was Killed Serving No-Knock Search Warrant at His Home
'Pasadena, CA -- A SWAT officer serving an early morning "no-knock" search warrant was killed after being shot in the head during the raid.
Officer Shaun Diamond, 45, succumbed to his injuries Wednesday in a Pasadena hospital. David Martinez, of San Gabriel, was arrested on suspicion of attempted murder of an officer.
Diamond was wounded as he attempted to lead fellow officers into the home around 4 a.m. Tuesday, Los Angeles County sheriff's Lt. Eddie Hernandez said.
As is the case in most of these military-style raids on homes, it took place in the middle of the night, when the homeowners are usually asleep.
Had police simply knocked on the door this entire incident could have been avoided.
The warrant was being served to investigate Martinez's involvement in an alleged "outlaw motorcycle gang." Instead of gathering evidence through a peaceful and announced search and possibly making an arrest by conducting an actual investigation, SWAT goes in, without knocking and the situation is immediately escalated and prone to violence.
Once we take a closer look at this incident, we can see some inconsistencies as well.
According to the police, Diamond was shot in the back of the head as he lead the SWAT team through the door of Martinez's house.
"When Officer Diamond was attempting to breach the outer door of the location, the interior door opened and he was met with gunfire," Hernandez told reporters at a news conference.
Martinez then surrendered without incident, Hernandez said. Officers did not return fire because the suspect's father was in the way, he said.
This implies that Martinez was waiting at the door as SWAT came in, was somehow to able maneuver a shotgun behind Diamond's head, got off one shot, and then managed to move back behind his father before any of these highly trained SWAT officers got off one shot.
If this official recount is true, it is fairly obvious that Martinez was simply defending his home from would-be intruders and only fired one shot because he then realized it was the police.
If it's not true and the shot wasn't fired by Martinez, it implies that the shotgun round to the back of Diamond's head was friendly fire, referred to by police as an Accidental Discharge, or AD.
The AD scenario seems much more likely.
How often have police shown restraint when they are NOT shot at?
We've seen SWAT teams shoot people ranging from the very young to the very old, who've posed no threat. Martinez was supposedly at point blank range holding and having just fired a shotgun at them, killing one of them, and they did not shoot back?
Unfortunately for Martinez, neither of these roads will likely lead to his freedom.
If Martinez actually shot and killed Diamond because he legitimately thought he was an intruder, he will have a hard time convincing a grand jury that he acted in self-defense because the prosecutors will use his past record against him.
If Diamond was shot by one of his own, Martinez can and probably will be charged with his murder under the highly unethical legal doctrine which allows police to defer the negative consequences of their irresponsible actions onto others, known as the  Felony Murder Rule.
Most of the time, if a person or persons are breaking into your house, dressed in black and screaming, the homeowner is completely justified in shooting at these intruders. However, if those people dressed in black, carry a state sanctioned metal badge and call themselves police officers, you can and will face murder charges for defending your home.
If the person has a police record, you can rest assured that the public will refuse to question the ethics of serving a search warrant, at 4 am, with a dozen storm troopers armed with AR-15s, armored vehicles, and grenade launchers; all to 'take a look around.'
The number of no-knock raids has increased from 3,000 in 1981 to more than 50,000 in 2005, according to Peter Kraska, a criminologist at Eastern Kentucky University in Richmond.
Could police not solve crimes prior to exponentially increasing the number of forced, unannounced entries they conduct?
Let's also not forget that all people are innocent until proven guilty, the notion of the no-knock search warrant completely assumes guilt prior to any due process.
The bottom line is that these raids for search warrants are highly unnecessary, unethical and dangerous and they have a large capacity for turning an otherwise peaceful situation, in to a violent one.
This is one of many tragic stories which highlights the sheer irresponsible and dangerous consequences of creating such a militarized police state.