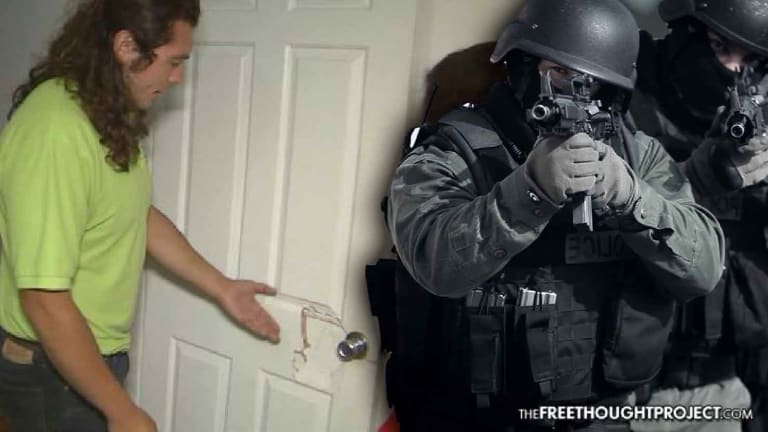 SWAT Mistakes Prayer Group for Gun Thieves, Raid Wrong Home, Detain 14yo Girl in Bathroom
A Maryland police department SWAT team destroyed property and detained and assaulted family and friends, only to learn they're at the wrong house.
Gaithersburg, MD — Guns Loaded? Check... Extra Ammunition? Check... Bullet-proof protective vests? Check... Right home address? Uh oh! In yet another SWAT Team flub, a home has been raided, and its occupants beaten. However, once again, the police went to the wrong address.
The Carroll County Sheriff's Office in Gaithersburg admits they got it all wrong when they burst into Israel Orellana's home in Montgomery County. Orellana has the same name as the man police were searching for in a gun theft case. But still, incredibly, Carroll County got a warrant to search the wrong address. Worse yet, the group of people gathered in the home were church goers who were spending the night socializing and praying.
Orellana told reporters, "I thought it was my mom's friends because sometimes they pray and they start dancing." But that night, it wasn't dancing which was disturbing his peace, it was officers of the peace doing so.
"So I get up from my bed and I start walking over to my door. And as I'm opening my door, I make eye contact with the SWAT officer and he pushes up against the door with his shield and he slams me against the wall." Then, he describes what TFTP has all too often criticized, the charges of resisting arrest to free citizens who feel they've done nothing for which they should be arrested. "He starts screaming at me, 'Stop resisting! Stop resisting!'" while the SWAT team raid continues to go down.
Orellana showed FOX 5 a bruise on his face and scrapes on his arm. He said his hands were tied behind his back and he was taken upstairs to find that his family and his mother's friends were also detained. He says officers barged in on his 14-year-old sister in the bathroom.

"It was really horrific," he said. "You feel really helpless during the whole situation. Like you know you're innocent, you're telling them you're innocent, but they just see you as a criminal."
The raid consisted of two counties working together to effect an arrest of another "Israel Orellana," who was wanted in the burglary of 20 guns and money stolen from a residence. The police acted on video surveillance they'd acquired from casing the home but even armed with video imagery, the Carroll County Sheriff's Office still got it wrong. They got a judge to issue a search warrant for Orellana's home and then requested that Montgomery County police execute it.
Both Israel Orellanas live in Gaithersburg and share similar appearances as stated by police who used Orellana's driver's license to determine identity.
Colonel Larry Suther told FOX 5 that an internal investigation will be conducted into the egregious error. "We're going to take a hard look at how we got to that point," Suther said.
Orellana says he wants the police to be held accountable for their actions, especially since his mother had to be hospitalized for the subsequent panic attack. She's also battling cancer and currently undergoing treatment.
"She's undergoing chemo, so her medicine puts her at high-risk of a heart attack...And when she had the panic attack, it was very serious to all of us," he said. "This isn't really about money to me. There needs to be action taken. People need to be held responsible, and they need to do a better job," he emphasized again.
"Like, it's just that plain and simple. They can't be breaking into people's houses just because I have the same name and I look like someone," he concluded.
We at The Free Thought Project have been chronicling the actions of the Police State which acts with impunity and refuses to pay for damages for invalid incursions such as the one described in the aforementioned story.
The Carroll County Sheriff's Office issued the following statement, which, by the way, makes no mention of any promise to pay for any damages caused by the lawless home invasion.
The Carroll County Sheriff's Office, following investigative leads in a case where numerous guns had been stolen from a residence in Carroll County, obtained search warrants for a residence in Montgomery County. Unfortunately, the suspect shared the same name and general location as an unrelated person, and investigators initially went to the unrelated persons address.
So, once again, as evidenced in the thoughtlessly prepared statement, the police are again blaming the victims, in no uncertain terms, that he was targeted because he had the same name, lived in the same general area as the suspect, and may have shared some type of similar appearance. Yes, that sounds a lot like racial profiling. Nice work men! Thank you for your service, now go fix Mr. Orellana's home and pay for him and his mother's medical bills.