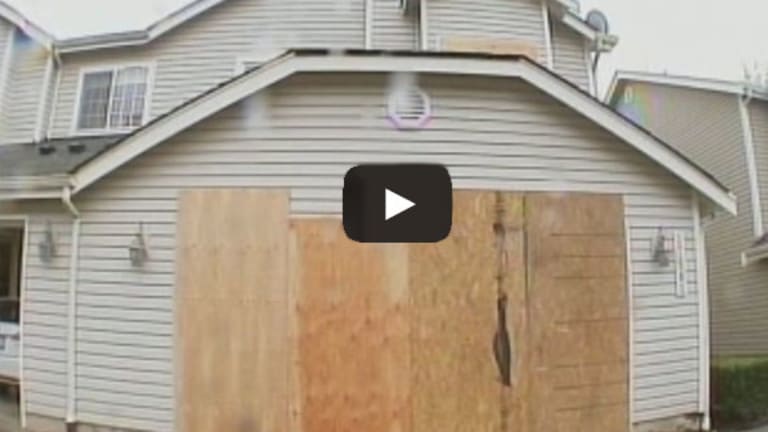 SWAT Team Mistakenly Destroys Woman's Home, Refuses to Pay for the Damages
"The state is a gang of thieves writ large — the most immoral, grasping and unscrupulous individuals in any society." -Murray Rothbard
Matt Agorist
May 23, 2014
If anyone else in society went to another individual's house and destroyed it they would not only be held responsible for the damages, they'd could be held criminally liable.
However, if the ones doing the smashing and grabbing have some "official" looking shiny thing on their buildings, cars, and clothes, they are apparently immune from liability.
Meet Melinda De La Torre of Renton, WA, whose home happened to ransacked by incompetent government goons looking for a suspect.
The bombardment happened two years ago. Even after $100,000 in repairs, the old damage still seeps through walls; pepper spray still looming in the sheet rock.
KIRO 7 Reports:
"That's pepper spray oozing through the paint on the ceiling," she said, pointing to a spot above her bed. "I've gone into debt to pay for all kinds of things, like windows, and there's still damage that isn't fixed. All I want is to be repaid for the damage they made, acting on a false claim. After two years, I've gotten no response," she said.
For 4 hours the overzealous SWAT team members bombarded the house with gas-filled grenades. Every window was smashed out, doors were blasted down, so much pepper spray blasted in that the walls were seeping with it, all the while demanding the surrender of someone who didn't even live there!
De La Torre was left homeless for months. "They completely destroyed my home, completely destroyed it."
Now, 2 years later, the Washington Cities Insurance Authority (WICA), claims that the SWAT team was not negligent, and that they acted reasonably, based on the information they had at the time.
This is absolutely criminal.
The WCIA told KIRO 7 De La Torre's only option left is to lawyer-up and file a lawsuit. That's something she wanted to avoid.
"I just want my money back," she said. I'm not asking to be rich. I think it's just to be paid the money I'm out. They were overzealous. Because of that, I shouldn't be put into in debt, period."