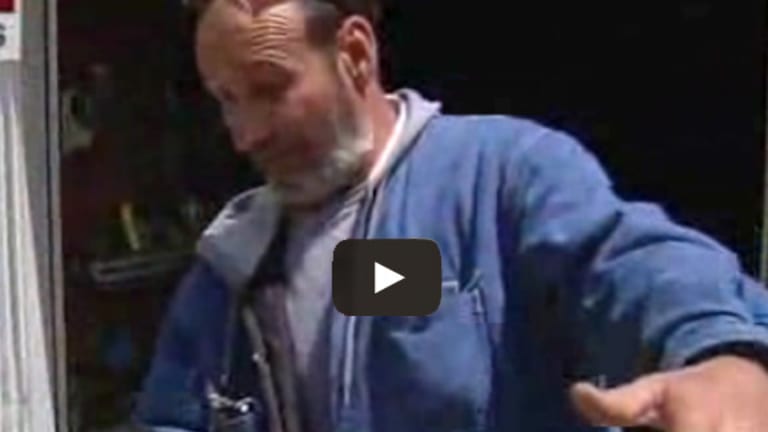 SWAT Team Raids Innocent Man With Parkinson's and Brutally Beat Him
"They repeatedly were swinging to kill me, they repeatedly didn't let up, I did not resist them, nothing."
May 17, 2014
52-year-old John Hytrek is still recovering from a brutal beating he took at the hands of 12 members of the Pottawattamie County Sheriff's Department SWAT Team.
Their reason for showing up and beating an innocent man who, in no way, posed a threat to 12 heavily armed men was entirely fabricated.
Hytrek, who lives with Parkinson's disease, got into a dispute with a relative and asked him to leave his property. The relative then called 9-1-1 and made false claims against Hytrek, saying that he was making terroristic threats.
Instead of responding to the complaint with actual investigation, Pottawattamie County Sheriff's Department sent in a dozen SWAT members to one disabled man's house, and severely beat him.
According to KMTV News, Hytrek was working on a tractor in his yard when, in August of 2012, a dozen swat members from the Pottawattamie County Sheriff's Office jumped out of a van in his driveway.
Hytrek says they tackled him slamming his face on a tire machine and the ground, and they continued to strike him. He says he was then punched at least 5 times in the head and numerous times on his body. They also allege a sniper was set up, surveilling him from across the street.
"They repeatedly were swinging to kill me, they repeatedly didn't let up, I did not resist them, nothing," Hytrek explained. "They could've came up to me and asked me what was going on, and they didn't."
Hytrek was hospitalized with a concussion, a broken orbital bone in his face, and several other injuries and lacerations.
Tom Prickett, the attorney for Hytrek asks the obvious question, "Why was the swat team deployed and two why wasn't Mr. Hytrek provided a reasonable opportunity to surrender peaceably?"
An EMT agent took video of the assault and according to Prickett, clearly shows how Hytrek was blindsided by aggressive and overzealous SWAT members.
Hytrek has since filed a federal lawsuit, of which we can rest assured that any payout received, will be in fact taken from people who had absolutely no involvement in the brutality whatsoever, the taxpayers.