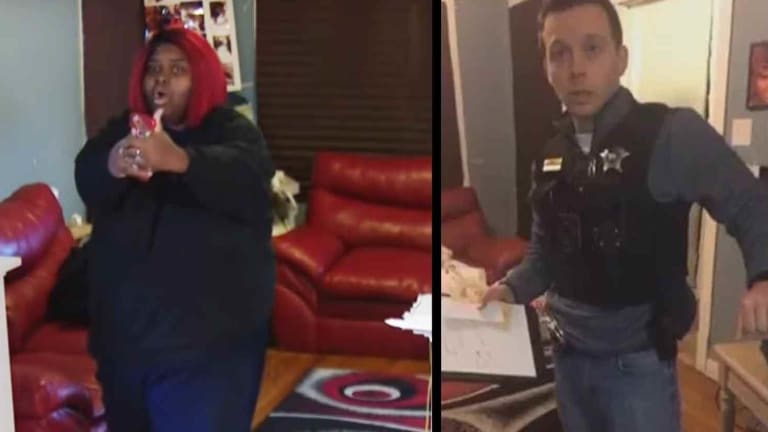 SWAT Raids Wrong Home, Holds Family At Gunpoint—Owner Makes Cops Apologize on FB Live
"You f—king idiot. You're in the wrong house!'" A woman said she told the SWAT team that conducted a no-knock, midnight raid on her home.
Chicago – When a family was awoken in the middle of the night to a series of loud bangs against their front door, they automatically thought they were being robbed. However, they soon found out that the people who were breaking into their house were the same people they would have called for "help" during a robbery.
Homeowner Shanae Cross, 34, told ABC7 that it was around midnight on Thursday when she heard her mother "just started screaming and hollering and ran to the bathroom and said, 'Somebody is kicking down the door.'"

"Next thing you know, when I'm looking there's guns in my face. Just guns drawn out, 'Get outta here, who's in here with you?' Just a bunch of questions," Cross said, describing the scene when SWAT team members first broke into her house. "I'm like, 'What the hell is you doing in my house? Who are you, why are you in my house?' Then I realize when I see the vests and all, this is the police."

Officers began to arrest Cross's 17-year-old brother, and she told ABC7 that she immediately demanded to see a search warrant for the residence where the officers were initiating the "no-knock" raid. When an officer told her the street address was "8203," she informed them that they were at the wrong house.
"I'm like 'This is 8209, you f—king idiot. You're in the wrong house!'"
Cross claimed that the SWAT Team left after they realized they had just broken into the wrong residence—but they have made no attempt to undo their mistake. As a result of the raid, the front door is now damaged and has left the Cross family vulnerable to other intruders in their crime-ridden neighborhood in South Chicago.
"I didn't ask for y'all to run up in my house, disrespect us, treat us like suspects," Cross told local media, regarding the incident.
After Cross took to social media to bring awareness to the failed police raid that left her home damaged, and after media reports increased pressure on the Chicago Police department's slow response, police spokesman Anthony Guglielmi told the Chicago Tribune that the department acknowledges that its officers "inadvertently breached the door of the incorrect residence," and it "deeply regrets the error."
Guglielmi also said the claims process and repairs to the family's damaged front door "would be expedited."
Michael Cross, Shanae's brother, told the Tribune that he was also physically hurt during the encounter when SWAT team members immediately tried to arrest him. "They drew the guns on us like we were criminals," he said.
The siblings' mother, Jennell Cross, 53, also said that she was terrified by the incident. "I was scared out my mind. This is crazy as hell," she said.
As The Free Thought Project has reported, it is not uncommon for SWAT teams to conduct "no-knock" raids on the wrong house, and even when they do damage the property or injure innocent citizens, it does not guarantee that the offending officers will ever face consequences for their actions.
In one case, a pregnant mother in Sacramento, California, was assaulted by police in front of her 18-month-old child when they attempted to serve a search warrant at her home in July. Not only did the officers have the wrong house, but their raid damaged the home—which they never offered to repair—and their assault on the pregnant mother endangered the life of her unborn child.
After the raid, Cross posted a Facebook video in which she filmed officers apologizing. According to reports, the officers were also filming on their body cameras. If this video is released, we will update this story.