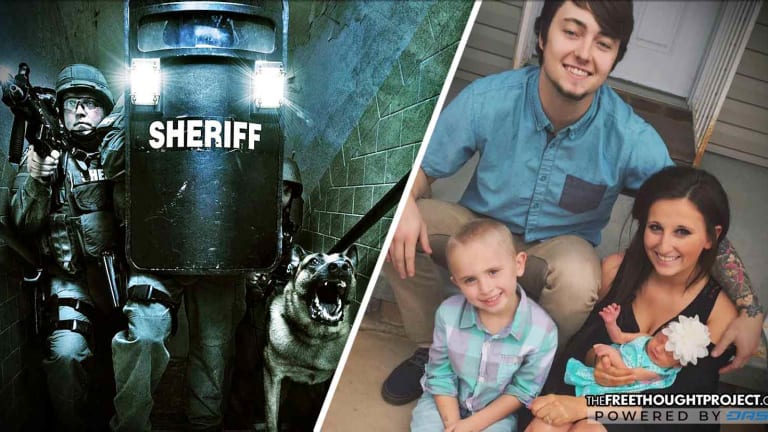 SWAT Team Raids WRONG House, Nearly Kills Dad, Injures 6yo Boy With Flash Grenade
An innocent father was tackled and arrested, and a 6-year-old was injured by a flash-bang grenade after a SWAT Team raided the wrong house.
Chattanooga, TN – Young children were traumatized and injured by flash-bang grenades, an innocent father was terrorized and arrested by police, and their home was damaged, after a SWAT team carried out an early morning no-knock raid on the wrong house.
The ordeal began at 5:50 a.m. on Tuesday when the Bradley County Sheriff's Office teamed up with federal agents to conduct a raid on a house where they claimed a suspect in a murder case was staying. However, they actually terrorized an innocent family in a careless raid that should never have happened.
Spencer Renck shared the story in a Facebook status, noting that he had just gotten out of bed and was preparing to get ready for work when he heard loud noises and immediately thought his home was being burglarized.
"I heard loud banging noises upstairs so I grab my gun and try to run upstairs to protect my family from whatever was happening. I thought someone had broken in," Renck said. "But no it was the Bradley County and Hamilton County SWAT team RAIDING my house."
The homeowner said the officers launched flash-bang grenades throughout his house, including into a bedroom where his 6-year-old son was sleeping. He said the grenade "blinded and deafened" his son, who was one of four young children in the home with Renck and his wife.
"I had my gun drawn and they opened [the] basement door with several SWAT team members pointing their MP5's and AR's at me so first thing I think is to run so I don't get shot since I'm holding a gun," Renck said. "They flash-banged me downstairs then threw me to the ground and proceeded to hold me down with someone's foot and aggressively cuff me and I told them I had a gun in my pocket loaded and he rolled me over and yanked it out and said 'Of course you do because you are wanted for murder, you piece of shit' then I proceeded to tell them they got the wrong person and they kept telling me to 'shut the fuck up.'"
After officers violently arrested Renck, they finally took the time to check his ID and realized that he was not the murder suspect they were looking for, and they were in the wrong home. According to a report from NewsChannel 9, Johnson City Police admitted in a press release that the search warrant was for 4030 Lynncrest Drive. The Renck family lives next door at 4040 Lynncrest Drive.
Renck said that even when the officers realized he was innocent and they were at the wrong house, they just rushed to the house next door to find the suspect they were actually targeting. When asked for a statement on the botched raid, the Bradley County Sheriff's Office ignored the egregious actions of its officers and focused on the fact that they eventually arrested Monte Lamar Brewer Jr, a suspect in the 2017 murder of a pregnant woman.
"Earlier this morning, the Bradley County Sheriff's Office assisted a federal agency with executing a federal search warrant which led to the arrest of a male who was wanted for murder in Washington County, Tennessee," spokesman James Bradford said in a statement.
The Tennessee Bureau of Investigation has announced that it is launching an investigation into the SWAT Team's abhorrent actions, and the Drug Enforcement Agency released a statement responding to the botched raid:
"On May 22, 2018, agents from the Drug Enforcement Administration's Louisville Division Office and the Bradley County Sheriff's Office served a federal search warrant at an address associated with an individual wanted for murder, who was also a target in an ongoing heroin investigation. This operation was part of a larger ongoing investigation. Unfortunately, this search warrant was initially served on the wrong residence. DEA leadership immediately responded to the scene and met with the family. Fortunately, there were no injuries and DEA will continue to work with the family to ensure their wellbeing. Situations such as these are tragic and DEA takes them very seriously. We intend to look into this matter further and take steps to ensure situations such as this never occur again."
Unfortunately, the trend of SWAT teams terrorizing innocent families and damaging property in early morning no-knock raids that are carried out at the wrong addresses is not uncommon. In December 2017, a SWAT team in Chicago raided the wrong house and were reprimanded by the homeowner who demanded an apology, while recording the incident on Facebook Live.
"Next thing you know, when I'm looking there's guns in my face. Just guns drawn out, 'Get outta here, who's in here with you?' Just a bunch of questions," Homeowner Shanae Cross said, describing the scene when SWAT team members first broke into her house. "I'm like, 'What the hell is you doing in my house? Who are you, why are you in my house?' Then I realize when I see the vests and all, this is the police."

Officers began to arrest Cross's 17-year-old brother, and she said she immediately demanded to see a search warrant for the residence where the officers were initiating the "no-knock" raid. When an officer told her the street address was "8203," she informed them that they were at the wrong house.
"I'm like 'This is 8209, you f—king idiot. You're in the wrong house!'"
Spencer Renck and his family are now left to live with the trauma from the horrific raid, all because police failed to confirm the correct address on the search warrant. In addition to rushing to the hospital for a check-up for his young son, who was impacted by the flash-bang grenade that detonated in his room, Renck wrote on Facebook that his house was left damaged from the raid.
"They destroyed my door, door frame, carpet on my stairs blew my ceiling out and burned my living room floor and hallway," Renck said. "All because someone got the wrong house. I am okay and could have easily been killed just thankful to be alive and my family okay. I still don't understand how you get the wrong damn house."