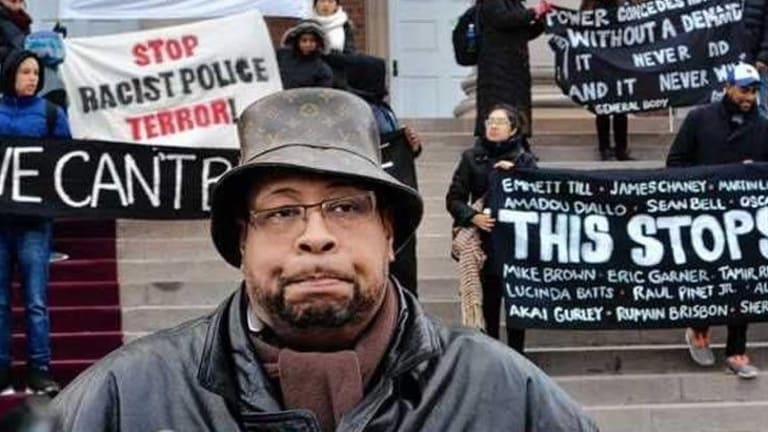 Reverend Allegedly Targeted for Activism, Wife & Him Beaten by Cops in Front of Children & Jailed
A New York Reverend is in jail awaiting sentencing. He and his wife were found guilty after cops beat them in their own yard in front of their children.
Syracuse, N.Y. – The President of the Syracuse Chapter of the Southern Christian Leadership Conference (SCLC) and local area reverend known for his activism, Dr. Lemorris Dexter, 44, is in jail. He is awaiting sentencing after being found guilty on March 20th of "disorderly conduct" and "obstructing governmental administration" misdemeanor charges, commonly referred to as contempt of cop charges.
The trumped up case against Dexter stems from an incident that took place on January 4, 2014, in which both the reverend and his wife, Alisha, were beaten by cops in the front yard of their home
At approximately 9:30 a.m. on the morning of the January 4th, the Dexters were going to a clothing drive and exiting out the back of their home when they noticed strangers in their shed.
Alisha went into their home and called 9-1-1 to report the intruders. When cops arrived, they "made no attempt to investigate" their complaint about trespassers," and instead became hostile toward[s]" them, according to the Dexters.
The police then accused Reverend Dexter of trespassing on his own property, subsequently throwing him against a police cruiser and placing him in handcuffs. When Alisha exited the house, she was thrown to the ground and beaten, as the couple's children watched the violent attack from a bedroom window.
As the police assaulted his wife, the reverend voiced his displeasure with the abuse of his wife, to which the officer allegedly replied, "It looks like the b**** is resisting."
The Dexters were then placed into separate police cruisers and taken to the police station to be booked. Alisha was charged with two counts of resisting arrest while Lemorris was charged with disorderly conduct and obstructing governmental administration.
It turns out the intruders were actually repo men working for a car dealership on a repossession of a car that had a lien against it. It belonged to a young woman whom the Dexters had been mentoring. The intruders never identified themselves over the course of the incident.
Reverend Dexter has been an outspoken community leader in the Syracuse area and believes the attack was meant to silence his activism and outreach.
Below are a few examples of Dexter's activism, as reported by Answer Coalition:
Later that year, the SCLC up with ANSWER Syracuse to host a town hall meeting on police brutality. Over 50 people and multiple news outlets showed up, and many residents shared stories of police abuse, harassment, and misconduct. A movement was born. Since that time, the two groups have held numerous organizing meetings, community forums, protests, and marches. Victims of police brutality and their families began organizing together.

In December 2014, THE General Body, a student movement at Syracuse University, initiated a protest and march in response to the #BlackLivesMatter campaign. Lemorris headed up the march. He led around 200 protesters downtown to the local police headquarters, where they blocked off the intersection for an hour, chanting and sharing stories of police brutality.
The trial began on March 16 and lasted five days, with the prosecution attempting to paint the reverend as wild and out of control by parading numerous cops in front of the jury.
In spite of the fact that every witness to testify who wasn't a police officer confirmed the Dexters' account of events, the jury found the couple guilty of all charges. Alisha was released on her own recognizance, but LeMorris was held in jail to await sentencing on April 13. Their convictions carry a maximum penalty of up to one year in jail.
Reverend Dexter has accused Mayor Stephanie Miner and Police Chief Frank Fowler several times of harassing him because he is an outspoken advocate for civil rights. At a public rally against police brutality last August, Dexter spoke about the incident and claimed that one of the officers said, "This is compliments of Frank Fowler and Stephanie Miner,'' according to Syracuse.com.
In discussing the incident, Dexter said:
"My wife and I spent a night in the jail, and it was horrific to my children," Dexter said. "My 5-year-old kept throwing up because he has never experienced things like that."

"If we don't stand up and unite ourselves together, we will be dead and will not be able to breathe any longer. We've got to stand up for righteousness, for people," Dexter continued. "Lives matter whether they are black, white, green or purple."
The case against the Dexters seems to be a blatant abuse of the judicial system, in an effort to silence political dissent. It's truly an attack upon all those that refuse to remain silent as our fellow citizens are brutalized in the streets by paid government enforcers.
If you're sick and tired of seeing the police, prosecutors, and politicians use their position to silence political dissent then share this article to make our voices heard!
Jay Syrmopoulos is an investigative journalist, freethinker, researcher, and ardent opponent of authoritarianism. He is currently a graduate student at University of Denver pursuing a masters in Global Affairs. Jay's work has previously been published on BenSwann.com and WeAreChange.org. You can follow him on Twitter @sirmetropolis, on Facebook at Sir Metropolis and now on tsu.