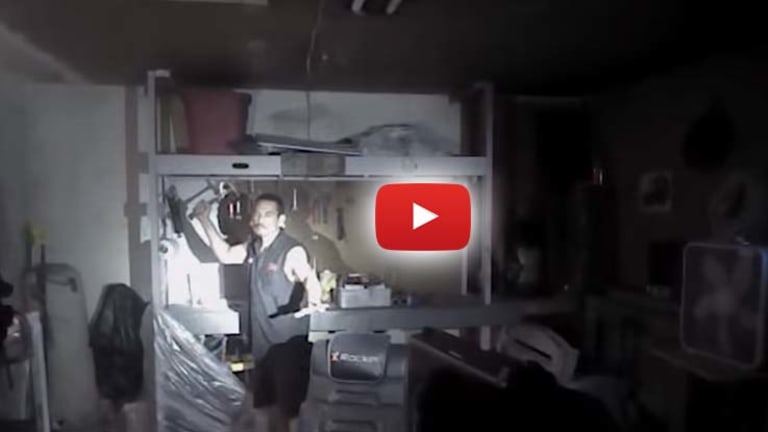 Graphic Body Cam Shows Cops Needlessly Kill Man for Holding a Hammer -- He Never Advanced
The Tahlequah police department released body cam footage of cops senseless killing a man for holding a hammer. One cop tried not to kill him.
Tahlequah, OK -- Graphic body cam footage was released this week showing officers needlessly escalate to deadly force as they surrounded a man who was holding up a hammer. One of the officers effectively deployed his taser to stop the man, however, it was futile as two other cops put three bullets each into him.
The victim was 49-year-old Dominic Rollice of Park Hill who was drunk and in the house where he used to live. He was in the garage when his ex-wife called the police to have him removed.
"He's drunk, and it's gonna get ugly real quick," the woman could be heard telling a 911 dispatcher.
The dispatcher warned the woman that if officers come out, they will have to take him in for public intoxication.
"In fact, he's a registered sex offender," the woman said. "He lives in Park Hill. He's got tools in the garage, but he doesn't live here."
As police responded, they quickly backed Rollice into a corner at which time he grabbed a hammer in a seemingly reactionary move. Seconds later he'd be dead -- in spite of not advancing toward the officers.
"I'm in my house; I'm doing nothing wrong," Rollice said. It is unclear as to whether Rollice had a legal right to be in the house. However, this did not matter to police.
The three officers who responded were Lt. Brandon Vick, Officer Josh Girdner, and Officer Chase Reed.
"I'm going less lethal," says Reed.
As Reed fired his taser, causing Rollice to go down, Vick and Girdner both opened fire.
"Hold your hands up! Get on the ground!" the officers yell at a man who was just shot six times. Rollice responds by grunting and then collapsing backward.
"Dominic, you gotta stay with me. Stay with me," Reed, the only cop in the room who was interested in preserving life, says to Rollice while the other officers secure the scene. "EMS is on the way, OK? Stay with me."
Moments later he's dead.
Police Chief Nate King said during a Friday news conference that although an outside investigation is pending, he believes the officers' actions were "necessary, not just justified" because the Rollice escalated the situation and made the officers fear for their lives.
"A reasonable officer would have sensed a clear and present danger to them and to their other officers," he said.
This excuse by King would probably hold more water had an officer in the same room not immediately resorted to deadly force. 
The fact that Reed was in the same room with the other officers and chose to use a taser first shows that the use of deadly force was entirely unwarranted.
According to Tulsa World, King said it's "alarming" for officers that fatal incidents appear to be on the rise in the U.S. And he's right, police killings are on the rise.
However, he misses the point that police shootings are on the rise because police are more apt to resort to deadly force.
"I worry about our officers. I worry about our society," King said of the deadly force incidents occurring nationwide. "It's not just in Tahlequah. It's in Tulsa. It's in Wagoner. It's in Cherokee County itself."
Below is a video of a man suspected of a misdemeanor charge of public intoxication who paid the ultimate price when police arrived.
[author title="" image="https://tftpstagingstg.wpengine.com/wp-content/uploads/2016/03/magorist-e1456948757204.jpg"]Matt Agorist is an honorably discharged veteran of the USMC and former intelligence operator directly tasked by the NSA. This prior experience gives him unique insight into the world of government corruption and the American police state. Agorist has been an independent journalist for over a decade and has been featured on mainstream networks around the world. Follow @MattAgorist on Twitter and now on Steemit[/author]