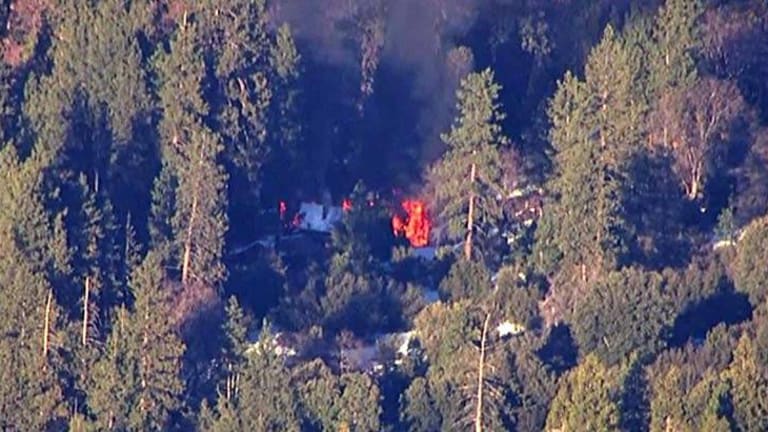 Taxpayers Foot $200K Bill After Police Intentionally Burned Down Woman's Cabin to Kill Man Inside
After one of the greatest sprees of police incompetence ever witnessed, taxpayers are still being held liable for the damage done by out of control cops in the hunt for Chris Dorner.
Big Bear, CA-- Palmdale resident Candace Martin and her son Eric Funnell have agreed to a $200,000 settlement after police were caught on a scanner plotting to burn their cabin down. The lawsuit is to be paid by the tax payers of San Bernadino County.
The fire was set with the intent to kill Christopher Dorner, an alleged cop killer, who was hiding inside.
The things we heard over the scanner on February 12, 2013 while Dorner was inside Martin's cabin were haunting.
"We're gonna go ahead with the plan with the burner." "The burner's deployed and we have a fire." "Burn that fucking house down." "Fucking burn this motherfucker." And, "Because the fire is contained, I'm gonna let that heat burn through the basement," officers were stated over the police scanner.
Not only was this fire started deliberately, it was started with the intent to kill a man. The police claim that Dorner committed suicide by shooting himself in the head, stuck in the basement, as the cabin burned around him. They allege that the cabin accidentally caught fire after pyrotechnic tear gas canisters were shot inside in an attempt to make him exit the building. Listen to the police scanner recording for yourself and decide if you believe it was premeditated.
" width="790" height="444" frameborder="0" allowfullscreen="allowfullscreen">
Martin told NBC Los Angeles that she accepted the county's settlement offer only because she didn't want to endure a long legal battle. She had initially asked for $420,000 to rebuild her property. She says she cannot rebuild with what the county agreed to, and intends to sell the now vacant lot.
Sadly, Martin and Dorner were not the only victims of the mission to execute Dorner sans trial and due process.
On the morning of February 7, 2013, the blood-thirsty LAPD fired over 100 rounds into the pickup truck of Margie Carranza and her 71-year-old mother, Emma Hernandez, who were out delivering newspapers. The officers had inexplicably confused the blue Toyota Tacoma with the grey Nissan Titan they believed Dorner may have been driving. The 71-year-old Hernandez was shot in the back twice, and Carranza was injured by broken glass.
The city of Los Angeles agreed to a $4.2 million settlement on top of the initial $40,000 compensation for their truck, to be paid by taxpayers.
Moments after shooting an elderly woman, the police crashed into and opened fire on a 2006 black Honda Ridgeline, despite having been previously stopped and cleared by other officers. David Perdue, the driver of the vehicle, was also shot at by the LAPD.
Perdue was awarded 1.8 million dollars also to be paid by taxpayers.
Why should we always be forced to pay for the negligence and mistakes of police officers? These are not isolated incidents, and they are extremely costly.
For example, in New York City, a lawsuit is filed every two and a half hours against the NYPD.
In Los Angeles, from 2002-2011 there was $13,848,558,900 in settlements; over one billion dollars a year. This exorbitant amount of money was not paid by the officers, it was paid for with our hard earned tax money.
It is time to change that. If officers were held accountable for their own actions, and these settlements came from their own wallets, we would likely witness a sharp drop in instances of excessive force.
One way to accomplish this, as we have previously reported, would be requiring police officers to carry professional liability insurance coverage, similar to what doctors carry. Physicians who are sued too many times become uninsurable, which ensures risk reduction takes place. If city officials can't or won't hold police accountable for their actions, an insurance company responsible for large police misconduct payouts absolutely will. Once an officer's rates get too high, they would be forced out of policing, and there would be nothing the police unions could do to stop it.
In Minneapolis, a group has already been hard at work passing this in their city. For more information on how to fight for it in your area, contact Communities United Against Police Brutality.