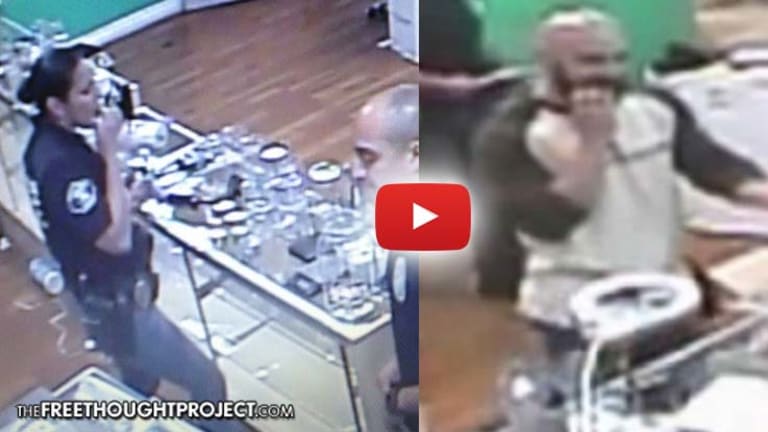 Taxpayers Shell Out $100K to Pay for Cops Caught Eating Weed & Assaulting People in Pot Shop Video
Taxpayers in Santa Ana are being forced to fork over $100,000 after cops raided a dispensary, munched on edibles, and made fun of a disabled woman.
To settle a federal lawsuit stemming from a highly controversial raid on a cannabis dispensary — in which three nefarious cops were caught on surveillance video munching and edibles and making degrading comments about a disabled woman — taxpayers will be forced to shell out $100,000 via the City of Santa Ana, California.
In addition to the payout for damages to the store, the Orange County Register reports, misdemeanor charges against a dozen people accused of operating the dispensary illegally will be dropped.
On May 26, 2015, a group heavily-armed Santa Ana cops used a battering ram to storm Sky High Holistic with guns drawn, smashed surveillance cameras and confiscated recording equipment, and proceeded to make disparaging comments toward customers, some of whom were disabled.
In particular, these unabashedly power-tripping police suggested they should have assaulted a partially blind paraplegic woman — who was not only confined to a personal mobility unit, but had readily complied in the frightening encounter.
"Did you punch that one-legged old Benita?" a male officer of the law asks a female colleague as cameras recorded their conversation.
"I was about to kick her in the fucking nub," the female officer of the law glibly replies.
Fortunately for the customers-turned-victims, cameras recorded the officers as they slowly completed the raid in a manner akin to a fraternity party — a few play darts while having a crude and wholly unprofessional conversation, while one samples what appears to be a marijuana edible he then shares with his buddies.
One camera remained surreptitiously hidden, evading officers' efforts to cover their tracks in this armed burglary, and — when its video evidence went viral — proved to the world how unprofessional, abusive, and criminal these cops actually are.
According to allegations in the now-settled civil rights lawsuit, these errant officers devised a scheme to shut down dispensaries operating without a permit after Santa Ana voters passed a ballot measure allowing 20 dispensaries to operate following a lottery — for which Sky High had not been selected.
"The settlement of civil rights claims and dismissal of criminal actions shows Santa Ana is taking responsibility for improper actions it took, including the raid of Sky High Holistic, in support of its lottery-based marijuana regulation ordinance," District Attorney Michael Pappas told the Register by email.
After a yearlong battle, misdemeanor charges were finally brought against three of the cops — petty theft for those who chowed down on the shop's edible protein bars and cookies, and vandalism against the cop who destroyed all of the dispensary's cameras.
Well, except that one.
Those charges are pending, and none of the three, who were initially suspended after the video went viral, remain employed with the Santa Ana Police Department — though law enforcement refused to elaborate for the Register on whether they had been terminated or had simply resigned.
Should former Officers Jorge Arroyo and Nicole Lynn Quijas be convicted of petty theft, they face a maximum six-month jail sentence and $1,000 fine. Former Officer Brandon Matthew Sontag faces up to 18 months in jail and a $2,000 fine for both the petty theft and vandalism charges if he is found guilty.
Pappas also noted the fight continues to have thousands in stolen cash and items returned to the rightful owners, as does his pursuance of a second lawsuit for an unspecified monetary amount in damages in the Orange County Superior Court.
Although the meager settlement is somewhat a victory for the victims — one of whom was a neighboring physician whose office had power and water cut during the incident — video evidences an armed and violent raid undertaken by cruel cops who appear as if they've discovered an enjoyable new sport.
Indeed if justice were truly to be served, all of the officers involved would be locked behind bars for performing a violent raid on a store providing a service to consenting customers on a voluntary basis.
">