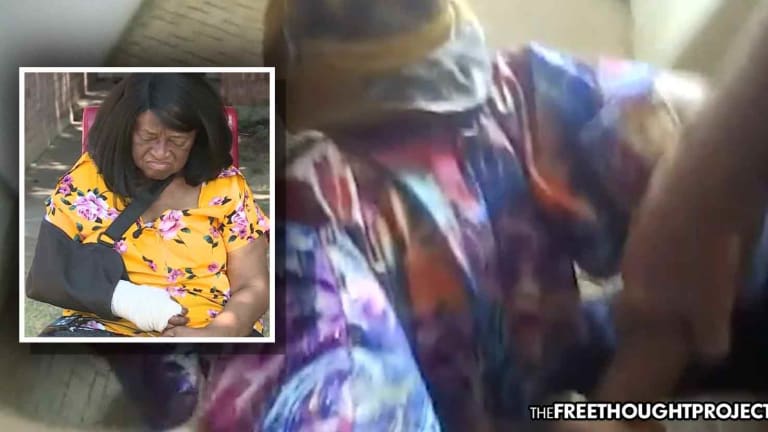 WATCH: Taxpayers to Be Held Liable After Cops Break Innocent Grandma's Arm During Raid
The taxpayers of Oklahoma City were put on notice this week that they are being sued for the actions of their officers who broke the arm of an innocent grandma.
Oklahoma City, OK — Ruby Jones, 74, has never been in trouble with police. And, when police came to her home back in August, they were not there for her. However, because the officers were completely incompetent when it comes to de-escalation and common decency, Jones would leave her home in handcuffs, having been assaulted by police, and, with a broken arm.
This week, the taxpayers of Oklahoma City were put on notice that they will be held liable for the actions of officers Dan Bradley, Ryan Staggs and James Ray. Each officer either used excessive force against Jones or failed to intervene in her assault to stop it, according to a lawsuit filed by Jones.
According to police, they were at Jones' home that day to arrest her mentally ill grandson for allegedly calling in a bomb threat to a mental health facility at which he used to be a patient. Though the incident happened back in August, police didn't release the body camera footage until this year.
As the footage shows, Jones is simply pleading with the cops, informing them that her son is mentally ill and to please take care.
"What's going on?" Jones asked.
"He has a warrant for his arrest," an officer responded.
As Jones attempted to get more information from the officers and tell them how to approach her son, they shoved her aside and forced their way into her home.
"He's bipolar," Jones said.
Jones told KOCO 5 News she tried to help the officers deal with her son as he is mentally ill but they couldn't have cared less.
"And he doesn't have a gun," Jones told the officers.
"I don't know that ma'am," an officer said.
"Well, I do," Jones responded.
Apparently attempting to tell the cops that her son was unarmed and mentally ill set the officers off, who then moved in to assault the innocent grandmother.
As the video shows, police grabbed the elderly woman and twisted her arms behind her back to place her in handcuffs. This caused her to fall to the ground and instead of helping her up like they should, cops yanked on the woman's 74-year-old arms, breaking one of them.
"[Police] took my arm, mashed it all up, praise God and put it up there, and I had both the handcuffs on then," Jones said.
"My arm, sir," Jones said is heard saying in the video.
"Are you going to walk?" an officer responded, attempting to blame their abusive behavior on their victim — an innocent elderly grandma.
"As good as I can, sir. I'm 74 years old," she said.
Jones was then dragged to the police cruiser where she was detained and held without charges before being let go.
It took the Oklahoma City Police department over five months to "investigate" themselves and determine that the officers involved acted inappropriately. However, it is unclear whether or not the officers would face or have faced any discipline.
In a statement, OKCPD admitted the officers could have resolved the situation differently.
"Whenever our officers are involved in a use of force, such as in this case, de-escalation efforts are reviewed, and the incident is investigated and documented," the statement reads. "Upon review of the incident and the [body camera] footage, it was determined that the responding officers should have made greater efforts to de-escalate the situation prior to resorting to use of force. Corrective action to include discipline and training has been taken to help ensure that future calls like this one are handled in a more appropriate manner."
Jones says the first time she saw the video was after it was released to the media. Jones is now suing the department and is sure to win.
"After police entered her home without showing her a warrant, elderly Ruby Jones pleaded with officers not to shoot her mentally ill son. In response the officers forcefully slammed her against a wall, violently broke her arm, and mocked her cries of pain," Jones' attorney Damario Solomon-Simmons said in a statement on Tuesday.
"Today, Ruby Jones, Attorney Damario Solomon-Simmons, and Oklahoma City community leaders will announce the filing of a lawsuit against the City of Oklahoma City, and Oklahoma City Police Department Officers Dan Bradley, Ryan Staggs, and James Ray and call for the termination of the officers who assaulted Ms. Jones."
Unfortunately, Jones' case is far from isolated. Yes, in the land of the free, innocent grandmothers fall victim to police brutality on countless occasions. For a glimpse into this abuse, you can take a scroll through our archives, here.