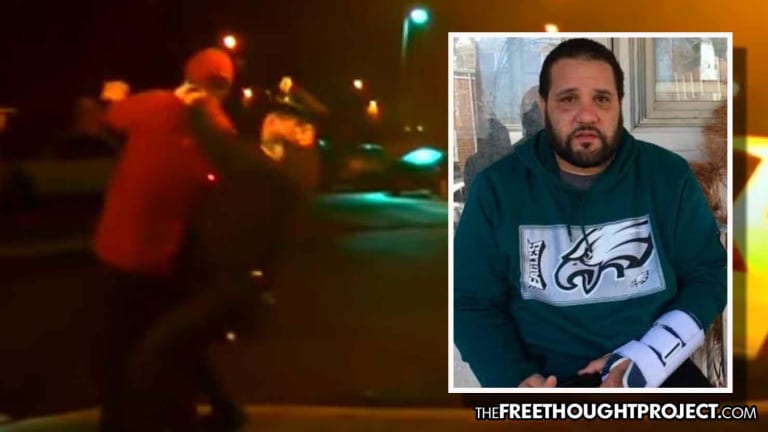 Taxpayers Shell Out $300K After Cops Held Innocent Man Down, Bashed His Head In, Laugh About It
Because the system failed to hold the officers accountable for holding an innocent man down and bashing in his head, the taxpayers will pay the price instead.
Camden County, NJ — Edward Minguela had done nothing wrong and was simply walking home in February 2018 when he was attacked by Camden County police officer Nicholas Romantino. The subsequent attack was captured on video and immediately sparked outrage. The video was so outrageous that the officer was actually arrested. However, because the American justice system is so corrupt, in 2019, Romantino walked free. Now, it will be the taxpayers who are held liable.
Last year, Minguela filed a federal civil lawsuit claiming excessive force was used when he was held down and repeatedly punched in the head by Camden police officer Nicholas Romantino. This week, the taxpayers were put on notice that they will be shelling out $300,000 to pay for the misdeeds of Romantino.
The suit named as defendants Romantino, three other officers, former Camden Police Chief J. Scott Thomson, former county prosecutor Mary Eva Colalillo and the county. The suit also named the current police chief, Joseph Wysocki, who was deputy chief at the time of the incident.
According to NJ.com, the settlement agreement involves only Minguela and Romantino, but in it Minguela agrees to dismiss counts against the other named defendants: two other police officers who allegedly helped hold him down, Brandon Gallagher and Anthony Agus, the ranking officer at the scene Sgt. Odise Carr, then deputy chief Joseph Wysocki, then chief J. Scott Thomson, then county prosecutor Mary Eva Colalillo, and the county.
"The fact that the two officers who held Minguela down during the beating were not disciplined, is not promising," Minguela's attorney, Devon Jacob, said.
Romantino was suspended without pay and eventually resigned, keeping his law enforcement license.
In September of 2019, Romantino was acquitted despite the graphic video evidence and despite the fact that Minguela was innocent. This was the second trial Romantino faced for the excessive force charges. The first one ended in a mistrial in June 2019. The second trial was about to end in a mistrial because a juror refused to acquit. However, at the last minute, that juror was replaced and a verdict reached.
"The fox has been guarding the henhouse," said Jacob, "which explains why the Camden County Prosecutor's Office continues to pursue false criminal charges against Edward Minguela but declined to prosecute Nicholas Romantino for throwing Minguela to the ground and punching him in the back of his head 12 times."
"Now that the civil case is resolved, I expect that the frivolous criminal charges that were filed on former officer Romantino's misrepresentations will be dismissed," Jacob said.
Rest assured that had a civilian attacked an innocent person as these Camden police officers did that night, they would have been locked away for years. However, defense attorneys and prosecutors spin a different web for juries when a police officer is involved. Instead of calling Minguela's actions of defending himself against an unprovoked and unlawful assault, self-defense, both the defense and the prosecutors called it "resisting."
As TFTP reported at the time, on February 22, 2018, Minguela was walking home from a nearby store, and as the surveillance footage shows, he was approached by Ramantino. Officers claim they were responding to a call about a man with a gun, but Minguela had no such gun.
As the video shows, police run up on Minguela with guns drawn and he immediately complies with their orders to put his hands up. However, as they attempt to handcuff him, he appears to slightly pull away because he had done nothing wrong. That's when all hell broke loose.
Romantino slams the non-violent man to the ground and begins punching him in the head. Boom, boom, boom, Ramantino delivers blow after blow to the head of Minguela as he yells at the man who is simply trying to defend himself from being killed by police to "put your hands behind your back!"
In total, Romantino would deliver 12 massive blows to the head and face of Minguela who is begging the officer to stop, asking, "Why you hitting me like that bro?"
After bringing Minguela to the car, Romantino pats him down—finding nothing on or near the scene. At one point, Minguela accused Romantino of kicking him after he called him a name.
After he was kidnapped and thrown in the back of the cruiser, Minguela continued to ask the driver, Officer Peter Sanchez, why he was arrested. "You'll have to ask the officer that arrested you," he replies.
In the video obtained through a FOIA request by NJ.com, it then shows Romantino laughing about beating the innocent man, showing off his swollen knuckles as a trophy.
"That guy. He's always giving us a hard time, that guy," Romantino said.
"Not anymore," he said as his comments were met with laughter by his fellow cops, who seemed entirely resolute in the notion of attacking, beating, and kidnapping an innocent man.
According to Minguela, he was then brought to the hospital to be treated for his injuries. But police, who then turned off their body cameras, told Minguela that if he got treated for his injuries they would fabricate even more erroneous and even felony charges against him.
Minguela says this forced him to forgo the treatment and he left. However, on the advice of an attorney, Minguela went back to the hospital the next day and was treated for a concussion and a fractured wrist.