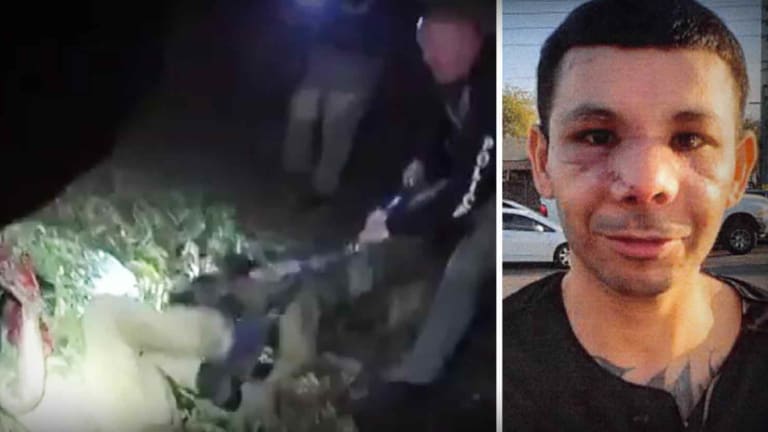 Taxpayers to Be Held Liable After Cops Force K9 to Literally Rip Compliant Man's Face Off
A K9 with a known violent past was sicced on a surrendering man and allowed by his handler to literally tear the man's face off.
Phoenix, AZ -- A Phoenix man is seeking $2 million in damages, both physical and psychological, for having his face bitten off by Phoenix PD K9 known as "Storm". Carlos Balli admittedly was joyriding around in a stolen vehicle when he drew the attention of police. A chase ensued and Balli fled both in the vehicle and later on foot. Both pursuits were captured on helicopter footage as well as police body camera footage. According to the Phoenix New Times:
The chase began on January 17, 2019, when Balli was driving a stolen Honda Civic...the officer observed Balli stop in a crosswalk, prompting him to follow the suspect with his lights and siren activated. But Balli did not pull over...He sped up and made a turn before coming to a stop near the intersection of North 59th Avenue and West Northview Avenue. Then, Balli hopped out of the car and began to run. He jumped two fences at a residence and ran for cover in a bush, where he was detected via infrared camera by a DPS helicopter.
That's when police released their attack dog on a visibly compliant Balli:
[Officer] Martin responded to the scene with police K-9 Storm. Police claim Balli ignored multiple orders for him to show his hands. But Balli claims helicopter footage shows that he responded to orders to surrender and put both of his hands up.
Storm's K9 handler allowed the attack dog to bite Balli for 32 seconds before being forced to let go. In just over half a minute a lifetime of damage was done. Balli's scars incurred from the attack will never go away. Understandably, neither will his psychological ones.
The Phoenix New Times continues:
Balli was transported to the hospital, bleeding profusely, with skin completely torn off his underlying tissue. Balli immediately underwent surgery. A gruesome photo included in his notice of claim shows a doctor "holding Mr. Balli's nose flesh, which has been torn from his face."
Balli pleaded guilty to three felonies including car theft, fleeing from a police vehicle, and possession of methamphetamine. He faces a maximum of 12 years in prison at his sentencing date set for July 29. He and his lawyer have filed a notice of claim, a requirement before suing the city and the police for the disfiguring damage caused by Storm.
What makes this case stad out from other K9 maulings, is that it is not the first time Storm has caused controversial injuries to Phoenix residents:
Carlos Castro filed a federal lawsuit against the agency last year over an incident in which Storm, while being handled by Martin, bit his right leg for about 45 seconds. The March 10, 2017, attack in Peoria caused a gruesome injury that was recorded on body camera footage and later broadcast on 12 News.
Balli's lawyer claims the dog should have been removed from service long ago. Civil rights attorney Joel Robbins wrote in the notice:
Storm should have been retired and Martin should have been trained not to use K9 force on unarmed suspects.
Phoenix PD has come under fire in 2019 for the actions of its law enforcement officers. Critics claim the PD is poorly trained and filled with racist, trigger-happy cops who often threaten citizens with violence during routine traffic stops. Phoenix PD also set a record in 2018 for the most number of people shot by police during officer-involved shootings.
WARNING: Extreme graphic footage in the video below.