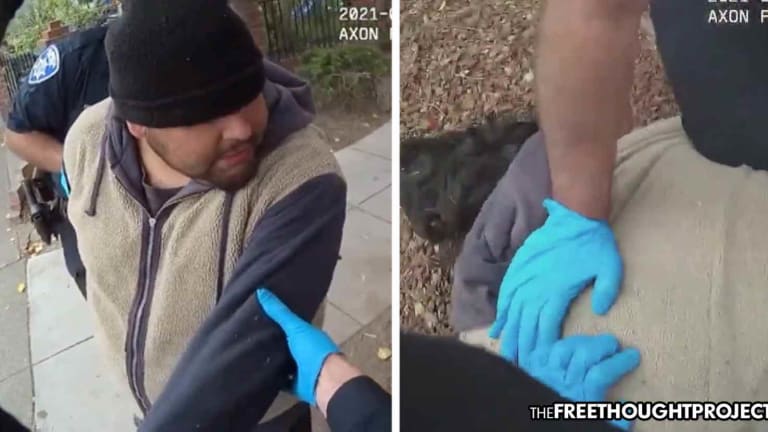 Taxpayers to Be Held Liable After Cops Hold Innocent Dad's Face in Dirt Until He Dies
A family has filed a lawsuit after their innocent family member was unlawfully detained, forced to the ground, and killed in police custody.
San Francisco, CA — For the "crime" of being disoriented in public, three Alameda police officers would detain and use force against Mario Gonzalez, 26, until he stopped breathing and died. Like George Floyd, Gonzalez was pinned to the ground by cops and held there until the life left his body.
Gonzalez's family is now calling for justice as they believe the officers who stopped him used excessive force. This week, they filed a claim against the city of Alameda accusing officers of excessive force which caused their son's death.
The lawsuit claims Gonzalez was detained "without reasonable suspicion or other legal cause" on April 19 and died as a result. The claim names officers Eric McKinley, James Fisher and Cameron Leahy as well as Alameda police assistant Charles Clemmens.
"Respondents placed Mario Gonzalez in unjustified pain compliance holds and arrested Mario Gonzalez without probable cause or warrant, forcing him to the ground when he posed no immediate threat to anyone. Thereafter, respondents subjected Mario Gonzalez to prone restraint with significant weight on his back, shoulders, neck, legs for over five minutes in violation of generally accepted law enforcement standards, while Mr. Gonzalez struggled to breathe."
According to police, they received a 911 call about a disoriented man in the park who appeared to be drunk.
According to the audio recording of the call, a man said that Gonzalez seemed to be "tweeking" but told the dispatcher that he was "not doing anything wrong."
"He's just scaring my wife," the man said.
Police talked with Gonzalez for nearly an hour after responding to the call before finally throwing him to the ground and pinning him down for over five minutes.
While on the ground, police repeatedly ask for his name and birthdate while telling him they are going to take care of him.
"We're going to take care of you, OK, we're going to take care of you," one officer says.
"I think you just had too much to drink today, OK? That's all," one of the officers says.
"Mario, just please stop fighting us," he adds.
As police struggle to keep Gonzalez down, the 250 pound father grunts and shouts as his protests grow weaker and weaker.
"He's lifting my whole body weight up," an officer says.
As one officer holds his knee on Gonzalez's back for several minutes, the dying man pleads with cops to let him go, saying, "I didn't do nothing, OK?"
He was correct. Gonzalez had harmed no one and no crime had been committed. He was merely disoriented — and for this, he would be killed.
Shortly before he stops breathing, the cop asks his fellow officer, "Think we can roll him on his side?"
"I don't want to lose what I got, man," the officer responds.
Another officer asks "we got no weight on his chest?" then says, "No! No weight ... no weight" to the officer who is leaning his weight on Gonzalez.
Gonzalez then goes completely limp and stops breathing.
"He's going unresponsive," says the cop.
The officers then attempt CPR but it was too late. He would be brought to a nearby hospital only to be pronounced dead.
According to his family, Gonzalez left behind his 4-year-old son and his 22-year-old autistic brother for whom Gonzalez was the main caretaker.
At a press conference at the time, the Oakland man's family blasted police, claiming they "murdered" Gonzalez and the information they originally released after his death was in direct conflict with the video footage.
The lack of information released after his death was similar to that of George Floyd when police claimed he died "after a medical incident during police interaction."
"The police killed my brother in the same manner they killed George Floyd," said his brother, Gerardo Gonzalez.
"My mother was heartbroken to see Mario's last moment. She gave birth to him, her firstborn, raised him, and now has to bury him. It was painful to watch the violence and disregard for his humanity," he said.
"The footage shows officers on top of Mario while he was face down on the ground," Gerardo continued. "They had their weight on his head and his back. He was complying and they continued to pin him down with their weight. Everything we saw in that video was unnecessary and unprofessional. And it took a minuscule event and made it fatal."
"He's a lovely guy. He's respectful, all the time," said Mario's mother, Edith Arenales. "They broke my family for no reason."
"The footage shows what we already knew," she said. "Mario was a kind man and level headed. There was a way to deal with this situation without killing my son."