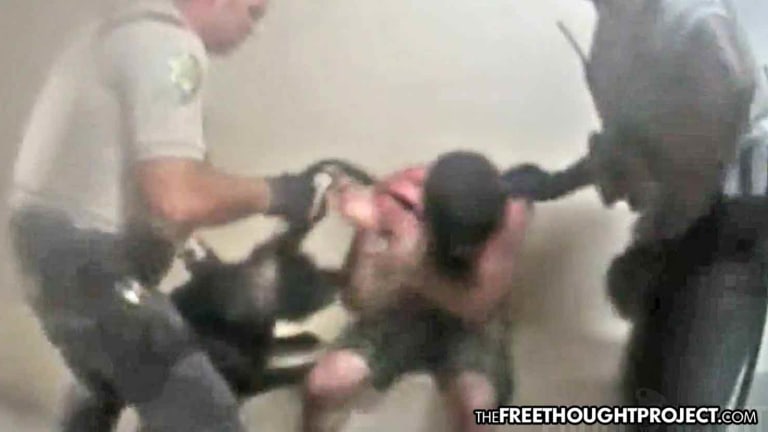 Taxpayers to Be Held Liable after Graphic Video Showed Cops Torturing Handcuffed Man with K9
A Phoenix man was mauled by a police k9 while he was handcuffed and waiting booking inside his jail cell in an apparent act of torture.
Phoenix, AZ — Attorney Joel Robbins, a Phoenix civil-rights attorney in practice for 25 years, could not believe what police and their K9 did to his client after he was accused of assaulting a police officer, "I've never heard of them bringing a dog into a holding cell...It just doesn't make sense." Shane McGough and some friends went tubing at the Salt River in 2017. Following a fun day on the river, the friends returned to their vehicle and were involved in a minor traffic accident with an Uber vehicle.
The responding security guards, both off-duty Maricopa County sheriff's deputies, attempted to search the vehicle belonging to McGough's friend. McGough objected and reportedly blocked deputy Michael Finney from searching the car which reportedly had a gun laying in the floor board. It's not illegal to possess a firearm in Arizona and the state has open carry laws allowing guns to be placed anywhere within a vehicle without a crime being committed. Finney escalated the conflict by choking McGough, who was a high school and collegiate wrestler.
An accomplished wrestler, such as McGough, could easily have overpowered both deputies, taken their guns, batons, and tasers from them, and beaten them to a pulp, but there's no indication from the eyewitness accounts of what happened on scene and the following more controversial encounter at the holding station, the 27-year-old man was anything but compliant.
Choking a wrestler would certainly, and did provoke a response by McGough, who defended himself against an unlawful assault by a police officer. Another officer tackled McGough, and fractured his own leg in the process.
Following the incident the Phoenix New Times' began investigating. Robbins provided the newspaper with body camera footage of the K9 attack on a handcuffed citizen. In the recording McGough can be heard asking, no less than 30 times, what he did wrong and why he was being arrested. He was handcuffed and escorted from the police squad car and then taken into the holding cell. A U.S. Forestry Service officer then choked McGough, who responded with profanities, again not illegal.
Then, the officers threw the young man on the floor of the jail cell and allowed the police attack dog known as "Shadow" to maul McGough for more than 3 minutes. The attack was all captured on body camera footage.
McGough later plead guilty to assault charges, spent six months in jail, and filed a federal civil rights lawsuit while he was imprisoned.
"When you're subjecting someone to lengthy and continuous pain and maiming, torture is an appropriate word," said Steven Guy another attorney representing McGough. The young man who's now become an apparent victim of brutal police tactics which resemble vengeance, is seeking several million dollars in damages from the unprovoked attack by the police K9 who attacked upon the command of his police handler. McGough is seeking 4 million from MCSO and 2 million from the U.S. Forestry Service for being choked by one of its officers.
Maricopa County's new sheriff Paul Penzone had an opportunity to distance himself from his predecessor's brutal regime and reign, but instead he rallied with the thin blue line in comments made about McGough's case this week. "I'm far more concerned with the injuries that were sustained to my deputy who may not return to this career than the injuries that were sustained by the individual who carried out that violence," Penzone told reporters.
It's no secret young people drink on the Salt River while they're tubing. Not only do they drink, they drink a lot. MCSO routinely stops, conducts DUI checkpoints, and responds to incidents when they happen. But when attack dogs are used to inflict deep puncture wounds on handcuffed individuals, one can expect a lawsuit.
Worse still is the fact the head of such a police department, which would use a dog to hurt someone for defending themselves and their property against an unconstitutional search of one's vehicle, couldn't actually care less about the bites the citizen received who he's sworn to protect and serve.