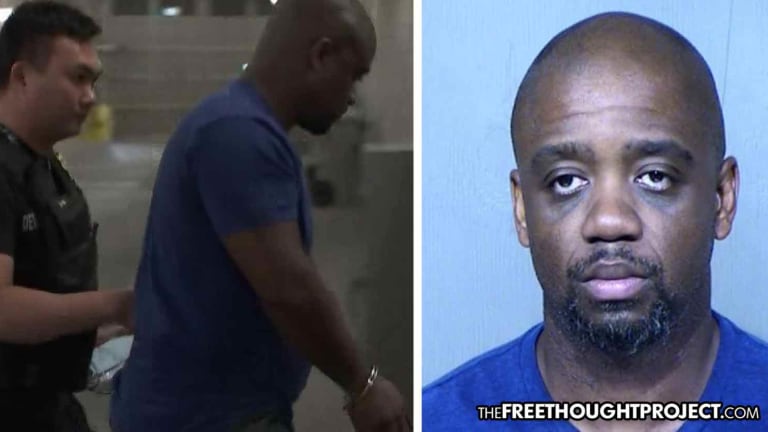 Taxpayers to Be Held Liable for On-Duty Cop Accused of Kidnapping, Raping Over a Dozen Woman
The state trooper is facing 61 counts of various criminal charges for kidnapping, raping and extorting more than a dozen women.
Phoenix, AZ — As the Free Thought Project frequently reports, when most people see police lights in their rear view mirror, the last thing they feel is "protected." When a cop is pulling you over it most likely means that you are about to be extorted for a victimless crime. However, if the cop in the story below was pulling you over, it meant something much worse than mere extortion. If you are a woman, it meant you were about to be kidnapped and raped.
As tFTP previously reported, Arizona Department of Public Safety Trooper Tremaine Jackson, 43, was arrested last year on a whopping 61 charges of everything from kidnapping to sexual assault. The trooper, who'd been with the department for 13 years is accused of pulling women over and sexually assaulting them.
Now, the taxpayers of Maricopa County are about to be held liable for his sick acts. The lawsuit states that Arizona should be held liable for the wrongful conduct of its officers, employees, agents, districts, divisions, and subdivisions.
Since we reported on the original story, a total of 15 victims have come forward, alleging sex abuse, kidnapping and fraud.
At the time, police expected there to be more victims, so they setup a form for victims to fill out. If you or someone you know was abused by this man, you can fill out a complaint form here.
"This event started on May 19th where we received an initial complaint about some inappropriate comments by Trooper Jackson to a female motorist," said DPS Director Col. Frank Milstead. But this was only the tip of the iceberg.
"While we were investigating that May complaint, on June 11th, we received a second complaint. This one also alleging inappropriate commentary and then also criminal behavior to the extent of sexual abuse," Milstead said. "Trooper Jackson was using his position as Arizona State Trooper to bargain leniency for favor."
In other words, this "hero" officer was pulling women over and forcing them to give him sexual favors or face being kidnapped—a situation that only works if you have a badge.
"The Arizona Department of Public Safety is a proud and venerable organization with a storied past," Milstead said last year. "Most of the employees serve Arizona with pride and integrity. ... When one of our own betrays public trust or breaks the law, we respond swiftly and without regret."
In October, Jackson was booked on multiple counts of sexual abuse, attempted sexual abuse, sexual extortion, unlawful imprisonment, kidnapping, harassment, forgery, and tampering with a public record, among other charges.
In early September, a total of eight women had come forward with allegations of abuse by this cop. And now that number is 15.
As ABC 15 reports:
In several of the cases, the victims say they were held and questioned during traffic stops for over an hour. In several cases, Jackson reportedly asked for sexual favors or to take the victim on a date to avoid being arrested or given tickets.

Several of the victims stated that Jackson would repeatedly ask, "What am I going to do with you?" while threatening possible arrest.

In one case Jackson reportedly followed a victim to a home where she was supposed to perform sexual acts to avoid arrest. The victim says she ran into the home and locked all of the doors. She says she called her boyfriend and hid while Jackson allegedly searched the outside of the home and looked in the windows.

Jackson also forced several victims to give him their social media account information so that they could talk and meet at future dates.
In another incident a victim asked him if he was going to arrest her. The trooper replied, "No, you're not free to go yet. I'm not finished with you." He then asked her what she was "willing to do" to stay out of jail.
As the New Times reports:
Was she willing to give him a dance at the adult dance club where she had just gotten off work?

Would she give him a kiss?

She did neither. But when he finally let her go, the documents say, he followed her most of the way home.
Because DPS troopers are not required to wear body cameras, there is no video evidence to go back through. When asked if body cameras would've prevented the abuse, Milstead said, "probably not."
"Cameras can be manipulated to a degree to allow people to do inappropriate things," he said. And he's right.
However, DPS records show that Jackson indeed targeted female drivers more often then men, a move they called extremely rare. According to the DPS, they pull over twice as many men for every woman.
"Most of us are parents or have loved ones who are female," Milstead said. "And to think that under the color of authority the trust the public places on the shoulders of law enforcement is betrayed by a single trooper that tarnishes a reputation of an agency or profession and victimizes women on a traffic stop is horrifying."
According to police, Jackson was immediately fired after he was arrested and he was booked into the Maricopa County Fourth Avenue Jail.
"The temerity of Trooper Jackson is horrifying," Milstead said. "Our job now is to respond appropriately."
"When an officer like this goes off the rails, not only does it further diminish the respect people have for police officers, during a very difficult time to be a police officer, it really is a big hit to the credibility of our justice system," said Marc Victor with Attorneys for Freedom law firm.
Coincidentally, the Free Thought Project has reported on this officer before when he and his colleagues were teaming up on an innocent woman and arresting her for no reason.
According to a video from a former WWF wrestler and cannabis advocate, when an employee at a cannabis dispensary left work and drove down the street to a local gas station, she was immediately confronted and harassed by police.
Witnesses claimed that as soon as the unnamed female arrived at the gas station, Mesa Police swooped in and quickly placed her in handcuffs. Sean Allen Morley, who at one time in his professional life went by the name Val Venis in the WWF/WWE, wasted no time in questioning the validity of the traffic stop, which took place on the gas station's property. On his Youtube channel, Morely described the interaction:
"Here is my interaction with UNACCOUNTABLE & NON-RESPONSIVE #ThugLawEnforcement in Mesa, Arizona. I drove into QT Gas station and watched a SCARED young woman getting arrested without being told why she was being arrested."
Perhaps Jackson was trying to rape her and one of his fellow cops showed up and spoiled it for him.