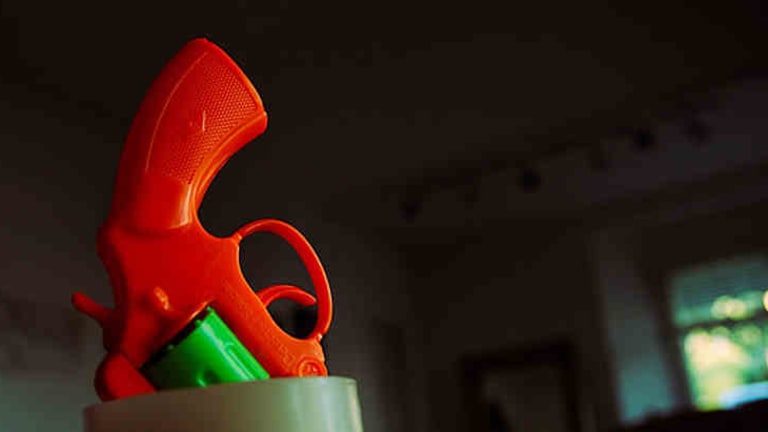 Instead of Teaching Cops to NOT Shoot Children with Toy Guns, NY Bans Them
Giants of American retail such as Walmart and Amazon have announced they will comply with New York Attorney General's order to stop selling realistically looking toy guns, unless their barrels are clearly marked with clearly visible orange markings.
Walmart has already enforced a "shipping block" on its website.
"Once this matter was brought to our attention we placed a shipping block on our website to prevent the mentioned items from being sent to the state of New York," a Walmart spokesman said. "We're also confident that measures are in place to prevent these items from being sold at our New York stores."
A spokesperson for Amazon the company will identify all non-compliant toys to ensure they aren't sold in New York, AP reports.
Kmart is in the "process of immediately removing any non-compliant toy guns that are offered for sale by Sears or Kmart to New York consumers" and will fully cooperate with the state attorney general, Bloomberg reports citing Howard Riefs, a spokesman Sears Holdings.
On Thursday Attorney General Eric T. Schneiderman sent letters to Sears, Kmart, and ToyArsenal.com to cease selling toy weapons to New Yorkers.
"When toy guns are mistaken for real guns, there can be tragic consequences," Schneiderman said in a statement. "New York State law is clear: retailers cannot put children and law enforcement at risk by selling toy guns that are virtually indistinguishable from the real thing."
In the midst of the Christmas shopping season the retailers were requested to "immediately stop the in-store and online sale and shipment" to New York residences, after an investigation discovered that businesses were selling toy guns online.
"State law prohibits the sale of imitation guns in realistic colors such as black, blue, silver, or aluminum, unless it has a non-removable one-inch-wide orange stripe running down both sides of the barrel and the front end of the barrel," the Attorney General's office said.
Since 1997 four people have been killed in New York in accidents when police believed toy guns in their possession were real, according to Schneiderman's office.
Schneiderman's plea comes weeks after 12-year-old Tamir Rice from Cleveland was shot to death by police after his air gun purchased at Walmart was mistaken for the real thing. Federal law requires fake guns to be painted with bright colors on the end of the gun barrel.
Republished with permission from Russia Today