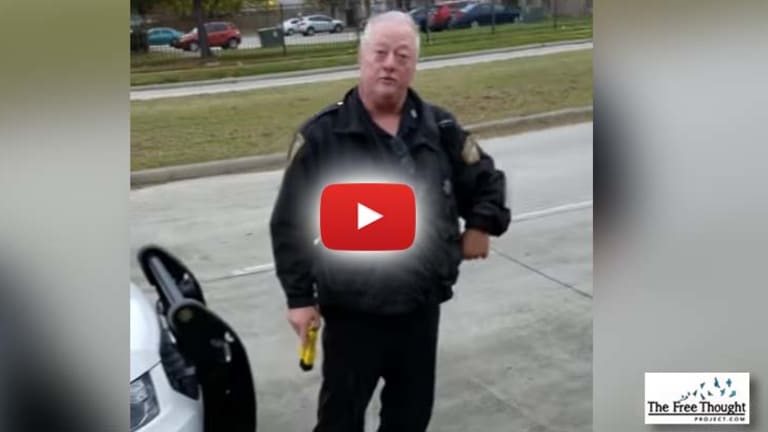 VIDEO: High School Kid Threatened with Taser & Handcuffed — for Jogging — While Black
A high school teenager was targeted, falsely accused of being a robbery suspect, and handcuffed — for jogging while black.
Houston, TX — A high school teenager found out the hard way what 'fitting the description' looks like in a police state. However, because he was unafraid of filming the police, the rest of the world can see what that feels like too.
Andrew, who is a high school student at Davis High School in northern Houston, was out for a jog last month when he was targeted by Harris County deputy Clark who thought he 'fit the description' of a man who just robbed a Walgreens.
Andrew posted the ">video of his interaction to YouTube with the following description:
Just doing my daily jog after school then this old geezer begins to follow me but does not honk at first. So I started recording for my safety. After he handcuffed me and stopped the video from recording he put me inside his vehicle and made me answer all his question, what's your name, where do you live, what school you go to. Then on his radio they add another description that the suspect was wearing a blue sweat shirt and black pants....I had on a black hoodie with blue shorts......
"What are you running for?" asks the cop as he gets out of his patrol car with his taser drawn.
"I'm jogging," says Andrew.
"Well, we just had a robbery down there and you kind of match the description," the deputy responds.
When the deputy asks Andrew for his name, he first declines. However, he then says, "my name is Andrew."
"Have a seat on the ground or I'm going to light your ass up," the deputy responded. "You're not complying. No ID, investigating a robbery, you're running from that area."
"I'm just jogging," Andrew said.
The deputy proceeds to lie to Andrew and tell him that it is against the law for a 17-year-old not to carry an ID.
"Seventeen is an adult," says the uninformed deputy. However, according to Texas law, 18 is the "age of majority," at which point residents are legally considered adults. Only if Andrew would have emancipated himself would he be considered an adult.
As he continues the false arrest of this innocent teenager, the deputy radios in to dispatch to inquire about the description of the original suspect. Remember, the deputy already claimed that Andrew fit the description. However, when we hear the conversation the deputy had with dispatch, it becomes clear he had no clue what the suspect looked like.
"He should be wearing a blue sweatshirt," the dispatcher says.
"Do I have a blue sweatshirt on?" the teen asks. "No, thank you. I do not."
"He's got a blue sweatshirt on," the deputy replies to the dispatcher.
"It's a black …," the teen asserts.
When the deputy asks Andrew what high school he goes to, he refused to answer — at which point the handcuffs came out.
By the time Andrew said 'Davis high school,' the deputy was moving in for the arrest, noting that he was being 'uncooperative.'
At this point, the video ends as deputy Clark confiscates his phone and puts Andrew in the back of the car.
According to Andrew, after the phone cut off, he was held in the back of the squad car as Deputy Clark attempted to justify his wrongful detainment — for jogging. However, he could not dispute the dispatcher's description.
Then, without saying anything, deputy Clark opens the door, uncuffs Andrew and drives away. No words, not even an 'I'm sorry' were uttered by the deputy as he pulled off, according to Andrew.
As Andrew points out, he was actually running toward the store that was allegedly robbed. "Who runs back to the scene of a crime?" Andrew asked. However, all this information was irrelevant to deputy Clark.
Sadly, 'jogging while black' seems to be a detainable offense in America. Last year, father of three, Corey Dickerson was out for a jog one night when Talladega, Alabama's finest decided they needed to harass him.
In that video, Dickerson was resting from a hard sprint when officer Price of the Talladega police department decided to detain him.
The officer in that video begins his 'fishing' expedition by firing off random questions at Dickerson, in a likely attempt to get him to self-incriminate. But Dickerson is no fool.
[author title="" image="https://tftpstagingstg.wpengine.com/wp-content/uploads/2016/03/magorist-e1456948757204.jpg"]Matt Agorist is an honorably discharged veteran of the USMC and former intelligence operator directly tasked by the NSA. This prior experience gives him unique insight into the world of government corruption and the American police state. Agorist has been an independent journalist for over a decade and has been featured on mainstream networks around the world. Follow @MattAgorist on Twitter and now on Steemit[/author]