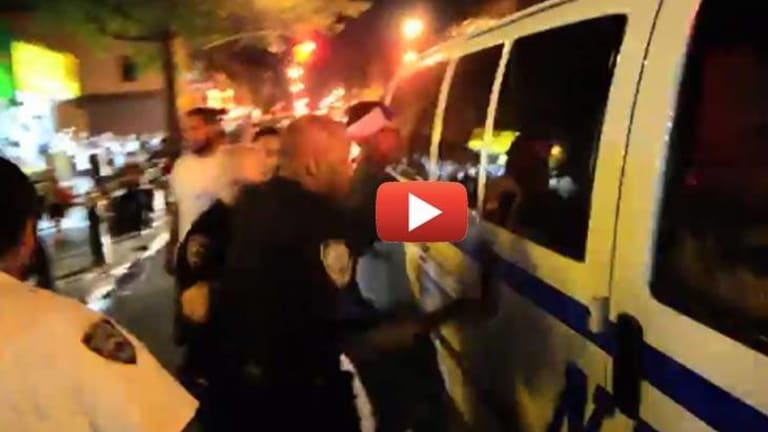 Teen Facing Prison for Assaulting NYPD Cop Has Charges Dropped After Video Shows He Was Victim
Prosecutors dropped charges against a 17-year-old for assaulting a cop because footage of the incident proved the young man was actually the assault victim.
Prosecutors dropped charges against a 17-year-old for assaulting a police officer because footage of the incident between the teenager and New York Police Department cops proved the young man was actually the assault victim.
The incident took place at Brooklyn's Puerto Rican Day Parade in June. The 17-year-old, Enrique Del Rosario, was part of a group that was recording the actions of police. Officers then grabbed the teen, slamming him against a wall and beating him, according to his lawyer, Rebecca Heinegg.
Dennis Flores, head of police watchdog El Grito de Sunset Park ‒ an advocacy group that brings attention to what Flores describes as the controversial tactics of the NYPD ‒ was one of the people who filmed the assault on Rosario.
"We witnessed Enrique filming the police throwing a woman onto a sidewalk," Flores told RT. "And for that, a police officer bashed his head in, robbed him of his camera ‒ and I say robbed him because the camera never showed up as evidence; it completely disappeared, but something that we had on video ‒ clearly, cops grabbed him, slammed him against the gate."
"A second officer, named Elvis Marizalde, swung a nightstick, missed ‒ he cracked the head of another officer with his nightstick, and then charged [Rosario] for assaulting the police," Flores continued.
"And because of that, since we formed a chain of cameras around Enrique to film this, we started getting maced, we got attacked and we were pushed back. But because there were so many of us and so many cameras watching over each other, we outnumbered those cops."
"Basically, my client was a victim of a gang assault by the 72nd Precinct," Heinegg told The Brooklyn Paper. "Five officers slammed him against the gate of a closed store. Batons came down on his head."
Rosario was arrested and charged with assaulting a police officer, but a grand jury declined to prosecute him in September. He still faced charges for resisting arrest and larceny until Heinegg used the videos that members of El Grito and other witnesses recorded as evidence, Flores said.
The footage showing police malfeasance would have been shown in a trial, and the District Attorney's Office wanted to avoid that, Heinegg said. The DA offered to drop all charges, as long as Rosario keeps a clean record for six months.
"This is a common way for the DA to get out of cases they don't want to go to trial," she added.
Flores told RT that Rosario's camera, which officers confiscated, was never recovered at the scene, nor was it ever entered into evidence. He added that Rosario's treatment isn't out of the ordinary.
"This is something that repeats year after year after the Puerto Rican Day Parade in Sunset Park," Flores said. "Police routinely corral kids around, assault them, press charges on them for merely waving flags, for continuing to celebrate the Puerto Rican Day."
"This year, like other years, we were ready for them," he added.
El Grito posted a video in September of officers from NYPD's 72 Precinct tackling a visibly pregnant woman, and then remaining on top of her while she was facedown on the ground. The bystander who recorded that altercation also recorded a different incident in the same Brooklyn neighborhood just a week before, which also involved a 72nd Precinct officer.
Republished with Permission from Russia Today