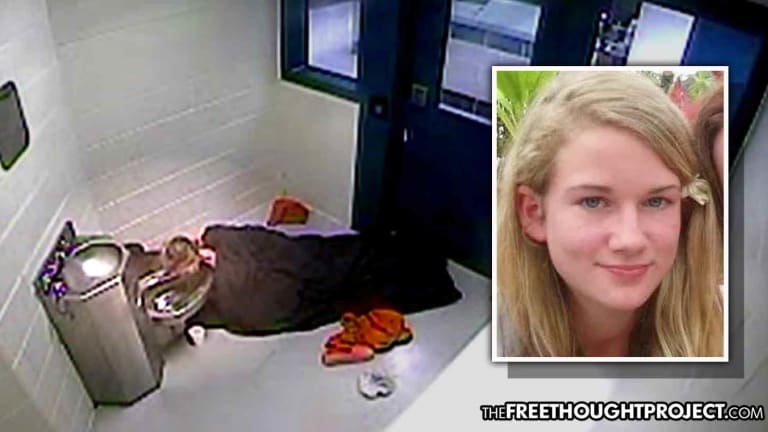 Officers Showed 'Compassion' as Teen Jailed for Shoplifting Begged Them for Help Until She Died
A 19-year-old girl spent the last days of her life in solitary confinement over a petty theft charge, begging for help as officers ignored her.
Moorhead, MN — "Your staff appear to have been very compassionate and treated (Abby) Rudolph very professionally," the Minnesota Department of Corrections ruled after 19-year-old Abby Rudolph died in a pool of her own vomit and feces, alone in a jail cell, after begging for help. But compassion was the last thing on the jail's itinerary when it came to the treatment of Ms. Rudolph.
According to police, in October of 2016, Rudolph took a toaster out of a box at Menards in Moorhead and filled the box with with other items. She was caught before she left the store so there was never technically a theft, but she was jailed for it anyway.
Rudolph was stealing to fund her opioid addiction. Because this country — outside of Oregon — treats drug addiction with steal bars and concrete cages instead of getting addicts the help they need, Rudolph was kidnapped and caged instead of going to a hospital she so desperately needed.
Having been addicted to opioids for some time, once in jail, Rudolph began going through withdrawal and her condition deteriorated quickly. She began vomiting profusely, having diarrhea, and couldn't keep any fluids down. When her mother came to see her after the first night, Rudolph was worried she smelled so bad that her mother could smell her through the visitation glass.
"I don't want to go back there," she pleaded with her mom.
However, her mom thought that her daughter needed a place to detox and she incorrectly thought jail would be the place for this to happen.
"I have to raise you to be able to take care of yourself, and I have not done that," Jill Rudolph said to her daughter, thinking she was doing the right thing.
"You think you're a bad mom. You're not," Abby replied.
"No, all I've protected you from all of the problems. … you've never faced reality," Jill said.
"I am now," Abby replied.
"I love you," Jill told her. "I've got to go. I do love you. Do you doubt that? I love you more than anything."
She would not see her daughter alive again. In only four days at the jail, she lost 17 pounds – nearly 13% of her body weight as she writhed in agony, her pleas for help ignored, and the medical attention she needed, denied.
"She was begging, begging for help and there was no compassion given to her. There was no respect for her basic human needs and what happened was wrong," said Colin Peterson, an attorney representing the family in a federal lawsuit.
Despite investigating themselves and finding nothing wrong, KARE 11 poured over hundreds of hours of video and jail records and found that this is not exactly true.
KARE 11 launched an in depth investigation of their own and found that the DOC's death investigations are routinely flawed and often toothless.
According to national guidelines for jails, to avoid the needless suffering and eventual death suffered by Rudolph, inmates should be given the proper medication. When looking over the videos and the jail logs, videos, this never happened for Rudolph.
Instead, officers repeatedly marked her as "OK" and told the nurse that she was fine. The nurse somehow believed them despite witnessing Rudolph sprawled out in her cell covered in her own vomit and feces.
Eventually, Rudolph would aspirate her own vomit and die. An ambulance was only called after she began having a seizure and stopped breathing. Her death was 100 percent preventable and senseless.
If jails have appropriate treatment and protocols in place, withdrawal-related deaths, "should be basically non-existent," Dr. Kevin Fiscella, an addiction specialist who sits on the board of the National Commission on Correctional Health Care told KARE 11.
The lawsuit filed against the jail after Rudolph's death was originally filed by her mother. However, two years after Abby died, Jill died as well. Jill's brother, Craig Casler says his sister died as a result of losing Abby.
"She died of grief. She could not go on," said Casler.
Abby's brother also agrees with his uncle. "I believe in broken heart syndrome," said Rudolph's brother, Jack.
"That's something no one should ever have to think about or know happened to one of their family members," he said.
We agree.