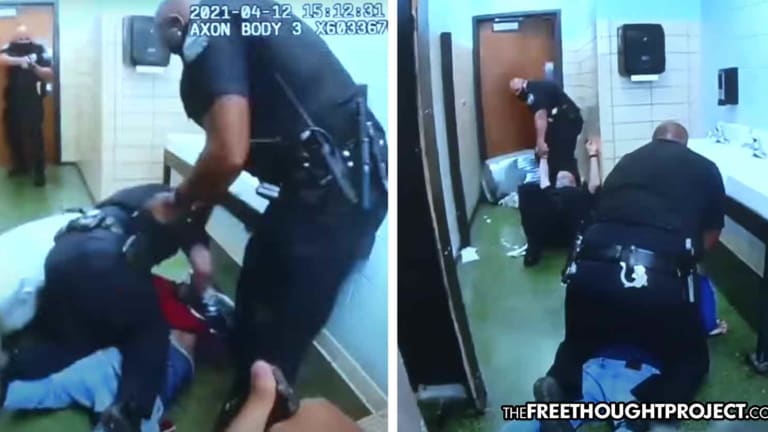 WATCH: While Killing Student in High School Bathroom, Cop Also Shoots Fellow Officer
Video footage was just released showing three officers surround a teen in a high school bathroom before killing him, shooting a fellow cop in the process.
Knoxville, TN — On April 12, 2021, parents of students at Austin-East Magnet High School in east Knoxville were shocked when they received notifications that the school was on lockdown over reports of an active shooter on campus. Helicopters hovered over the school as parents prayed their children would be okay.
It would later be revealed that there was no active shooter and the only person doing any killing was a Knoxville police officer. His victim: a 17-year-old boy. When the school cop opened fire to kill 17-year-old Anthony Thompson Jr., he also shot his fellow officer.
Though the officer's injuries were solely due to the actions of his fellow cop, immediately after the shooting, police put out the information that the officer was injured in a shootout at the school. It took them a week to let residents know that officer Willson was not shot by Thompson and instead shot by his fellow cop, officer Clabough.
Anthony Thompson was a troubled high school kid who did not deserve to die. Yet he was killed and the officers who killed him have all been cleared.
Wednesday night, Knoxville District Attorney General Charme Allen released the body camera footage of the shooting and details of the moments leading up to it, which left Thompson dead and Knoxville Police Department officer Wilson hospitalized with a gunshot wound.
The footage was released at the same time the DA announced that the officers involved will not face charges for their roles in Thompson's death.
"I have just spent four hours with this family and I will tell you that was a painful long agonizing four hours for that family, but we talked about the death of their 17-year-old son, and one thing that family asked me not to do was release those tapes today, but because I had made a promise that once I completed the file and once I talked to the family I would release the tapes," said DA Charme Allen.
After releasing the evidence, Allen said it was "reasonable" for officer Clabough to feel his life was in danger and the use of force was justified.
To be clear, Thompson had a gun. However, when police approached him, he was sitting on the toilet and was surrounded by three officers. According to police, several hours before Thompson was killed, multiple steps took place which led them to finding him in the school bathroom. The DA's account of the incident is below.
12:30 p.m. at Austin-East Magnet High School, Anthony Thompson Jr. was first reported entering into a domestic incident with another student.
12:48 p.m., DA Charme Allen explains Anthony Thompson Jr. got into a second domestic assault at the high school.
1:16 p.m., Regina Perkins, mother of the domestic assault victim, text messages Anthony Thompson Jr. concerning her daughter.
1:59 p.m. Regina Perkins makes a 911 call about Anthony Thompson Jr. At the same time, school security footage showed Thompson Jr. sitting in an Austin-East stairwell.
2:15 p.m. KPD officer Clabough responds to Regina Perkins's residence following the 911 call, speaks to the domestic assault victim. Regina Perkins explains to the KPD officer Anthony Thompson Jr. has threatened her daughter with a gun before.
Officer Clabough calls Security Resource Officer Willson regarding more information into Anthony Thompson Jr. Officer Willson confirms to Officer Clabough there was a domestic assault incident at the school.
2:23 p.m. there is a text message exchange between Regina Perkins and Anthony Thompson Jr. DA Allen says Anthony never leaves the restroom after this time.
2:51 p.m. Anthony Thompson Jr. receives another text message from Regina Perkins
2:53 p.m. Body camera video is shown of Officer Baldwin responding to Austin-East on a domestic assault complaint. DA Allen says officers were not aware that Thompson Jr. had a gun when they arrived at the school to arrest Thompson Jr. Officer Willson advised the officer that he had witnessed the domestic dispute between the students and had been monitoring school cameras to locate Thompson Jr.
3:00 p.m. Officer Baldwin, Officer Cash, Officer Clabough and Officer Willson are in a classroom with Lieutenant Cash looking at security video searching for Anthony Thompson Jr. Officers remained in the office for nearly 10 minutes looking at school cameras in an attempt to locate Thompson Jr.
SSO Officer Scott approached the officers and notified them of a bathroom Thompson Jr. was known to hang out in. The officers, alongside SSO Officer Scott, approach a school bathroom. Officer Baldwin, Officer Cash, Officer Clabough and Officer Willson enter the bathroom and make contact with Thompson Jr.
3:11 p.m. DA Charme Allen releases body cam footage of all four officers. The officers made contact with Thompson Jr. and a scuffle soon ensued. Officers attempted to take a gun out of Thompson Jr.'s possession. One bullet was fired from Thompson's gun. It went through a trash can.
Officer Clabough was the one who ultimately fired the shots that killed Anthony Thompson Jr. He was the only officer to fire his weapon. Allen said the entire incident transpired in 11 seconds. Officer Willson was hit by gunfire from Officer Clabough's gun. Willson was dragged out of the bathroom.
Allen said it took four minutes for aid to be administered to Thompson Jr. by a school nurse. Allen said because of the severity of the injury, no matter how soon aid was provided, Thompson would not have survived.
At no time during the alleged scuffle is Thompson's gun seen in his hand. Although police claim a bullet was fired into a trashcan from that gun, none of this is seen on the body camera footage. It is entirely possible that when the officers tried to grab the gun from Thompson, one of them accidentally fired it into the trashcan causing officer Clabough to panic and kill Thompson and shoot his fellow officer. In fact, as the screen cap below shows, it appears that the officer possibly has his hand on the gun with it aimed at the trashcan.
After finding out Thompson was kill, Regina Perkins, the woman who made the original call to police said she wished she never made that call.
"I am so sorry, and I never meant for anything to happen to him," Perkins said. "We are mourning, my daughter is grieving the loss of her first love and we also want answers and justice in this case."
Below is the body camera footage.