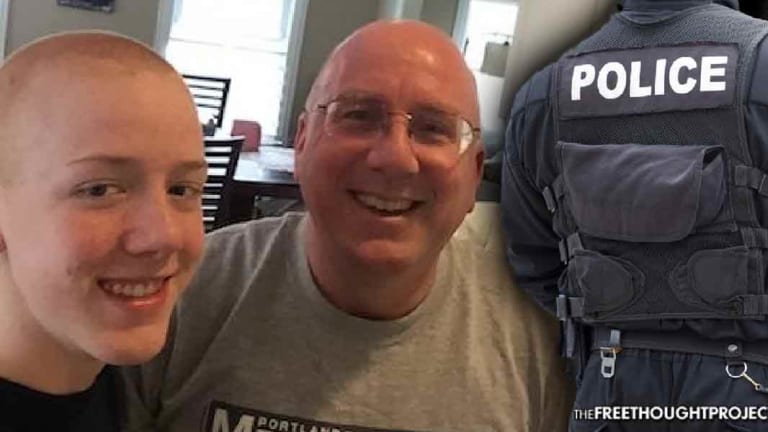 Teen Kills Himself After School Cop Lies to Him About Having to Register as Sex Offender
An Illinois teen kills himself rather than facing the prospect of being labeled as a sex offender; all for having consensual sex with another teen.
Naperville, IL — The weekend before Corey Walgren dove off of a five-story parking garage, he confessed to his parents he'd had sex for the first time. Unfortunately for Corey, a 16-year-old Junior at Naperville North High School, he was never allowed to explore the joys of sex again before school and police officials decided they had to intervene in his personal life.
A female classmate became aware of a consensual sexual encounter between another classmate, who was also 16, and Corey. Saying he'd played a recording of the sexual encounter for a group of his friends, the girl went to school officials to report the incident.
A school administrator called Corey into an office where the school resource officer, a cop named Brett Heun, proceeded to interrogate Corey. Heun told Corey that being in possession of videos of a sexual nature involving minors is considered, under the law, child pornography, and that he might have to register as a sex offender. According to the Chicago Tribune;
There, with a police officer and campus dean, Corey was questioned about possessing and possibly sharing "child pornography," allegedly threatened that he'd be put on the state's sex offender registry, then was left alone to wait for his mother.
The threat of having to register as a sex offender must have terrified Corey, who would then be possibly labeled a pedophile by his peers. Even though the video recording was too dark to see any sex act take place, the cell phone did contain a file with audio of the sexual encounter.
Police did not intend to pursue charges, records show, and they indicated they wanted to handle the matter in a way that ensured Corey understood the seriousness of his actions and how it affected his classmate.
The officer then called Mrs. Walgren to come to the school to discuss the action the officer was going to take against Corey.
Instead of waiting patiently for his mother to come, and possibly being humiliated his sex acts that had come to light, the young man left the school afoot. He owned a vehicle, and it was parked at the school, but the distraught young man walked to town.
After Mrs. Walgren arrived at school, she was surprised to find her son was nowhere to be found. Police asked her if Corey was suicidal — she said he wasn't — but he was.
Walking into downtown Naperville, Corey climbed the stairs of a five-story parking garage, and sat on the garage's ledge, within eyesight of an officer whose attention was grabbed by the boy's decision to sit there. But by the time the officer decided to park his patrol car in a nearby parking space, in an effort to keep an eye on the boy (whom he didn't know had just walked out of his high school) Corey had already thrown himself to the ground.
The boy was cared for by a doctor who was passing by, but even with the emergency medical attention he was given, he later died at the hospital. The honor student, hockey player, and bass fisherman took his own life.
Walgren's death is an indictment on a society so obsessed with security that it places armed officers of the law inside schools to supposedly serve and protect the student populations. Many times, those officers are directly responsible for arresting teens, giving many thousands of them criminal records for doing what kids have done for hundreds of years; questioning authorities, fighting in school, and creating disturbances.
In the past, bold teachers and administrators would handle those situations in house, without the need of any law enforcement officials. That was then, this is now.
Now those same officers who are sworn to protect and serve, often trample the rights of the students to enjoy civil liberties afforded to them by the Constitution. Who teenagers choose to have sex with is the business between those teens, and should be of no concern to the state, the school's, and especially the police.
The Walgren family is now suing the school district, as well as the police, for 5 million dollars, a million for each floor of the parking garage Corey passed on the way to his death. But the school, in a statement, says they've done nothing wrong. They wrote;
At the outset of this incident, we worked to ensure a thorough and fair review of the facts, and involved the appropriate school and law enforcement officials," the statement said. "Our main concern with any matter involving students is fairness, discretion and objectivity. The school district feels confident that we handled this issue appropriately and engaged the right officials pursuant to the protocols and procedures that govern student affairs."
It's understandable the police wanted to question the teen about the sexual encounter on his phone. With so many pedophile teachers and adults in the community, maybe they wanted to know he wasn't being abused by an adult. But, as Mrs. Walgren said, "I think they wanted to scare him straight...Instead, they scared him to death."
As TFTP has long contended, police have no business taking up residence in public schools. When police are involved in the daily lives of teenagers, bad things happen.
Unfortunately, Corey's story, as well as the hundreds of students in Colorado all suffered from a 21st Century dilemma; a clash of law, technology, youthful lusts, and life-changing regret.