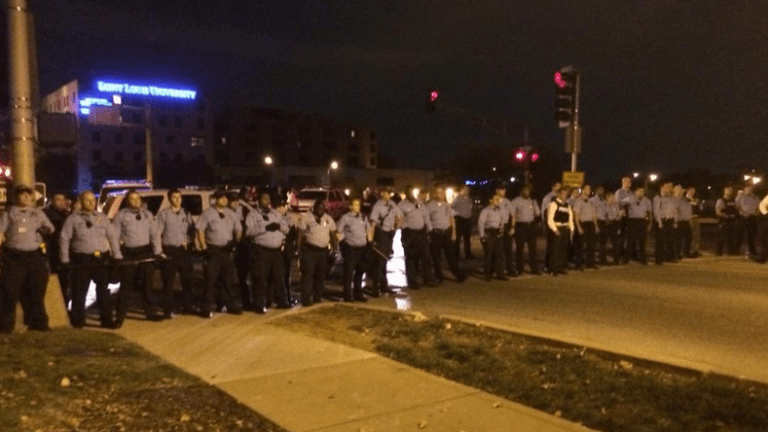 Off-Duty Cop Shoots, Kills Teen During "Pedestrian Check" Near Ferguson, Mass Protests Erupt
St. Louis, Mo. - The shooting of 18-year-old Vonderrit Myers in south St. Louis, just miles from Ferguson, has led to protesters taking to the streets. As news spread across social media, hundreds of demonstrators gathered in the streets to make their voices heard.
There are conflicting reports about the incident itself. Police claim that an off-duty officer, attempting to do a "pedestrian check," was shot at by the teen when he then returned fire killing the teen.
What is a "pedestrian check" you ask?
Reports indicate that a pedestrian check is an officer-initiated engagement with someone to verify that they live in that neighborhood. Because evidently it's suspicious to be in a neighborhood you don't live in.
The police narrative is that the incident began approximately 7:30 p.m. CT when an off-duty officer saw four men on the corner of Shaw Blvd. and Klemm St. It is at this point he attempted to do a "pedestrian check," which resulted in the men running.
The officer then gave chase but lost the men, only to find one again when he jumped out of a bush. Assistant Police Chief Alfed Adkins claims that a struggle then took place, according to the Associated Press.
"The officer approached, they got into a struggle, they ended up into a gangway, at which time the young man pulled a weapon and shots were fired," Adkins said. "The officer returned fire and unfortunately the young man was killed."
The officer fired 17 times, according to Adkins. A Ruger 9mm was recovered from the area. Adkins said the officer, 32, is a six-year veteran of the force, but did not identify him.
According to Police Chief Dotson, Myers fired at least three times stating, "The ballistic evidence indicates at least three different rounds at the office."
Witnesses have a different version of events than the official police narrative, with many on scene claiming that Myers was in fact unarmed.
Teyonna Myers, cousin of the deceased, told the Post-Dispatch that police only thought Myers had a gun.
"He was unarmed," Teyonna Myers told the paper. "He had a sandwich in his hand, and they thought it was a gun. It's like Michael Brown all over again."
When Dotson was pressed about reports the teen was unarmed he reiterated that "An individual pointed at gun at a officer, fired three rounds and continued to pull the trigger," during a news conference.
If in fact there were shots fired at an officer, could another individual have shot at the officer, as the police report there were three people involved in the initial stop?
Others on the scene claimed that the teen had been tasered by the officer and was on the ground when the off-duty cop shot him 16 times.
Jackie Williams, 47, said Myers was his nephew and lived with him. He said that he had talked to a number of people who had seen the shooting.
Williams went on record stating, "My nephew was coming out of a store from purchasing a sandwich. Security was supposedly searching for someone else. They tased him. I don't know how this happened, but they went off and shot him 16 times. That's outright murder."
The Free Thought Project's Cassandra Rules was on location talking to witnesses and they tend to corroborate, Williams' story.
As news of the shooting spread protesters took to the streets unafraid of the police presence.
Protesters, angry with the recent police violence in the area blocked in officers and refused to let them pass.

As the night progressed, so did the police presence.

Around 3:30 am Thursday morning the scene finally calmed down.
Jay Syrmopoulos is an investigative journalist, freethinker, researcher, and ardent opponent of authoritarianism. He is currently a graduate student at University of Denver pursuing a masters in Global Affairs. Jay's work has previously been published on BenSwann.com and WeAreChange.org. You can follow him on Twitter @sirmetropolis and on Facebook at Sir Metropolis.