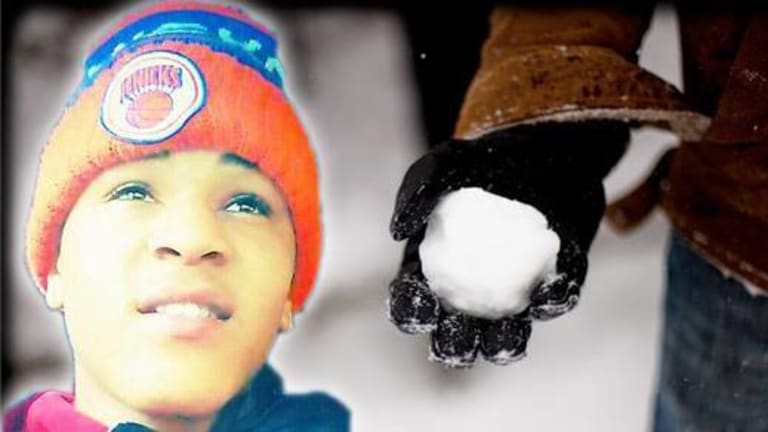 Teenager Sues Police After Being Jailed for 40 Days Over a Snowball Then Cleared of Wrongdoing
After spending 40 days in detainment and then cleared of any wrongdoing, a Detroit teen is suing police for false arrest and malicious prosecution
Detroit, MI -- A Detroit teenager is suing police in federal court after being wrongfully jailed for 40 days over a snowball.
Dominique Rondeau thought he would have some fun with the other kids after school by throwing snowballs. In Police State USA, however, even this immortal pastime can get you thrown in jail.
One of those icy snowballs from the crowd hit the windshield of a police car parked at East English Village High School, in just the right way to shatter it. Although officers Floyd Jenkins and Freddie Wilson did not see who threw the snowball, they looked at security camera footage and fingered Rondeau for the "crime."
Later that day of December 16, 2013, they would nab Rondeau from his home and put him in juvenile detention for nearly 40 days under a charge of destroying police property.
"They knocked. I cracked the big door open to see who it was ... They opened the (screen) door, and they just walked in, and they started putting me in handcuffs," according to Rondeau.
He was separated from his family during Christmas and New Year's holidays, as they could not afford the $2,000 bond to release him.
At the bench trial on February 26, the two cops testified that they saw Rondeau on the video, but when the footage was played in court, they could not pick out Rondeau. Based on this and the fact that no other evidence was offered, the case was dismissed and Rondeau was freed.
What possessed these police officers to not only go after a kid over a snowball, but also attempt to deceive the court so the kid would stay in jail?
This abuse of power is not being forgotten. Dominique Rondeau is suing the two district police officers, along with Detroit Public Schools, in federal court for false arrest and malicious prosecution. The lawsuit says his constitutional rights were violated by being arrested without probable cause or a warrant.
Rondeau's mother, Sheron Rondeau, said the arrest and jail time has emotionally scarred her son, adding, "There's a fear now. He doesn't trust police officers."
They are seeking a jury trial and unspecified monetary damages.
The district denies any wrongdoing, setting a precedent for their officers to go after kids if play time impinges upon the sanctified property of law enforcement.