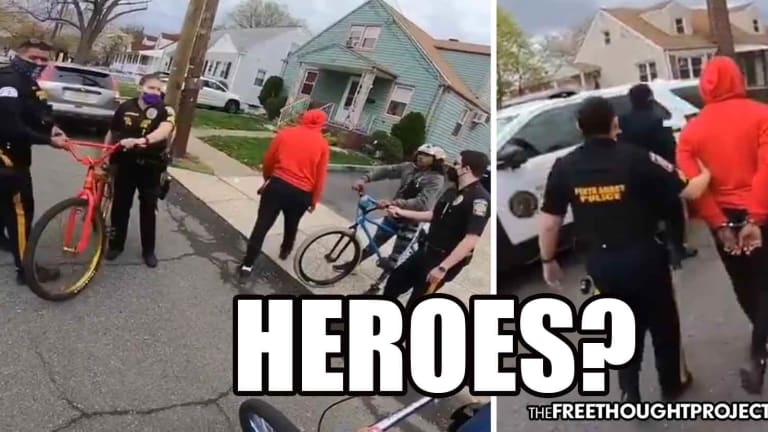 WATCH: Cops Swarm Innocent Kids, Steal Bikes, Arrest Them Over Stop for 'Bicycle License'
A group of black teens was swarmed by cops, had their bicycles stolen, and were arrested over failing to have the proper license to ride a bike.
Perth Amboy, NJ — In the land of the free, the government will often times take an entirely harmless, normal, and common activity — like setting up a lemonade stand — and force people to pay them for the "privilege" of doing so. If you fail to pay for permission from the state to engage in said activity, they can and will bring the hammer down on you. Several children in Perth Amboy, New Jersey learned this the hard way recently after they were swarmed by cops for not have a "license tag" on their bicycles.
The city of Perth Amboy is a tyranny. Thanks to greedy politicians and proponents of the police state, citizens who wish to ride a bicycle — even children — must pay them a fee every year for the privilege of peddling. According to the ridiculous law, citizens must ask the chief of police for permission to ride their own bicycles:
An application for a license to own and operate a bicycle shall be made to the Chief of Police in writing upon a form approved by the City Council. Upon approval of an application, the Chief of Police shall provide, at the expense of the city, a proper license tag which shall be attached to the frame of the bicycle in a substantial manner. The removal of such tag, except by proper authority, shall be a violation of this chapter. A license fee of fifty cents ($0.50) shall be charged per year for each bicycle. Such license shall be issued as of the calendar year and shall be effective for such period.
If you fail to follow the legislation to the 'T', police and government claim the authority to steal your bicycle, extort, and even kidnap and cage you.
A. Any bicycle being operated or propelled in violation of any of the provisions of this chapter, upon the personal observation of a law enforcement officer, is subject to immediate confiscation. A confiscated bicycle shall be returned upon payment of any fine imposed or upon any final adjudication.

B. Any person, firm or corporation violating any of the provisions of this chapter shall be subject to a fine not in excess of fifty dollars ($50) or imprisonment for a term not exceeding ten (10) days, or both, and provided further, that the court may, in addition to the penalty provided herein, suspend or revoke any license issued under this chapter.
One would think that in today's already-heated climate between police and the citizens that cops may choose to look the other way and let kids be kids and ride their bicycles without forcing them to pay for a license. However, if we look at the cops in Perth Amboy, one would be wrong...very wrong.
An infuriating video posted to Twitter this week shows group of black teens biking through the town of Perth Amboy when they are swarmed by cops and targeted for harassment. The reason for the stop? No bicycle license.
The teens didn't live in Perth Amboy, however, and they attempted to tell the officers they live in Edison — a town without the draconian bicycle license requirement — and they were on their way home. But the cops were having none of it.
When police stopped the teens, at least six cop cars are seen in the video. The officers then ordered the teens off their bicycles before stealing one of the bikes and arresting another teen for arguing about the officers stealing their bicycles.
This is what riding your bike while black looks like in a police state.
Another video showed the aftermath at the police station as the officer told one of the teens he was "lucky" to get his bicycle back, while demanding to know if the teen purchased a license from them. The officer explained that the teens were stopped, arrested, and had their bicycles stolen "for their safety." "This is for your safety," a female cop says. "You think I wanna be here taking bikes away? This is so asinine. We have so much better stuff to do with our time," she admitted, saying that they had just done the same thing to another group of children. Well, officer "bicycle tyrant," if you do have "so much better stuff to do with your time," why the hell are you harassing kids and taking their bikes? Perhaps your time would be better spent investigating your own officers like Rafael Martinez Jr., a now-former Camden County cop who was found guilty of raping and impregnating a child and who received probation instead of jail.