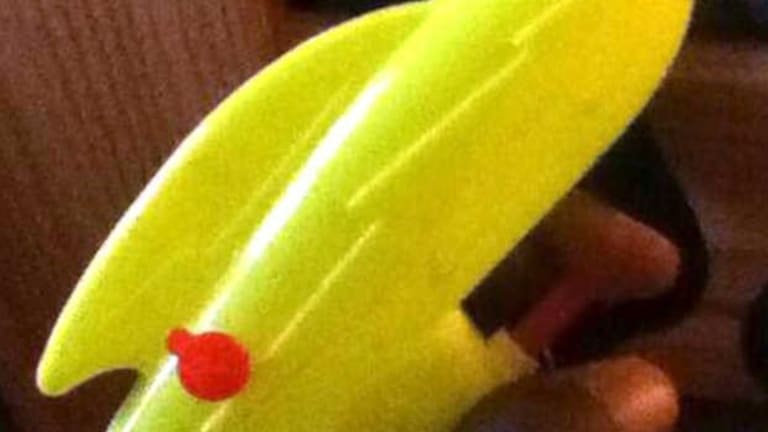 Tenth Grader Suspended Over Yellow Water Pistol
Ten days without school for teenager under more zero tolerance madness
Steve Watson
Infowars.com
April 17, 2014
A student in Maine has been suspended for ten days after he brought a bright yellow water gun to school, in yet another case of zero tolerance insanity.
The unidentified boy was handed the punishment by officials at the Lewiston High School after the toy (pictured) fell out of his back pack in class this week.
Parents of students at the school are very unhappy with the situation, telling reporters at the Lewiston Sun Journal that the decision stinks.
"Would anybody actually mistake this for a real weapon?" demanded the father of another high school student. "Time to get real."
Officials at the school defended the decision, however, saying that it doesn't matter that the squirt gun is not a real weapon.
Superintendent Bill Webster commented that the toy "certainly looks innocent enough on one hand, but can be used in a disruptive way and lead, perhaps, to students bringing other water pistols that may not look so benign."
"Without comments on the specifics of this case," Webster said, "I can say that a student bringing a water pistol to school will, at first, be told that they are being suspended from school for 10 days. We then work to get more facts and complete a review that often results in a reduction of the suspension period."
"Also, it is not uncommon for other factors to enter into the suspension decision, including the level of student cooperation." Webster added.
Webster attempted to assure reporters that the case would be thoroughly reviewed. "I can assure you," Webster wrote in an email "that unlike some districts, we will work to balance the discipline with the facts of the case. Some districts do not reduce the 10 days and some will even pursue expulsion."
This is not the first time squirt guns have been the focus of zero tolerance crack downs in schools. A year ago, police in New York State confiscated a man's REAL firearms and revoked his pistol license after his son threatened to use a water pistol against bullies who had taunted his friends at school.
A month earlier, police rushed to Malden High School in Massachusetts after reports of a gun only to discover a neon-colored water pistol. In yet another incident, a five-year-old girl was suspended after a three hour grilling, and described as a "terroristic threat" when she brought a pink bubble gun to school.
There are also now a plethora of cases of children being suspended for doing anything that can be remotely related to weapons, including pointing fingers like a gun, using a pencil to imitate a gun, or even biting food into a gun-like shape.
In many cases the suspensions remain on students' permanent records, a fact that has spurred lawmakers to push for legislation to prevent such over the top reactions in several states.