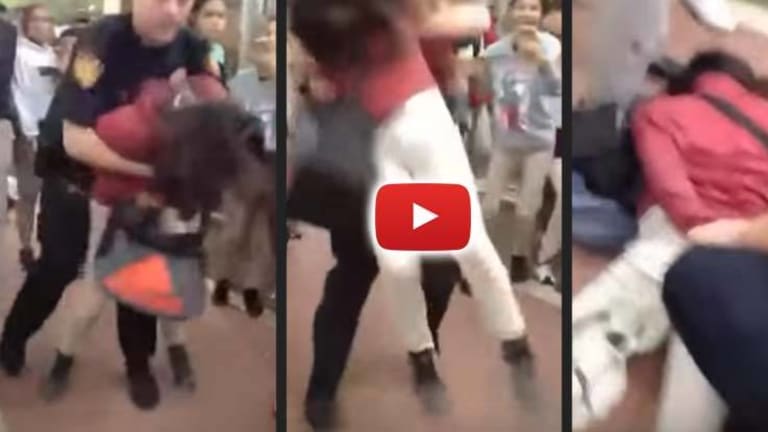 Terrifying Video Shows Cop Body Slam 12-Year-Old Girl at School, Knocking Her Unconscious
A horrifying video shows a school cop attack a small 12-year-old girl.
San Antonio, TX -- A video was uploaded to YouTube this week allegedly showing a San Antonio Independent School District police officer body slam a 12-year-old girl.
According to Ghost-0.com, the girl's mother, Gloria Valdez, says the officer told her that her daughter "tried" to kick him and that he thought she was gonna start a fight with another student. However, the young, female student was just having a peaceful conversation with a fellow peer before the officer attacked her.
Even if this young girl had actually tried to attack this cop, his violent response was entirely uncalled for.
Valdez says her daughter is now suffering from severe headaches, and after watching the video it is apparently very clear as to why that is. The officer in the video is Joshua Kehm, according to ghost-0, and when he attempted to stop the alleged quarrel he picked up the small girl and body slammed her face-first into the concrete.
After he slammed her down, the young girl appeared to be knocked unconscious for a moment as Kehm placed her limp arms in handcuffs.
The girl's mother now fears that the SAISD officer might attack her daughter, or another student, again as he had not been disciplined for this incident.
According to his LinkedIn profile, Joshua Kehm has been with the San Antonio Independent School District since February of 2015.
The Free Thought Project contacted the SAISD police department to ask them if they were aware of the video. They told us they were aware of the video but could not comment further. The person we spoke with said, "I am sure it will be on the news soon."
They were correct.
After we left a message, the SAPD contacted the Free Thought Project and their Communication Representative Leslie Price said, "we learned late last night about the incident and the video. Since then we have launched an investigation."
She then told us that the officer has been put on administrative leave pending the outcome of the investigation. Price also said that the video was concerning and they are going to do what they can to gather the facts. The incident happened at the end of school during "dismissal time," she said.
In only a month, this is the second disturbing video to emerge of a school cop beating a student. Just last month, the Free Thought Project brought you the story of the Baltimore School cop who was seen beating a student who had done nothing wrong.
In fact, recent videos have revealed a myriad of school cops attacking unarmed students. In December, Officer Rigo Valles was cleared of any wrongdoing after grabbing a student by the neck and slamming him to the floor. In October, Richland County Deputy Ben Fields was fired after students recorded him flipping over a girl's desk and dragging her across the floor. Oklahoma City Master Sgt. Thomas Jaha was charged with assault and battery in October as well, after repeatedly punching a student in the face for not having a hall pass.
In November, prosecutors agreed to dismiss assault charges against Louisville Metro Police Officer Jonathan Hardin for punching a student in the face if the former officer completes anger management classes. Hardin still faces wanton endangerment, official misconduct, and assault charges for choking another student unconscious in a separate incident five days later. In separate incidents earlier this year, school cops have also been caught attacking an autistic boy, body-slamming a child, and raping nearly two dozen students.
And these are the ones the public knows about -- How many more incidents, just like this one, go unreported and unpunished?
[author title="" image="https://tftpstagingstg.wpengine.com/wp-content/uploads/2016/03/magorist-e1456948757204.jpg"]Matt Agorist is an honorably discharged veteran of the USMC and former intelligence operator directly tasked by the NSA. This prior experience gives him unique insight into the world of government corruption and the American police state. Agorist has been an independent journalist for over a decade and has been featured on mainstream networks around the world. Follow @MattAgorist[/author]