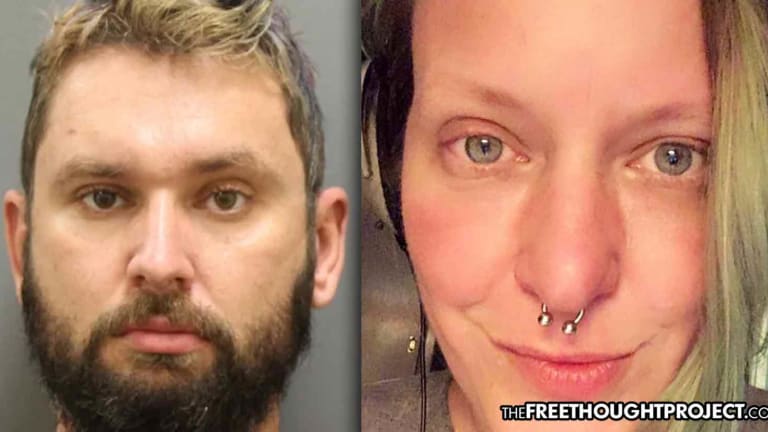 Cop Arrested for Murdering His Girlfriend, Allegedly Making it Look Like a Suicide
After allegedly attempting to make his girlfriend's death look like a suicide, a Texas cop has been arrested and charged with her murder.
Denton, TX — As TFTP reports on a regular basis, police officers reportedly abuse their significant other at four times the rate of non-police officer families. The studies into police domestic violence also suggest that this number is likely higher given the fact that the victims are often too scared to report it, or even if they do, the abuser's co-workers cover it up. In Tarrant County, however, officers did not cover for their fellow cop and 36-year-old Tarrant County Sheriff's Department Deputy Jay Allen Rotter, is now sitting in jail for the murder of his girlfriend.
On August 26, around 11:30 p.m., Rotter called 911 from the home he lived in with Leslie Lynn Hartman to report a shooting. Rotter would report to his fellow officers that Hartman shot herself and died as a result.
When officers arrived at the home, they found the body of Hartman inside but apparently, there was something not quite right. In 9 out of 10 incidents like this one, police would take the word of their fellow cop and this would be an open and shut case. However, something was seemingly so off that responding officers could not ignore it.
According to NBC DFW, as the investigation continued over the next few weeks, Denton police said Monday "detectives executed search warrants and analyzed physical evidence" that led to them developing Rotter as a suspect in the woman's death and seek a warrant for his arrest.
Though the details are unclear on exactly what led cops to conclude Rotter had killed Hartman, his bail was set to a massive $1.15 million and he remains behind bars.
The suicide shocked neighbors and friends as Hartman was reportedly a very happy woman. Hartman's neighbors told NBC DFW that she was an was an upbeat, outgoing, and independent woman even though a car accident years ago left her unable to walk.
"She was artistic, a good neighbor, loved animals," said neighbor Chrissie Clanton. "She had actually just adopted a new puppy, so it didn't add up."
"It's not better that it's murder, but it makes more sense actually," said neighbor Eliot Harrod.
Tarrant County Sheriff Bill Waybourn said in a written statement that his office was "shocked and saddened about the incident and arrest of Jay Rotter."
"We are shocked and saddened about the incident and arrest of Jay Rotter. We have very little information regarding the situation at this time. We believe in the criminal justice process and the truth will prevail. The Denton Police Department, in Denton County, is the arresting agency and the investigation is on-going.

"Rotter has been employed with TCSO since 2005 and assigned to the narcotics division. We are cooperating with Denton PD and all questions regarding the case should be directed to them at 940-349-8181."
While it appears for now that Rotter is being brought to justice in the alleged murder of Hartman, TFTP has reported on eerily similar incidents in which the evidence stacked up against the cop but they escaped charges.
As we reported earlier this year, the parents of Samantha Harer, a deceased 911 emergency dispatcher, filed a lawsuit against the city of Channahon, Il. Channahon's Police Chief Shane Casey, Deputy Chief Adam Bogart and Detective Andrew McClellan for police misconduct and deprivation of civil rights in regards to their daughter's death.
Lawyers for the officers and the city have been fiercely opposing the suit but Kevin and Heather Harer have been fighting them every step of the way.
If we look at the facts of the case, there should be no lawsuit and all those involved should be in prison. Unfortunately, however, because the alleged murderer and his co-conspirators are officers of the law, they've reportedly waged an elaborate web of lies to cover up the murder of Samantha Harer — despite overwhelming forensic evidence to the contrary which paints Crest Hill Police Officer Felipe "Phil" Flores as her killer.
As Patch.com reports:
On Feb. 13, 2018, Harer was found nude in her bedroom with a single gunshot through her head. Off-duty Crest Hill Police Officer Felipe "Phil" Flores, Harer's estranged boyfriend, called 911 claiming Harer had locked herself in her bedroom during an argument and shot herself.

Gunshot residue tests analyzed by the Illinois State Crime Laboratory in Chicago found no gunshot residue on Harer's hands.The forensic scientist found several traces of gunshot residue on Flores' right hand as well as blood spatter and gunshot residue on Flores' black sweatshirt.
Despite this glaring evidence showing that Flores killed Harer, this cop was never arrested and his fellow boys in blue are complicit in allegedly covering it up.
"They covered up misconduct of a fellow officer because police departments circle the wagons when it comes to police officer misconduct," Brooklyn, N.Y. attorney Jennifer Bonjean, who is representing Harer's parents, said. "That's essentially the blue code of silence. My clients are entitled to relief because Channahon has just obstructed their effort to learn the truth about Samantha's death."