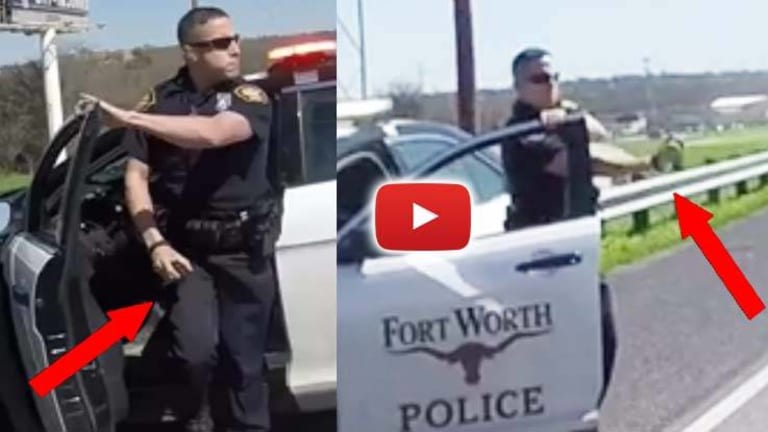 Texas Cop Caught on Video Pepper Spraying Innocent Motorists as they Drove By
Pure insanity -- the only words to describe what this public servant was doing.
Fort Worth, TX -- On Monday, Fort Worth police have confirmed that one of their officers is under investigation after a video was uploaded to Facebook showing him pepper spraying innocent people as they drove by on motorcycles.
The video, uploaded by Facebook user Chase Stone, captured the dangerous and downright insane actions by this public servant. The video was posted with the following description.
During the big ride today we had a law enforcement officer, that looked as if he was pulling over a truck, stepped out of his vehicle with mace in hand and began spraying it towards the riders with intention of causing an accident!!! This is a video EVERYONE NEEDS TO WATCH!! Law enforcement is here to protect and serve, not intentionally try to harm others
Luckily, Stone had his HD helmet cam on and caught this maniac in his despicable act, otherwise, no one would have believed it.
The video was brought to the attention of the Fort Worth police department on Monday and they have passed it along to internal affairs. The FWPD say they do not know who the officer is, however, you can see in the video that the patrol unit number on the vehicle appears to be '185'.
The Free Thought Project contacted the Fort Worth police department to get the officer's name, however, our calls and emails were not immediately returned.
The actions of the officer in the video below are beyond unreasonable and, in fact, enter into the realm of criminal behavior. Had one of the motorists wrecked as a result of the pepper spray, the results could have been catastrophic.
There is no amount police logic that will justify the careless deployment of pepper spray into the faces of dozens of bikers travelling down the road. This officer needs to be fired immediately and arrested.
Fort Worth Police Department complaints on Officers line. -- 817-392-4270
During the big ride today we had a law enforcement officer, that looked as if he was pulling over a truck, stepped out of his vehicle with mace in hand and began spraying it towards the riders with intention of causing an accident!!! This is a video EVERYONE NEEDS TO WATCH!! Law enforcement is here to protect and serve, not intentionally try to harm others... Please, share this video with others to raise awareness about these particular behavior's being displayed by many of our local law enforcement employees.***THIS WAS BEYOND DANGEROUS***

Posted by Chase Stone on Monday, March 14, 2016
[author title="" image="https://tftpstagingstg.wpengine.com/wp-content/uploads/2016/03/magorist-e1456948757204.jpg"]Matt Agorist is an honorably discharged veteran of the USMC and former intelligence operator directly tasked by the NSA. This prior experience gives him unique insight into the world of government corruption and the American police state. Agorist has been an independent journalist for over a decade and has been featured on mainstream networks around the world. Follow @MattAgorist[/author]