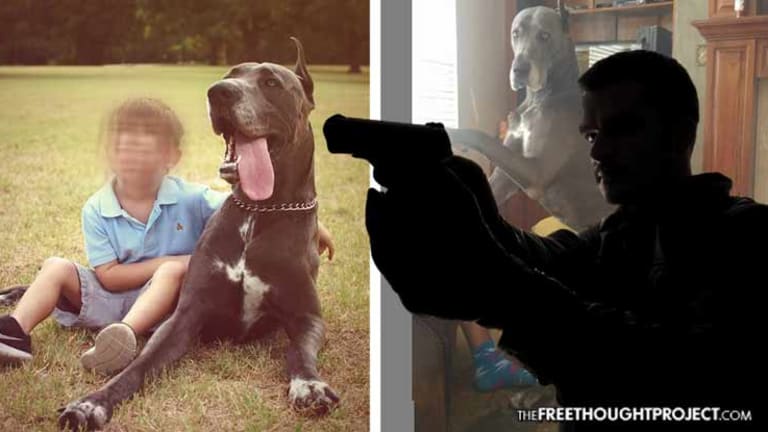 Texas Cop Shoots and Kills Family Dog in Front of Kids for Barking at His Dog
The family claims an off-duty officer shot and killed their dog for barking at his Pitt Bull, endangering several children who were riding bikes nearby.
Mansfield, TX – A family is mourning the loss of their beloved Great Dane after it was shot and killed by an off-duty police officer in a horrific incident that happened right in front of their children.
The officer was taking his Pit Bull for a walk in the neighborhood when he claimed the Great Dane "charged at him," so he shot and killed it, according to a statement from the Mansfield Police Department.
The owner of the Great Dane, who was fondly called "Cezar," is now speaking out and setting the record straight about her encounter with the officer. In a Facebook post, Carol Velarde Evans claimed that Cezar was violently and recklessly shot and killed by the officer.
"This ruthless police officer was walking his PIT BULL, a breed that is brave and can defend itself, not some tiny dog," Evans wrote. "This officer has known this family for years, he walks his dog all the time and knows Cezar. Cezar did walk up to the Pit Bull and they started barking. I was inches away, fixing to grab Cezar when he pulled a gun out and fired. I immediately went into shock and fear when I saw the gun in his hand. I didn't know if he was gonna shoot me next."
Evans said the shooting occurred on Sunday evening when her kids were riding their bikes around the neighborhood cul-de-sac with several neighbors present. As soon as the officer opened fire, Evans said it sent the neighborhood into a panic, with parents rushing to get their children to safety.
"Everyone started panicking, trying to get the kids inside. I did hear Cezar yelp but thought the gun shot hurt his ears. He ran into house," Evans wrote. "While trying to get kids inside, I saw blood all over my driveway. That's when I realized he shot at Cezar. I started screaming and looked back, and he stood there smug with no remorse."
Evans then described her family's attempt to save their beloved pet. "We dragged Cezar out from under table, blood everywhere and got him in the car. Our precious giant suffered and died on the way to the hospital," she wrote.
Noting that not only did the officer fatally injure their dog, he endangered the entire neighborhood by recklessly opening fire in the residential area—right in front of children. Evans said she is sharing the horrific loss of her family pet in an attempt to raise awareness:
"I'm sharing my story and loss to help get support and spread to word of this injustice. We will fight for you, Cezar. This will not go as an accident, officer. You murdered our dog. The bullet went through him and could have hit the babies. I live in Mansfield National, you live right around the corner with your pit bull. This is not an unsafe neighborhood to have to carry a weapon. Neighbors, watch your pets, watch your children … until we get justice, it's not safe in our neighborhood."
As The Free Thought Project has relentlessly reported, officer-involved shootings that target family dogs have become an epidemic. While police officers have been taught to claim that they opened fire because the animals made them fear for their lives, Body Camera footage and witness testimonies have revealed that is not always the case.
In one example, Body Cam footage revealed that a police officer in Minnesota who was trespassing on a family's property and shot and killed their dog, appeared to open fire on "a happy, submissive, and docile dog for absolutely no reason." In another example, a police officer in Indiana opened fire on a dog who ran out to greet him, even though the owner claimed the dog was friendly and had been recently found and rescued by police.
In the case of Cezar the Great Dane, Carol Velarde Evans insisted that "Cezar is not an aggressive dog," and the officer's claim that he was just protecting himself against a vicious dog that was trying to attack him, was an outright lie.