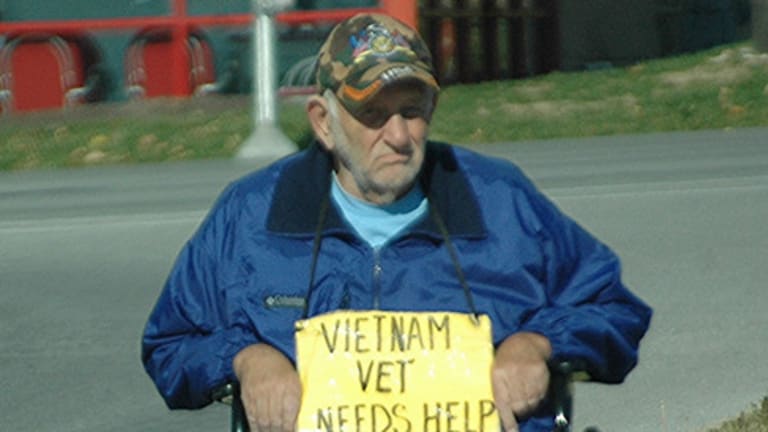 Texas Cops Caught Making a "Game" of Stealing Signs From Homeless People
Lily Dane
The Daily Sheeple
March 4, 2014
Two thugs with badges cops in West Texas spent a couple of weeks competing to see who could steal the most signs from homeless people – and their department took nearly two months to report it and discipline the officers.
Derek Hester and Daniel Zoelzer, officers with the Midland Police Department, were suspended for three days without pay for violating the department's professional standards of conduct.
The Associated Press obtained the findings of the investigation through a public records request, according to NBCDFW.com:
According to the investigation report, eight signs were found in the trunk of Hester's patrol car on Nov. 20 and Zoelzer had thrown the about 10 signs he had confiscated into a city trash container after Hester called him to warn him he had been reprimanded by his superior for having the signs.

The two told the internal affairs investigator that they were issuing criminal trespass warnings when they took the signs. But according to the report, no homeless people were issued criminal trespass warnings by either officer in 2013. Most of those warnings in Midland are written, but some are verbal.

The investigation also looked into complaints from within the department that Hester and Zoelzer failed to log into evidence brass knuckles, a small set of scales and two knives they had obtained during other patrol stops. The investigation into the signs began after an officer on patrol with Hester when Hester obtained the brass knuckles sent an email to his sergeant Nov. 18 about Hester saying he wasn't going to log them in as evidence.

The signs and the brass knuckles were found in Hester's car during a vehicle inspection two days later.
Advocate groups are saying the punishment wasn't harsh enough, and that the investigation should have been made public sooner than it was. Cassandra Champion, an attorney in the Odessa office of the Texas Civil Rights Project, said, "The fact that they are making sport out of collecting the personal property of homeless individuals could be seen as them targeting these individuals for discriminatory harassment. Simply holding a sign is absolutely a protected part of our free speech."
Police Chief Price Robinson said the punishment was suitable and the misconduct was an "isolated incident." After the investigation the officers were reminded to "respect individual rights and human dignity":
"We want to respect people, no matter who they are — homeless, whatever. That situation's been dealt with. Those officers understand."
Clearly, they don't understand. Should adults – especially those in roles that involve carrying weapons and dealing with the public – have to be reminded to treat others with respect? These thugs stole – from hungry, disadvantaged people – and lied about it.
I bet you could ask most kindergarteners if it is okay to make a game of taking things away from others and they'd say no. Those police officers are 25 and 26 years old. If they don't know better by now, it is doubtful that lectures and wrist-slaps are going to be effective.
The contest between Hester and Zoelzer was alluded to in text messages on Nov. 21 obtained by the AP. It was unclear which of the officers sent each message:
"My bad man when he first ask me about it he didn't seem mad or anything so I just told him me and u wereaking (sic) a game outta it when we'd trespass them and stuff," one text read. Another read, "Man this is some bs."
Panhandling is not against the law in Midland, a city of more than 110,000. The area has around 300 homeless, of which about a quarter are transient.
Let's hope we don't hear about these two bullies doing something worse in the future.
Delivered by The Daily Sheeple
Contributed by Lily Dane of The Daily Sheeple.
- See more at: https://www.thedailysheeple.com/texas-cops-make-a-game-of-stealing-signs-from-homeless-people_032014#sthash.swdAwHCV.dpuf