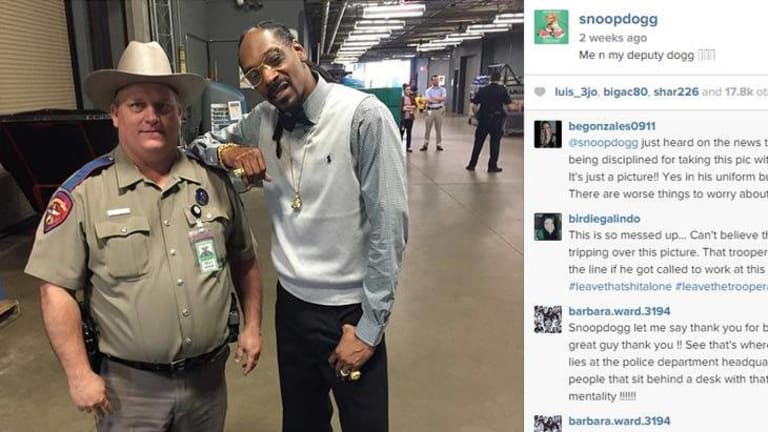 Texas Cop Forced to Undergo Reeducation for Choosing to Take a Picture with Snoop Dogg
A Texas cop was forced to undergo counseling for taking a picture with a famous rapper.
Austin, Texas - An officer for the Texas Department of Public Safety (DPS) has been disciplined for posing in a picture with rapper Snoop Dogg, during the SXSW Festival, which was uploaded to the rapper's Instagram page.
DPS Trooper Billy Spears was forced to undergo counseling for engaging in the photo op with "a public figure who has a well-known criminal background," according to a department counseling reprimand.
Spears' attorney Ty Clevenger believes the counseling reprimand is nothing more than retaliation against Spears for accusing an officer of the Texas Alcoholic Beverage Commission of engaging in unprofessional conduct in 2014.
On his blog, Clevenger detailed the retaliation faced by his client:
As explained in my letter to DPS Director Steven McCraw, as well as my letter to state and federal prosecutors, the disciplinary counseling appears to be the latest act of retaliation against Billy since he reported misconduct by an officer from another agency last year. According to multiple witnesses, Sgt. Marcus Stokke of the Texas Alcoholic Beverage Commission detained Billy without probable cause while Billy was off duty. It appears that Sgt. Stokke thought Billy disrespected him in public (a charge disputed by Billy and other witnesses), but then "disrespecting the po-po" is not supposed to be a crime in this country.

Billy reported Sgt. Stokke to TABC internal affairs, the Wood County Sheriff's Office, and the Texas Rangers (a unit within DPS) on the grounds that the sergeant violated Section 39.03 of the Texas Penal Code, which outlaws unlawful arrests or detentions. Instead of investigating Sgt. Stokke, however, DPS opened an administrative investigation of Billy. Meanwhile, Captain Andy Pena of TABC internal affairs (formerly of DPS internal affairs) refused to investigate Sgt. Stokke because, he said, Billy did not sign the complaint form as required by the Government Code. So never mind whether his officer committed a crime, Captain Pena is not going to do anything unless that complaint form is signed. What a farce.

As I wrote in my letter to the prosecutors, Billy gave consistent testimony corroborated by multiple witnesses, whereas Sgt. Stokke gave conflicting accounts of his reason for detaining Billy, yet DPS ultimately suspended Billy. He appealed the suspension, but it was affirmed at every level up to the chief of the highway patrol. Finally, on January 23, 2015, Director McCraw reversed the suspension, but two months later DPS brought the new disciplinary charge against him. I don't think that is a coincidence.
It seems that after crossing the "thin blue line," Spears became just another target of the police state.
Snoop Dogg, whose real name is Calvin Broadus, was arrested on drug and weapons charges in the 1990's. His last arrest was in Texas in 2010 for misdemeanor possession of marijuana.
One of the most interesting aspects of this ridiculous display by the Texas DPS is that Snoop was actually the keynote speaker at the SXSW Festival.
And while the state labeled him as a "public figure who has a well-known criminal background including numerous drug charges," they perhaps missed the fact that he is a successful entrepreneur whose debt to society, if there ever was one, has long since been paid off.
Perhaps rather than disciplining this officer and vilifying Snoop Dogg, the Texas DPS should be more forward thinking. How about attempting to cultivate relationships with those that hold sway within criminal subcultures and have influence over young people?
Someone like Snoop could be a potentially powerful ally in reaching the urban youth. Sadly, law enforcement would rather continue to propagate the simplistic and counterproductive "us against them" mentality.
Jay Syrmopoulos is an investigative journalist, freethinker, researcher, and ardent opponent of authoritarianism. He is currently a graduate student at University of Denver pursuing a masters in Global Affairs. Jay's work has previously been published on BenSwann.com and WeAreChange.org. You can follow him on Twitter @sirmetropolis, on Facebook at Sir Metropolis and now on tsu.