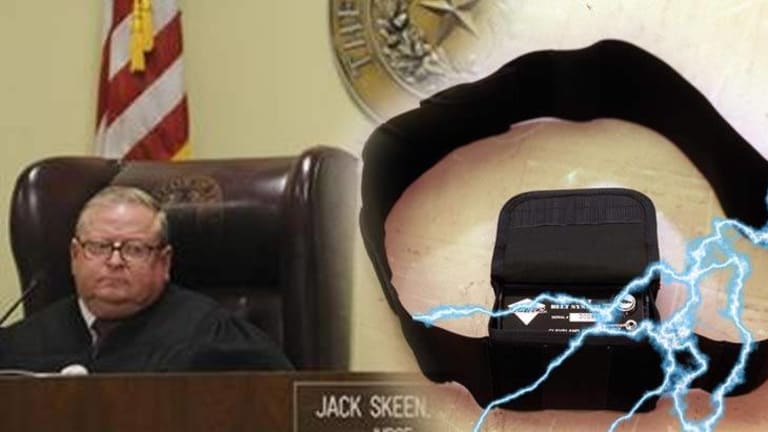 Texas Judge Forces Defendant to Wear "Shock Belt" So He Can Punish Him for Sitting Down
"The shock knocks the wearer to the ground, causes intense writhing and shaking, and may result in uncontrolled defecation and urination as well as serious medical injury"
Tyler, TX -- One of the rudimentary principles of due process is that punishment must follow conviction for a crime. Jack Skeen, a District Judge in Smith County, Texas, may have jeopardized a murder trial by using a pain compliance device called a "shock belt" to inflict summary punishment on the defendant in front of the jury.
James Calvert, a 45-year-old native of Tyler, Texas, is on trial for the murder of his ex-wife and the abduction of their 4-year-old son in October 2012. To the dismay of attorneys who specialize in death penalty cases, Calvert has been allowed to defend himself in court. Citing Calvert's erratic behavior, Sheen ordered that the defendant be fitted with a shock belt (also called a stun belt) which operates in much the same way as a taser. Remotely operated by a bailiff, the belt administers a 50,000-volt electric charge that lasts up to eight seconds.
"The shock knocks the wearer to the ground, causes intense writhing and shaking, and may result in uncontrolled defecation and urination as well as serious medical injury," notes the Los Angeles Times, summarizing a 2002 California Supreme Court ruling limiting use of the apparatus. Under established policies and procedures, the device is to be used only when defendants pose an immediate security risk.
On September 15, Calvert, who has been diagnosed with mental illness – refused to stand after being directed to do so by Judge Skeen. In a tweet issued from the courtroom, Cody Lillich, a correspondent for Tyler NBC affiliate KLTV, reported: "Calvert refuses to stand up when talking to judge. Shock belt is administered, Calvert scream[s] 'ahh' for about 5 seconds." According to Lillich, Calvert seized up and contorted pain as he screamed in the courtroom.
"This is just a travesty of justice as far as I'm concerned," commented Houston-based criminal defense attorney George Parnham in an interview with Reuters. "This man is facing an execution if he's convicted." NBC News observed that Calvert the "has already experienced a very small taste of how an electric chair might feel" if he is convicted of the capital offense. Skeen's conduct as trial judge might actually make that outcome less likely.
Kathryn Kase, executive director of Texas Defender Service, believes that Calvert's mental state makes him incompetent to act as his own defense attorney.
"The Supreme Court has ruled [that people] with a history of mental illness are supposed to show a much higher level of competence to represent themselves," Kase told NBC News. Early in the trial, Calvert told Judge Skeen that he would use the word "foxtrot" to register all of his objections. "That's something that someone with mental illness does," Kase asserts. "That says to me, someone is losing their grip on reality."
Thirteen years ago, the California Supreme Court upheld the death penalty conviction of Jonathan Keith Jackson, who was forced to wear a shock belt during his murder trial. In her solitary dissent, Justice Godwin Liu pointed out that Jackson, who was worried about triggering the electric charge by fidgeting, sneezing, or some other incidental movement, sat "as still and impassively" as he could. That stolid demeanor, she suggests, could have had a negative impact on the jury that convicted him and sentenced him to death.
Calvert has been anything but impassive during his trial, and his behavior obviously over-taxed Judge Skeen's patience. Some legal observers believe that the judge's order to shock the uncooperative defendant may lead to a successful appeal if Calvert is convicted. Others believe that Skeen, a former prosecutor, may face censure for an ethics violation.
"I don't care what the defendant is being tried for, this is about the lack of character displayed by a judge who decides to shock somebody for not standing up – and right in front of a jury," complains Austin attorney Jerri Lynn Ward. "This judge has no character." Skeen's professional reputation is somewhat tainted, and he has been the subject of at least one complaint seeking his removal from the bench.
Skeen is not the first trial judge to inflict electro-shock punishment after becoming impatient with a defendant acting as his own attorney.
During a 2012 trial, Maryland Circuit Court Judge Robert Nalley ordered a sheriff's deputy to administer a shock to the defendant, 25-year-old Delvon L. King, while the defendant was attempting to cite a court precedent in his own defense.
"Stop," Nalley snapped at King, according to the trial transcript. As King finished his sentence, Nalley instructed a deputy: "Do it – use it." At that point, the officer pushed a button that directed 50,000 volts through a "stun cuff" attached to King's right leg. The defendant screamed in agony, then crumpled to the floor of the courtroom.
An internal review conducted by the Charles County Sheriff's Office delivered the entirely predictable finding that Sheriff's Deputy Charles P. Deehan, who carried out Nalley's order, "had not acted inappropriately," reported the Washington Post. Maryland State Public Defender Paul D. Wolfe wasn't satisfied with that result, demanding that Nalley be removed from the bench.
"For a judge to inflict physical pain for the sole purpose of silencing an individual is unacceptable," DeWolfe told Post columnist Courtland Milloy. "In a court of law, it is the judge's responsibility to protect the rights of those involved in the process, not to violate them." Nalley, who had been suspended in 2010 for deflating the tires of a car parked in a restricted area outside the courthouse, was removed by the Maryland State Court of Appeals in September 2014.
When tasers first became widely available to police officers, they were described as a "less-lethal" alternative to the use of deadly force in circumstances justifying such methods. Now they are routinely used by police in dealing with uncooperative but non-violent subjects, or even to deal out a measure of gratuitous "street justice" on entirely submissive individuals. A similar dynamic may play out in the courtroom with judges imitating the behavior of police officers by inflicting electro-shock torture as summary punishment of people yet to be convicted of an offense.