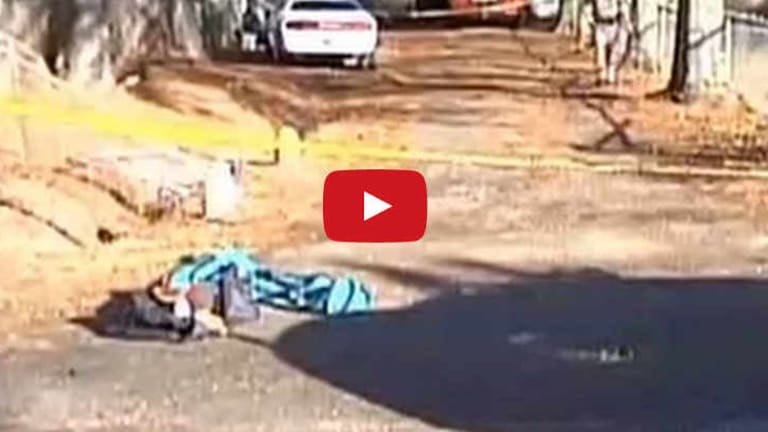 Texas Officer Shoots, Kills Mentally Ill Man Holding a Spoon
Texarkana, Texas – In what has become an all too common occurrence, a mentally ill man, Dennis Grigsby, 35, was killed by Texarkana police after responding to a burglary call.
Officer Brent Lawing responded to a 9-1-1 call about a burglary shortly after 2:00 a.m. and found Grigsby in a "dimly lit" garage on the property.
Police allege that Grigsby was holding a "metal object," and approached the officer "aggressively." The officer claims that he commanded Grigsby to stop, but Grigsby ignored his commands, forcing the officer to fire one shot into his chest, killing him.
The Grigsby family lives across the street from where the burglary call and killing took place.
The mother of Grigsby, Evelyn Grigsby, went on record that her son suffered from "mental illness," according to News West 9.
She went on to say,
"They just told me that they shot him in his chest. They said they couldn't tell me anything else. I'm just sick. I just can't believe this," adding, "My son wouldn't hurt nobody, he ain't had no guns or nothing."
Grigsby's stepfather, R. Robinson, added that Grigsby,
"Didn't pose a danger to nobody… he just wanted help and we couldn't help him."
Police allege that the officer feared for his safety stating, "It appeared the suspect was holding an item, with the bowl of the spoon in his palm and the shank of the spoon coming out from the bottom of his hand like someone would hold a knife," according to Sergeant Aaron Brower with the Texarkana, Texas Police Department.
Judging by the number of recent cases in the news where police end up killing mentally ill people, it seems that officers have little training or understanding of how to deal with people mental illness.
Just last month we reported on a case where a mom called the cops to take her son to a mental health facility, police responded and shortly after arriving on scene shot and killed her son.
Then there was the recent case of a Utah man that called a suicide prevention hotline for help, police responded with a SWAT team, eventually killing the man.
These cases, in addition to the tragic case of Kelly Thomas, who begged for his life as he was beat to death by officers, highlight how inept, or possibly callous, police are in dealing with those suffering from mental illness.
Thankfully people are beginning to wake up to the harsh reality of an out of control law enforcement apparatus that is rarely held accountable for their actions under the color of law.
By sharing stories like this, as tragic as they are, people can begin to take back control of our system, and hold those that would abuse the public trust, accountable for their actions.
Contrary to the belief of some in law enforcement, a badge does not grant a license to kill. Americans will no longer stand idly by and allow the victimization of our communities at the hands of those entrusted to enforce the law.
Officer Lawing has been placed on administrative leave, while Texas Rangers are investigating the case.
Jay Syrmopoulos is an investigative journalist, freethinker, researcher, and ardent opponent of authoritarianism. He is currently a graduate student at University of Denver pursuing a masters in Global Affairs. Jay's work has previously been published on BenSwann.com and WeAreChange.org. You can follow him on Twitter @sirmetropolis, on Facebook at Sir Metropolis and now on tsu.