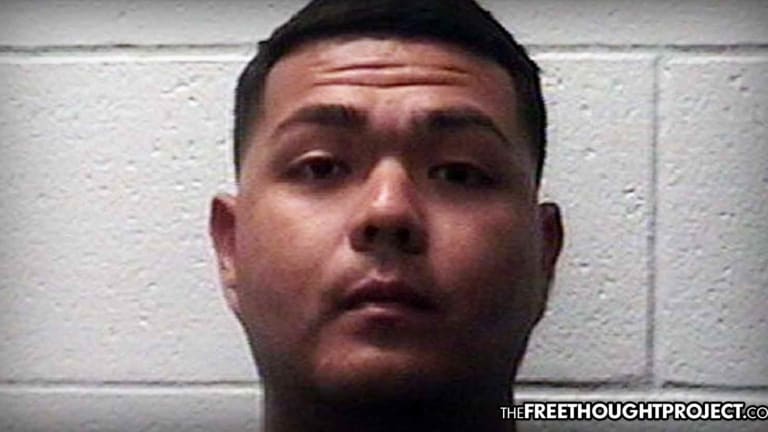 School Cop Betrays Trust in Most Horrific Way, Kidnapping, Brutally Sexually Assaulting 12yo Girl
A Texas school police officer, who was tasked with protecting students, was arrested and charged with unspeakable crimes against a 12-year-old girl.
Deer Park, TX — Another Texas school cop has been arrested and charged with rape. Cypress-Fairbanks Independent School District police officer Jorge Luis Bastida, 22, was arrested and charged with aggravated sexual assault on a 12-year-old girl he stalked online.
Bastida met the young girl on a smartphone app called "Meet Me" where she reportedly sent the police officer nude photos. After a few days of online flirting, the police officer sent an Uber to pick up the girl on Monday night before he brought her to a nearby hotel where the girl says the officer raped her.
The girl says Bastida held her down and raped her despite her pleas for the police officer to stop. She says she told him she was only 12 but he continued. The two spent the night in the Guest House Hotel and checked out on Tuesday morning.
The Fairmont Junior High School student was reported missing by her family Monday night. Lt. Chris Brown of the Deer Park Police Department described the missing persons investigation:
We started going through her social media accounts and discovered she was communicating with an unknown male who had arranged to have her picked up from her residence and taken to an unknown location.
Police say they discovered the MeetMe app on her school issued iPad although school officials disputed the contention arguing the iPads are incapable of being used for such social media apps. Brown said what they uncovered led police to believe she was in "extreme danger". He told reporters:
The conversations were similar to those we've seen in the past of pedophiles who try to lure children out of the house.
According to Chron, prosecutors are confident Bastida is their perpetrator and that the officer violently raped her, while filming the entire attack with his phone.
The girl told police that Bastida held her down by the neck and raped her, according to police records. She told him to stop, telling him she was only 12 years old, but he assaulted her again, the prosecutor said. The girl said that he filmed the entire incident on his cell phone.
Brown said he was surprised when he and his team of investigators learned the young man who called himself "Jay" on MeetMe was also a sworn law enforcement officer.
I was very surprised. That is uncharacteristic of our profession and it shocked all of us...As such with any suspect, we filed the appropriate charges. He'll be initially processed here (in Deer Park) and transferred to Harris County.
Police departments are quick to distance themselves from their own when one of their boys in blue commits a crime. Such is the case with Bastida who reportedly resigned as a police officer just before consenting to be interviewed by detectives.
After his resignation, news outlets are encouraged to refer to the suspect as a "former" police officer. However, the facts are undeniable. Bastida was a police officer at the time of his arrest. He was also reportedly "in-training" to become a school resource officer, already working in the school district, when he arranged to meet a 12-year-old girl for sex.
Predictably, the Cypress Fairbanks ISD quickly distanced themselves from their school resource officer, echoing the contention he was a trainee. It's important to note almost every school district in the country requires a four-year-degree from its employees before it allows them to have direct contact with children. No such requirement exists for law enforcement. The Cy-Fair ISD statement reads in part:
We are aware of the disturbing allegations that a former Cypress-Fairbanks ISD Police Department employee was involved in the aggravated sexual assault of a missing Deer Park juvenile. The employee, who resigned while being investigated, was in a training program and was always under the direct supervision of a field training officer in CFISD...These allegations are heartbreaking to the more than 16,000 other employees who represent CFISD with integrity.
Chron reported the officer admitted to everything except sexually assaulting the pre-teen girl.
Bastida admitted to talking to the girl on Meet Me, as well as receiving the nude photos and sending an Uber to pick her up, the prosecutor said. He also said they went to the hotel room, however, he wouldn't answer questions on the alleged assault.
The report is just one more evidence school resource officers must be more highly trained before they're ever allowed to be inside of a school. Just as with school teachers, there should be a higher standard for officers of the law who want to work with children.