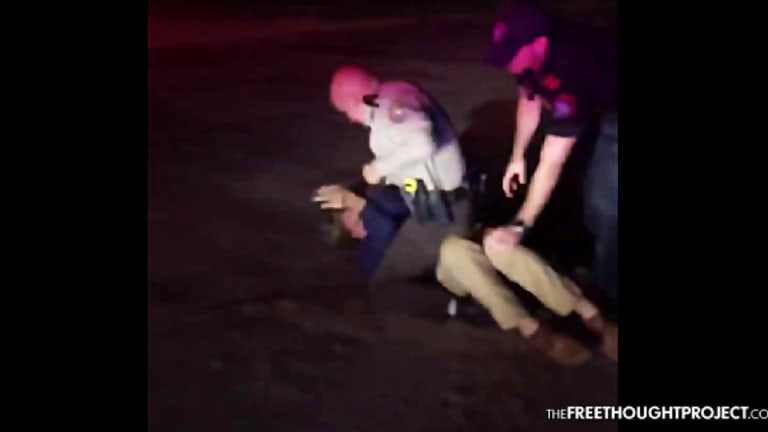 Cop Suspended As Graphic Video Shows Him Smashing In a Teen's Face
A Texas teen went to graduation with bruises on his face from being beaten mercilessly by police. Witnesses say the violence was entirely unnecessary.
Lampasas County, TX — Quinten Cruce was supposed to be celebrating the fact he'd completed all the requirements necessary for his high school graduation and earned his diploma. Instead, just hours before he walked across the graduation stage, he was getting his face beat on by a Lampasas Police Department's deputy.
His friend, Sydney, recorded the incident with police. Even though she claims to have an 8-minute video of the entire incident, which The Free Thought Process is in the process of obtaining, the 30-second video she uploaded shows enough of the encounter for viewers to draw their own conclusions.
Lampasas County Sheriff's Office Sheriff Jess Ramos, after reviewing the beating, suspended Logan Jones, the officer reportedly dishing out the beat down on Cruce. But as The Free Thought Project has often reported, suspended officers often receive their full salary while suspended, are investigated by their own departments, and often cleared of all wrongdoing.
Ramos posted a statement to the LCSO Facebook page once news a cell phone video went viral appearing to show a compliant Cruce not fighting back as Jones bashed in his face, MMA-style.
The statement reads;
May 25, 2017
Lampasas Police Department News Release
The Lampasas Police Department is aware of a video that has been circulated on the internet.
As is standard, we review all use of force incidents where a Lampasas Police Department Officer is present. This review was in process prior to the release of a video.
We would appreciate your patience and understanding as we conduct this process to ensure all facts are thoroughly reviewed before we release any further information.
Chief of Police Sammy Bailey
After reviewing the encounter, Sheriff Ramos decided to place Jones on administrative leave.
Quinton Eldridge Cruce, 18, of Copperas Cove, was arrested for assault on a public servant, interfering with public duties, resisting arrest and driving while intoxicated. His friend, Gage Neely Blackwell, 18, also of Copperas Cove, was charged with assault on a public servant, resisting arrest, interference with public duties and minor in consumption of alcohol.
Police were called to the intersection of Key and North avenues after a motorist reported someone was driving erratically. According to the Lampasas Dispatch Record, the traffic stop lasted nearly an hour, but ended with Cruce and his friend being arrested. A third teen, Sydney, was not arrested but claims on Twitter she was verbally mistreated by the officers involved.
Sydney uploaded a portion of the incident to Twitter. She tweeted a series of statements describing the incident. She wrote, "If this isn't police brutality idk what is. My friend was supposed to graduate today but looks like that's not happening."
After someone asked her if the officer could get into trouble for the beating, Sydney said, "I f***in hope so," and indicated by an emoji she was angry and crying over the scary incident. She said as soon as Cruce rolled down his window he was being told he was going to be arrested. She tweeted, "'wreckless driving' as soon as he rolled down the window he said 'you ever been to jail' quin said yeah, and he said "well you're goin back.'" In replies to her friend's questions, Sydney said police dragged Cruce out through the passenger side door, told him to turn around and "then threw him on the ground and hit him!" According to Sydney, they hit Cruce and then charged him with assaulting an officer of the law. She said as he was being handcuffed, before being thrown on the ground, he told the officers to "go easy" on the cuffs because he had a hurt hand. That's when they threw him down and began the beat down. She said the officers treated her with disdain, disrespect and contempt by calling her a "dumb bitch" and "stupid chick" and wanted to arrest her too for "interference." She insists, "he didn't resist." If he had, she added, she "would not have posted" the incident on Twitter. She wrote, "My friend was compliant. He was getting handcuffed & they threw him on the ground and threw hands." She concluded, "police brutality is never okay!"