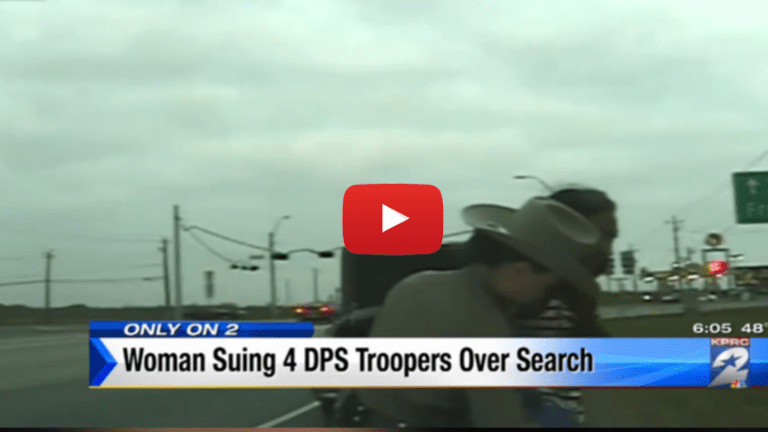 Woman Sodomized on the Side of the Road By Cops Because her Boyfriend Smelled Like Weed
No drugs were found.
Even if drugs would have been found, the act of penetrating a woman's body to look for a plant deemed illegal by the state is immoral, repugnant, and a telling indication of a broken system.
Brazoria County, Texas – A woman is suing the Texas Department of Public Safety, its director, and four state troopers in federal court claiming her constitutional rights were violated when she was given an invasive body cavity search on the side of the freeway.
One of the troopers was actually involved in two highly publicized roadside cavity searches that took place two years ago, which drew broad media attention and spawned a lawsuit the state settled out of court, according to Houston 2.
Jennifer Stelly and her boyfriend Channing Castex were pulled over in March of 2013 while driving to Surfside Beach.
Officers arrested Castex after claiming to smell marijuana, to which Castex admitted smoking. A female state trooper was then called in to search Stelly in view of the dash camera in the police cruiser.
Stelly said the troopers were searching for drugs hidden on or in her body.
"She started going into my clothing and she penetrated areas that I don't wish to disclose at this point," Stelly said. "I was scared. I was violated. I didn't know what to do."
The invasive cavity search took place on a busy freeway in full view of the public as they were driving by.
Stelly went on to say,
"I was afraid for one," she said. "But more than afraid, I was publicly humiliated. I was violated in daylight."
Officers found no drugs on or in her.
Castex said he protested what was taking place from the backseat of the squad car.
"I was telling them stop. This not right. You shouldn't be doing this."
Stelly's attorney, Allie Booker went on record stating,
"It's not right for you to sexually violate someone. There is no clause in the constitution or any other law that allows you to do that so they need to be fired."
The idea that for something as trivial as her boyfriend having admitted to smoking marijuana, an innocent person can be subject to such sexually degrading and humiliating actions is shocking
Stelly's constitutional rights, as well as her person, were clearly violated during this incident.
Perhaps if cops want respect from people, rather than disrespectfully turning their backs on public officials at funerals, they should stop sexually assaulting innocent Americans on the side of the freeway.
Jay Syrmopoulos is an investigative journalist, freethinker, researcher, and ardent opponent of authoritarianism. He is currently a graduate student at University of Denver pursuing a masters in Global Affairs. Jay's work has previously been published on BenSwann.com and WeAreChange.org. You can follow him on Twitter @sirmetropolis, on Facebook at Sir Metropolis and now on tsu.