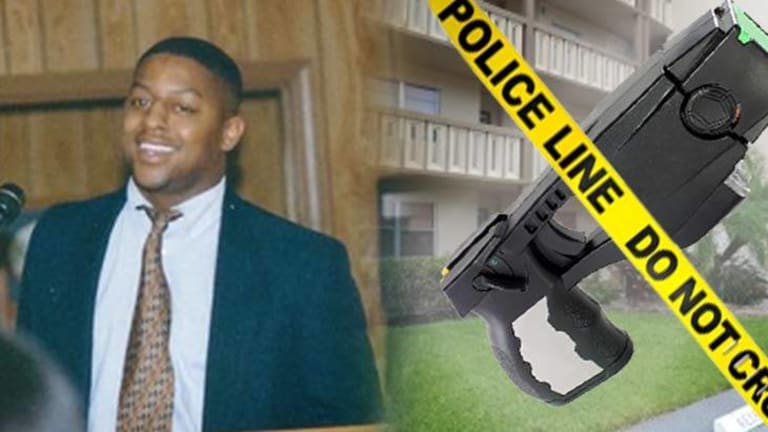 "They're Going to Kill Me," Yelled this Father of Two.... Just Before Police Killed Him
A man died in Coconut Creek police custody last week, but details of the incident were kept under wraps by the department. We now know why.
Coconut Creek, FL -- A man died in Coconut Creek police custody last week, but details of the incident were kept under wraps by the department. We now know why.
John Arendale and Bonnie Eshleman were asleep last week, when they were startled from their slumber by the sound of tasers being fired outside of their front door.
When they looked out the window, they saw as many as five Coconut Creek cops on top of one man, who they say was writhing in pain.
"He was yelling, `Baby, baby, baby. They're going to kill me," Eshleman recalled to CBS4 News.
Arendale recalls watching the altercation from another window in their house. He said he heard one of the officers yelling at the man as he was handcuffing him, "Don't move, or I'll break your f**king arm!"
That's when this story takes a turn for the worse. Arendale said as police lifted up the man he tried to run from officers. At this point, two officers simultaneously fired their tasers into the man.
The man collapsed to the ground and uttered what would be his last words, "I can't breathe."
"When he stopped moving that's when they realized he wasn't breathing," Arendale said.
The man, finally identified as 39-year-old Calvon Reid, would later be pronounced dead. According to those close to Reid, he was a loving father of two, who did not deserve to die.
According to witnesses, the incident started when Reid was found in the private parking lot of a gated apartment complex, Wynmoor Village.
It is still unclear how Reid got into the gated facility. However, the flowers left on the spot where he died, and the fact that he was calling out "baby, baby," suggests that he may have known someone inside.
According to Arendale and Eshleman, one of their neighbors said Reid approached someone who was parking their car in the complex parking lot and asked them for help.
Reid was apparently hurt and was asking for a ride to the hospital. At this point, the resident called 9-1-1 and asked for paramedics to come and check on Reid.
Reid reportedly became belligerent with paramedics and so five police officers responded to the scene. Throughout his interaction with police, Reid, a man who needed help, would be tasered by three separate officers.
Eshleman also said she recalled that while Reid was on the ground, one of the officers struck him in the head with what appeared to be a metal baton.
After the word had gotten out about a man dying in police custody, the department attempted to character assassinate Reid by claiming that the man they killed, "had a lengthy rap sheet."
However, Reids rap sheet appears only to have drug possession charges. Also, from the information we have thus far, it appears that Reid hadn't committed a crime, other than the standard, "resisting arrest." Did he deserve to die because of that?
Coconut Creek police are scheduled to hold a press conference at 3PM on Thursday.
Reid is the second person this week to die at the hands of police and their tasers. Tuesday the Free Thought Project reported the story of Darrell Gatewood, who died after being excessively tasered by multiple cops, over and again until "his heart blew out."
According to Amnesty International, between 2001 and 2008, 351 people in the United States died from being shocked by police tasers. Electronic Villiage has documented another 283 taser-related deaths in the United States from 2009-2014. That means there have been at least 634 documented taser-related deaths in America since 2001. You can view the list here.