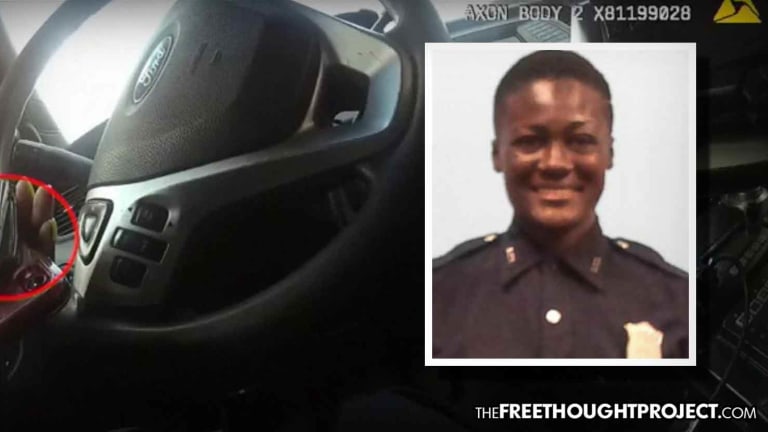 Thieving Cop Caught on Her Own Body Cam Robbing Murder Victim of $500
An Atlanta cop was fired after she was seen on her own body camera removing $500 from a dead murder victim's wallet.
Atlanta, GA -- Adding insult to deadly injuries, an Atlanta police officer was caught stealing from a murder victim. Atlanta Police Department (APD) fired Officer Keisha Richburg this week after her own body camera footage was the only evidence APD needed to catch her stealing $500 out of the dead man's wallet.
Along with the body camera footage APD released a 130-page report detailing the officer's crimes. APD Chief Erika Shields released the following statement to the media which reads in part:
Officer integrity goes to the heart of what we do here every single day...It's imperative the public have trust in our word and our actions. It's extremely disappointing to see the victim of a fatal shooting be victimized twice by the actions of one our officers.
We at TFTP have been told it's the highest form of disgrace to be personally fired from a metropolitan police department by the chief himself/herself, a fact which has not gone unnoticed. Officer Richburg was supposed to hand deliver the contents of the wallet, along with a cell phone and other belongings to the family members waiting for their loved one at the hospital. The crime of opportunity was apparently too much temptation for Richburg who could not account for the money, even though it was handed to her from a medic, the actual hand over caught on her own body camera.
The shooting took place in Northwest Atlanta on June 19th. According to Fox 5 Atlanta:
Richburg's body camera shows her receiving the victim's wallet from a Grady EMT. The wallet has the folded money tucked inside. Moments later, Richburg puts the wallet in her car. The video shows her transferring the victim's wallet from her right hand to her left hand. That's when APD noticed the money is no longer tucked inside the wallet.
Richburg was supposed to hand over the wallet and all of its monetary contents to a sergeant at the hospital but the money was missing when the wallet arrived. It's now up to the Fulton County District Attorney to decide if any charges will be filed against Richburg.
It's not the first time TFTP has reported on the misconduct of officers involving dead and/or dying citizens. Late last year we reported on a similar incident involving a Texas police officer who was caught stealing Christmas money out of a dying man's own pocket.
Officer Linnard R. Crouch from Texas City, TX was caught on his own body camera stealing money from 74-year-old James Mabe who was having a heart attack. Crouch responded to Mabe's medical emergency by lifting $2,400 from Mabe's right front pocket. When the family complained to the police department they believed Crouch had stolen their money, the officer returned just $300 to the family.
Linda Mabe told the press:
At a time when seconds could mean life or death, as my husband clung to life, a police officer who is charged by law to protect and serve robbed my husband when he needed help the most.
Even though Crouch was caught red-handed on his own body camera stealing money from someone, who needed a helping hand not a cop who was helping himself, Crouch didn't spend one day in jail. We doubt very seriously if Richburg will be held legally responsible for the $500 she allegedly stole from a dead man as well.