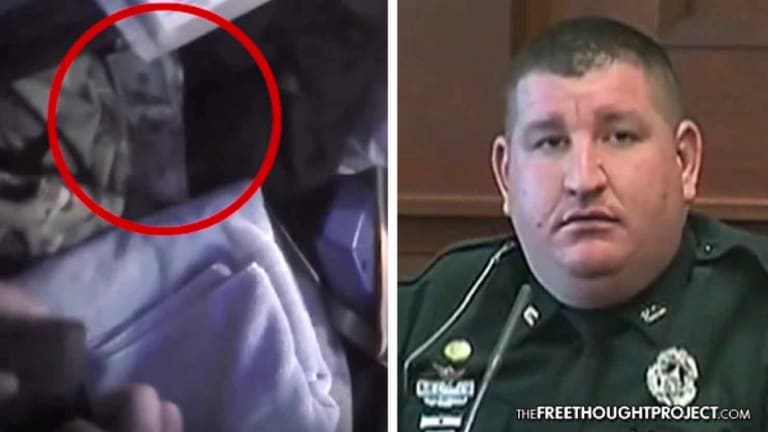 "Thieving Idiot" Cop Gets No Jail In Spite of His Own Body Cam Catching Him Rob a Man
This cop's actions were so egregious that his own sheriff called him a "thieving idiot," however, he will not spend a single day in jail in spite of being caught on his own body cam robbing a man.
Volusia County, FL — Body cams, according to some studies, may serve to reduce corruption and violence from certain police officers. However, as a body cam video out of Florida illustrates, a camera on this cop didn't even deter his desire to commit theft. Now, we know why he felt like he could record himself stealing—he would get away with it.
Deputy John Braman, formerly with the Volusia County Sheriff's Office, was charged last year after he was caught stealing money from a man he arrested.
According to the Daytona Beach News-Journal, the 35-year-old former deputy recently entered no contest pleas to petty theft, official misconduct and grand theft for the crimes he recorded himself committing. He will get no jail time.
What's more, as the Chron reports, Braman was also sentenced to time served for misdemeanor charges, though computer records don't show Braman spent any time jailed on the charges, and ordered to pay restitution to victims.
When he was arrested last year, Braman had a history of complaints filed by people he'd arrested — who all claimed he robbed them. However, not until this theft was caught on video did his department do anything about it.
After he was caught, Braman turned in his resignation after body camera footage — from his own body camera — showed him going through a man's wallet, take out money, and throw it into the trunk.
The incident took place back on August 1, 2016. However, the body camera video wasn't released until February of last year by the State Attorney's Office.
The State Attorney's Office, for unknown reasons, held the video for months as the deputy went on with his regular duties. Not until the video was released this week, 6 months after it was taken, was the investigation launched.
It took a Daytona Beach attorney, who specializes in defending DUI cases to bring the video to the attention of investigators. The attorney, Flem Whited said the original video surfaced in 2016 during another case for one of his clients.
"We get the video in discovery and he's leaning over in the trunk of the car and pulls out the guy's wallet and pulls out two one-hundred-dollar bills. Throws those in the trunk of his car. He puts the wallet back in and closes the trunk," Whited said.
"He represents an infinitesimal number of bad cops around the country but when this gets played in the news it makes everyone who wears the badge have to defend themselves against the actions of this idiot. And that's what he is, a thieving idiot," Volusia County Sheriff Mike Chitwood said Monday in a phone interview with the News Journal.
As the Sun-Sentinal reported, Chitwood says they've had several complaints about Braman stealing money from the wallets of people he arrested. But the department never acted on them.
Perhaps that is the reason this 'thieving idiot' refused to go to court to face those he arrested. According to the News Journal, when investigators started looking into the April 2016 case, they discovered that Braman had previously been reprimanded for not showing up to traffic court hearings, documents show.
When watching the video below, it appears this deputy was so accustomed to stealing people's money after arresting them that he clearly forgot he was doing it — while recording it. Now, this former cop will not spend a single day behind bars for betraying the public's trust and doing the exact thing he was supposed to be fighting.
Not surprisingly, Braman's theft caught on body camera is fairly common for other cops too.
In November 2016, a Denver cop was arrested and suspended without pay after his own body camera footage caught him stealing $1,200 in cash from a crash victim.
Instead of helping an unconscious crash victim, officer Julian Archuleta took advantage of the situation for his own personal gain by going through the man's clothing and robbing him. Archuleta now faces charges of misdemeanor theft, 1st-degree official misconduct and tampering with physical evidence.
Grants Police Department Sgt. Roshern C. McKinney, 33, was arrested in August 2016 after an investigation found that he'd stolen both money and marijuana from the police department. McKinney has since been charged with marijuana distribution, conspiracy, and felony embezzlement — after he recorded himself on his body camera stealing from the evidence locker.