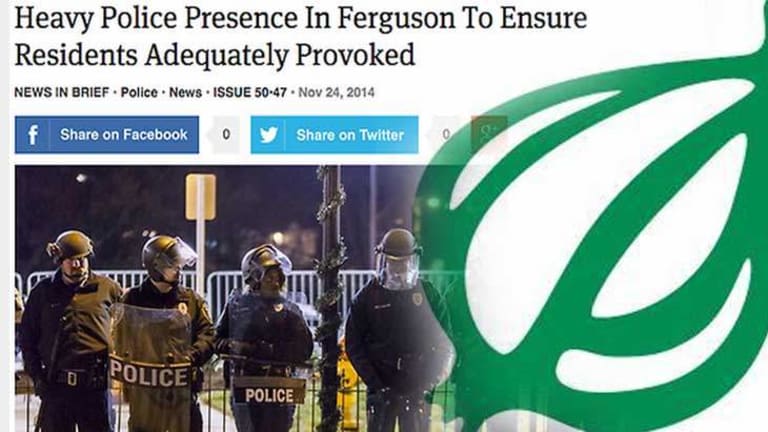 11 Police State Stories by "The Onion" that Could Very Well Be True
Although The Onion is a satire site, it seems to be on point when pointing out police and government corruption.
The satire news website "The Onion" has become well-known for publishing fake news stories that could be true, and point out how totally ridiculous our reality has become. More than once a week, the staff at The Free Thought Project passes around at least one of these articles behind the scenes for fun, but today we are going to share a few of our favorites.
1. Insecure, Frustrated Bully With Something To Prove Considering Career In Law Enforcement
Calling it his lifelong dream, local man Brendan Lockhart, an insecure and perpetually frustrated bully who believes he has something to prove to the world, told reporters Thursday that he is seriously considering a career in law enforcement.

Lockhart, a recent high-school graduate who sources confirmed is plagued by resentment, self-doubt, unexpected fits of rage, and has always had a penchant for tormenting those who are smaller and weaker than him, explained that he feels he is well suited to serve as a police officer.

"I've always wanted to be a cop," said Lockhart, whose paranoia and inferiority complex constantly haunt him, leading him to lash out at others in order to convince them he is in control. "I know it's a tough line of work, but I think I've got what it takes to earn my shield and get out there and keep the peace."
2. Police Headquarters Completes New Addition To Accommodate Officers On Desk Duty For Misconduct
In an effort to expand its congested facilities to better meet the department's staffing needs, the Chicago Police Department announced Tuesday the construction of a new addition to its headquarters that will allow it to accommodate officers who have been placed on desk duty due to allegations of misconduct. "As an increasing number of our patrolmen are reassigned to administrative tasks pending the resolution of their internal investigations, we have found it necessary to expand our floor plan," police chief Garry McCarthy told reporters, saying that the new annex includes ample space for officers removed from active duty and relegated to clerical tasks such as filing reports and categorizing evidence.
3. Humanity Surprised It Still Hasn't Figured Out Better Alternative To Letting Power-Hungry Assholes Decide Everything
Noting that it has had thousands of years to develop a more agreeable option, humankind expressed bewilderment this week that it has yet to devise a better alternative to governing itself than always letting power-hungry assholes run everything, sources worldwide reported.

Individuals in every country on earth voiced their frustration that, in spite of generations of mistreatment, neglect, and abuse they have suffered at the hands of those in positions of authority, they continue to allow control over the world's governments, businesses, and virtually every other type of organization and social group to fall to the most megalomaniacal pricks among them.

"We've all seen what this system leads to, so you'd think that by now, someone, somewhere would have sat down and thought up another way to keep our societies functioning without giving all the power to arrogant, amoral dicks whose only concern is improving their own status," said Mumbai software designer Ankan Rao, one of 7.1 billion humans who conveyed continued surprise that their species has so far proven incapable of formulating a method of governance that was even slightly more tolerable. "Everybody dislikes the people in charge and everybody knows they're only serving their own personal agendas at the expense of everyone else, but we just keep allowing these jerks to make our decisions time and time again. And it's not just here—it's everywhere in the world."
4. Heavy Police Presence In Ferguson To Ensure Residents Adequately Provoked
Ahead of a grand jury's decision over whether to indict officer Darren Wilson in the shooting death of unarmed black teenager Michael Brown, police in the city of Ferguson have reportedly heavily increased their presence this week to ensure residents are adequately provoked. "We've deployed additional officers throughout Ferguson in order to make absolutely certain that residents feel sufficiently harassed and intimidated," said St. Louis County police chief Jon Belmar.
5. Overworked Prosecutor Thinking Of Taking Police Brutality Case As A Little Vacation
Reasoning that he has earned some much-needed rest and relaxation, overworked Cuyahoga County prosecutor Brian Gorman told reporters Thursday that he is thinking of taking on a police brutality case as a nice little vacation. "Honestly, I've had a pretty grueling caseload over the past few months, so I'm looking forward to just kicking back, throwing together some halfhearted spiel about the broad powers of police, and letting the grand jury spit out an acquittal," said Gorman, adding that, without any real pressure to secure an indictment, he'll be able to take his foot off the gas at work for a few weeks and recharge his batteries during the proceedings to determine whether there is enough evidence to bring charges against a police officer accused of killing a suspect.
6. Obama Calls For Turret-Mounted Video Cameras On All Police Tanks
In an effort to restore the public's faith in law enforcement, President Obama made an impassioned appeal this week, calling for the installation of turret-mounted video cameras on all police tanks. "This initiative will ensure that police officers across the country will be held accountable for their actions as they pour out of an 18-ton combat vehicle in response to a routine call," said Obama.
7. Nation Tunes In To See Which Sociopath More Likable This Time
According to reports, millions of viewers across the country are expected to tune in to tonight's town-hall-style presidential debate at Hofstra University in order to determine which complete and utter sociopath they find more likable this time around.

"I'm very curious to see which one of these two clinically sociopathic individuals will present the most convincing and authentic approximation of an actual human conscience tonight," said Cincinnati-area voter Miranda Harrick, 40, adding that both candidates, like all successful politicians, were undeniably skilled at such calculated artifice. "I think whoever is able to best manipulate me into thinking they experience normative emotional states such as empathy and regret will probably have my vote come November, so I'm excited to see what happens."
8. Nation Hopeful There Will Be Equally Random Chance Of Justice For Future Victims Of Police Abuse
Describing the murder charges brought against a white South Carolina police officer who was filmed shooting an unarmed black man as an encouraging step in the right direction, the American populace reported Wednesday they were hopeful that future victims of police abuse would have an equally random chance of receiving justice. "The number of law enforcement officers who have shot unarmed civilians and gone free over the past year has been extremely discouraging, but the fact that this policeman was arrested so swiftly shows that there can be justice for victims so long as a bystander is nearby, has a camera phone on them, captures the whole interaction, and several dozen other circumstances play out in the precise sequence," said North Charleston, SC resident Jenine Williams.
9. Police Pleasantly Surprised To Learn Man They Shot Was Armed
Following a pedestrian stop Monday night during which they fired their weapons on a suspicious individual, patrol officers for the Fayette County Police Department were pleasantly surprised to discover the man they shot was armed, sources confirmed. "Well, what do you know—he really was carrying a gun," said officer Dustin Hayes, smiling upon finding a 9mm pistol on the body of the 23-year-old individual shortly after the policeman and his partner discharged their firearms a total of 19 times.
10. DOJ Announces Initiative To Deploy Smartphone-Carrying Bystanders To Nation's Streets
Saying the measure was necessary to improve public safety, the Department of Justice announced Wednesday afternoon that it intends to deploy thousands of additional smartphone-carrying bystanders to the nation's streets. "We believe increasing the presence of eyewitnesses with smartphones in our neighborhoods will go a long way toward ensuring justice is being served in our communities," said Attorney General Eric Holder, adding that while the department intends to strategically place onlookers on street corners, in parks, and around other public spaces throughout the country, high-risk urban neighborhoods would likely receive the greatest surge in passersby ready to document any misconduct.
11. Do You Know Why I'm Pulling You Over, Being Wildly Aggressive, And Charging You With Assault Today, Sir?
Good afternoon, sir. Go ahead and roll your window all the way down for me. My name is Officer Daniel McEwen from the Greene County Police Department. Now, do you know why I'm pulling you over today, being overly aggressive, and charging you with a felony count of assaulting a police officer?

I'm going to need to see your driver's license, vehicle registration, and proof of insurance. Thank you, sir. Now, just sit tight in your car while I take a look here and grow increasingly hostile. I'm just going to start addressing you in an unmistakably threatening tone that is specifically meant to intimidate and provoke, and then drastically escalate the situation so that it quickly gets out of hand.

Are you aware of the speed limit on this road, sir? It's 35. I had you clocked at 52 miles per hour, which is why I had to stop you and exhibit a nakedly confrontational, antagonistic, and condescending attitude, practically daring you to challenge my authority in any way whatsoever. You can't be driving that fast around here, so I'm going to have to write you a ticket and then violently place you under arrest the moment you do or say anything that isn't in complete and utter compliance—or which could even be remotely construed as noncompliant—with every single instruction I give to you.
The fake news stories that we featured today are not much different from the articles that we post every day, and in many cases reality is even stranger than fiction. At least with the stories in The Onion though, there are no actual victims.
John Vibes is an author, researcher and investigative journalist who takes a special interest in the counter-culture and the drug war. In addition to his writing and activist work, he organizes a number of large events including the Free Your Mind Conference, which features top caliber speakers and whistle-blowers from all over the world. You can contact him and stay connected to his work at his Facebook page. You can find his 65 chapter Book entitled "Alchemy of the Timeless Renaissance" at bookpatch.com.