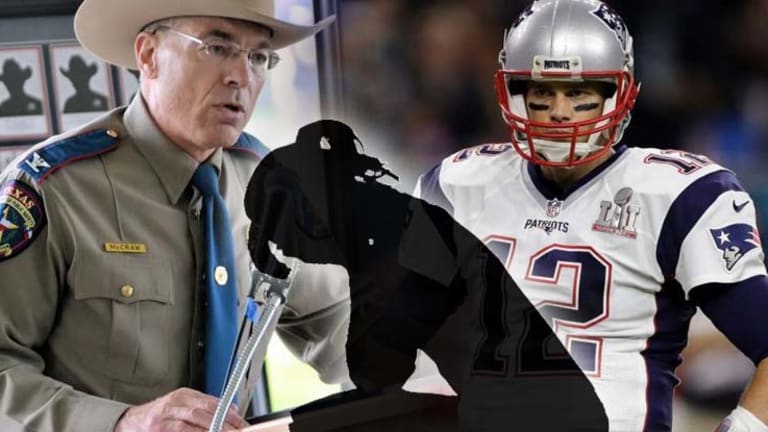 As 20K Rapes Go Unsolved, Texas Rangers Called Out to Find Tom Brady's Jersey
While the Texas Rangers have been ordered by Texas officials to help Tom Brady get his jersey back, over 20,000 rape kits remain unprocessed in Texas.
In the eyes of many fans and even foes alike, Tom Brady has it made. The New England Patriots quarterback and five-time Super Bowl champion is married to super-model Brazilian Giselle Bundchen, and is worth an estimated $44 million, and that's not counting the couple's combined net worth. Giselle's is higher. And together the pair have two children, and seem to have it all together, except one thing is missing; Brady's number 12 jersey from Sunday's Super Bowl game.
The jersey went missing after the game and, according to ABC News, is worth half-a-million dollars. But have no fear, Tom! The Texas Rangers have put out an all-points bulletin on your jersey and if anyone can find it, the Rangers will. But, unfortunately, for all the women who've been raped in Texas, it's one more proverbial slap in the face. You see, while the Rangers have the time to drop everything and go look for Brady's sweaty jersey, they have no time, nor resources, it seems, to process the backlog of rape kits Texas currently has sitting in storage throughout the state.
The New York Times recently examined the state's inability to get the kits DNA tested and determined, "There are some 20,000 untested rape kits sitting on evidence shelves in police departments across Texas, the state Department of Public Safety estimates. Each box with samples of hair, skin and clothing represents one of the worst moments of the victim's life, a crime that was followed by hours in a doctor's office submitting the most personal evidence."
Unsolved rapes are just one facet of crimes the Harris County, Texas police force has a hard time solving. In fact, the sheriff's deputies solved just three percent of the burglaries committed in Harris County in 2014. Likewise, the percentage of solved robberies dropped from a 2008 high of 17 percent to just 8 percent. Returning to the subject of rapes, in Harris County, the number of solved cases fell from 42 percent to just 10 percent. But, of course, when a famous, wealthy, well-connected super-bowl champion loses his jersey, the police stop everything and help solve his dilemma.
We at The Free Thought Project think the move to solve Brady's crime is incredulous, given the fact there are 20,000 untested rape kits just sitting around for someone to process. Why wasn't the response to Brady, "I'm sorry Mr. Brady, but we have our hands full with all of the rape kits which still need processing!" But that kind of reasoning seems foreign to public officials, and police leaders who simply do not have an answer as to why those kits are sitting on shelves collecting dust.
Victoria Camp, deputy director of the Texas Association Against Sexual Assault has a lot to say about how rape survivors feel about the subject of unprocessed rape kits. Camp said, "For nothing to be done with it (rape kits) is a revictimization of that person…And I think that is unfair."
Brady seems to be a little bummed out about the whole ordeal. The New England Patriots beat the Atlanta Falcons 34-28 on Sunday. After the game, Brady changed his clothes. He described what happened to his jersey. "I put it in my bag and I came out and it wasn't there anymore," Brady said. "It's unfortunate, because that's a nice piece of memorabilia." He added, "If it shows up on eBay somewhere, someone let me know."
Texas Lt. Gov. Dan Patrick ordered the state's investigators to assist the Houston Police Department with the investigation. "It is important that history does not record that it was stolen in Texas," Patrick said in a statement.
No, sir, Mr. Patrick. What's important is that rape and crime victims do not needlessly suffer heartache as they are constantly reminded that no crime fighter cares enough about their case to do the proper police work involved in identifying the perpetrators of their crime. In a statement Patrick wrote, "Whoever took this jersey should turn it in," Patrick said in his statement. "The Texas Rangers are on the trail." Well, Mr. Patrick, we'd like to see the Rangers get on the trail of serial rapists and burglars.