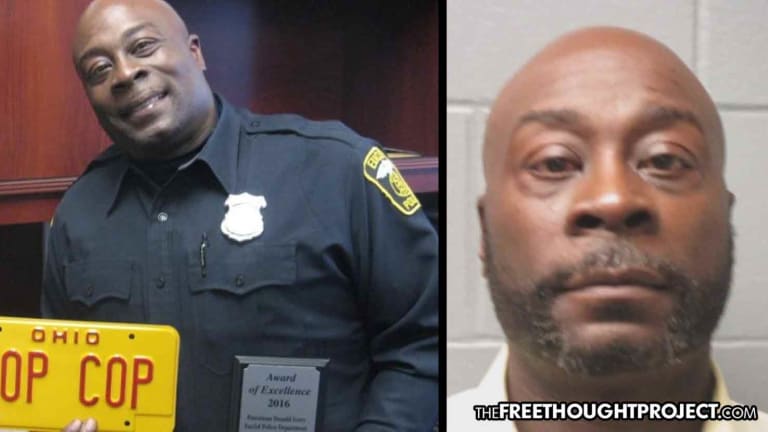 'Superstar Top Cop' Arrested After 13yo Girl Filmed Him Attempting to Rape Her
A highly decorated cop, with a criminal history was arrested again on multiple felonies for the attempted rape of a child.
Euclid, OH — Tensions between police and citizens in Euclid, Ohio have come to a head in recent years after police killed an unarmed 23-year-old man over a marijuana roach, officers were seen on video pulverizing another man over a suspended license, beating the hell out of an innocent man after mistaking his colostomy bag for a weapon, humiliating an innocent woman by assaulting her after she'd just gotten out of the shower, then dragging her from her apartment and refusing to let her put on clothes as they kidnapped her, and pepper spraying a children's party.
Now, they are in the news once more, this time for the arrest of one of their own. Euclid police officer Donald Ivory, 47, was arrested this month on multiple child sex crimes over the attempted rape of a 13-year-old child.
Evidence of the crime was captured on the girl's phone and Ivory apparently knew this, so he threatened to bring her to jail if she didn't hand it over.
"After the assault occurred and became known, he (Ivory) threatened to take her to the juvenile detention center if she did not give up her phone which contained evidence," a spokesperson for the Cuyahoga Co. Prosecutor's Office spokesperson wrote.
The prosecutor's office explained that the girl contacted the Euclid Police Department to file a report last November alleging Ivory assaulted her in the bedroom of his Euclid residence while off-duty between August 15 and August 31, 2020.
Cleveland.com reports, Euclid Police Capt. Mitch Houser said in a news release that Chief Scott Meyer placed Ivory on paid leave while a detective investigated the girl's complaint. The detective presented the results of the investigation to a grand jury, the release said. The release said that Ivory will be placed on unpaid leave as the case moves through the court.
"This indictment sends the message that no one is above the law," Cuyahoga County Prosecutor Michael O'Malley said in a statement. "It is our obligation to protect the children of this community and to hold accountable those who prey upon them."
These words ring hollow, however, given Ivory's past. In 2018, this public servant was fired following multiple instances and charges of domestic violence. He was found guilty and a judge sentenced him to probation that included alcohol screening and domestic violence counseling, according to court records.
The victim told the court she was "assaulted, bitten and choked" by Ivory during the incident. However, because it is often their duty to make sure women-beating, child raping cops stay on the payroll, the union representing Euclid police officers filed a grievance and an arbitrator in January 2019 ordered the city to rehire Ivory.
What's more, prior to the arrest in 2018, Ivory was accused of domestic violence and assault on July 17, 2017 and August 6, 2017 in relation to two incidents involving a different woman. The city said Ivory admitted to slapping the victim four to five times. Yet still, the union fought tooth and nail to keep this cop on the force, and were successful.
According to News 5, in the grievance filed over his dismissal, the union claimed the city did not give "proper consideration" to Ivory's work history, which includes 43 pages of commendations. Ivory was even called a "superstar" in a handwritten note from the chief, according to his appeal. Ivory was also named one of 25 recipients of the "Top Cop" award at the Mothers Against Drunk Driving 2016 Law Enforcement Recognition Event, which recognizes officers for their "superior efforts in OVI arrests," according to the police department's web site.
Imagine being the police union who would fight to reinstate this man. Do you think the union will defend him now that a 13-year-old girl filmed him attempting to rape her? It would not be surprising.
Ivory has since been charged with one count of attempted rape, three counts of gross sexual imposition, one count of disseminating matter harmful to juveniles, one count of tampering with evidence and one count of intimidation of a victim. He is scheduled to be arraigned in Cuyahoga County Common Pleas Court on March 24.