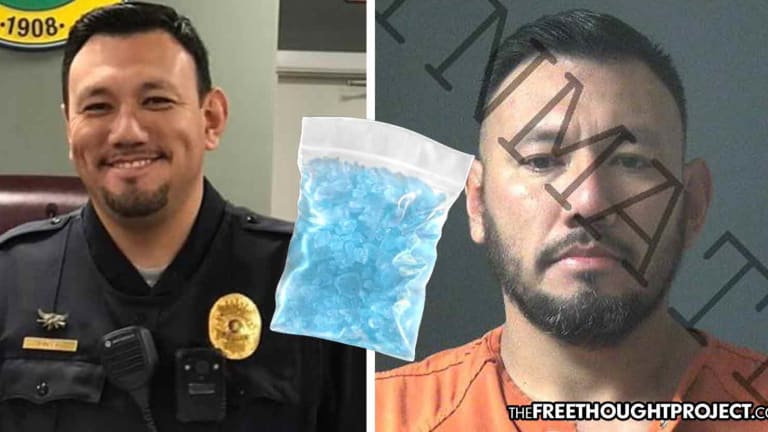 High Level Police Lieutenant Arrested, Held Without Bond For Running Meth Trafficking Ring
An Alabama police lieutenant was ensnared in a massive drug bust buying large amounts of meth to distribute across the state.
Escambia County, FL — There is a saying among police officers that has even been the subject of billboards across the country. It goes like this, "If you don't like police, next time call a crackhead." This puerile catchphrase is thrown about online by police and apologists like it actually has merit and that the only other option for not calling the cops is calling a crackhead. But what happens when the police are the crackheads and meth dealers?
As TFTP readers know, police officers are caught trafficking and using drugs all the time. As the following case out of Florida shows us, even top level officials aren't immune from breaking their oaths to participate in the other side of the war on drugs.
Authorities with the Escambia County (FL) Sheriff's Office Narcotics Unit, SWAT team and Patrol Division conducted a drug trafficking sting earlier this month and ended up nabbing a fellow cop. The cop was a superior officer in the Flomaton Police Department, Lieutenant Isaac R. Lopez.
According to the agency, which was also accompanied by the DEA, Lopez was attempting to buy large quantities meth in Florida, to bring back to Flomaton, Alabama to distribute it.
Lopez had no idea that he was arranging to buy two ounces of methamphetamine from an Escambia County (FL) Sheriff's Office investigator by phone and text messages, according to an arrest report. So, that day, Lopez showed up at the predetermined location and purchased two ounces of methamphetamine from the undercover cop.
"The takedown was in the 5800 block of North Highway 29," Escambia County (FL) Sheriff's Office Commander Robert Quinata told NorthEscambia.com. "There is still a lot of this under investigation."
Though Lopez was not on duty at the time, he was using official police equipment to facilitate the meeting and to purchase the meth. After Lopez made the purchase, he was arrested and was charged with trafficking methamphetamine and using a two-way communication device to facilitate a felony. He was booked into the Escambia County (FL) Jail and held without bond.
NorthEscambia.com reports that Escambia County (AL) Sheriff Heath Jackson said Lopez is expected to face a felony charge in Alabama for user of official position or office for personal gain because Lopez used his Flomaton Police Department issued cellphone.
"He used his city cell phone to orchestrate it," Jackson said. "We believe he was going to come back to Alabama and distribute the meth on this end."
"Our investigation is ongoing and we will continue to follow any leads that might come out of it," Jackson said. "We hold law enforcement to a higher standard…We will police our own people as we do the community."
Jackson told reporters that he doesn't believe any other officers in the Flomaton department were involved. After his arrest, Flomaton Police Chief Charles Thompson announced that he will be firing Lopez.
"Peace officers are to be held to the highest standards and will continue to be held as such," Thompson said. "Actions like these will not be tolerated."
While TFTP feels that people should be able to use and freely exchange these substances deemed illegal by the state, when police officers betray the trust instilled in them by the communities they serve, this is an especially egregious act. Moreover, the hypocrisy of kidnapping and caging people for selling meth while selling meth is even more repugnant.
Sadly, when cops get busted betraying their communities and breaking the laws they enforce, they almost never get jail time. Just last month, TFTP reported on Scott County Sheriff's Deputy Joe Baker and Reserve Officer Phillip E. Thomas who both pleaded guilty to both using steroids and running a steroid ring in which they sold drugs to their fellow officers. Instead of jail, however, they both received less than one year of probation.
In October, we reported on five sheriff's officers in New Jersey who were arrested and pleaded guilty, admitting to purchasing drugs and conspiring to distribute cocaine to fellow officers. However, because they are cops, not a single one of them will see the inside of a jail cell.
Despite betraying the community's trust, breaking their oaths to the constitution, and using their positions in law enforcement to commit crimes which they are tasked with stopping, the officers were sentenced to probation only.
Due to "his years of honorable service" Lopez will likely experience a similar fate.