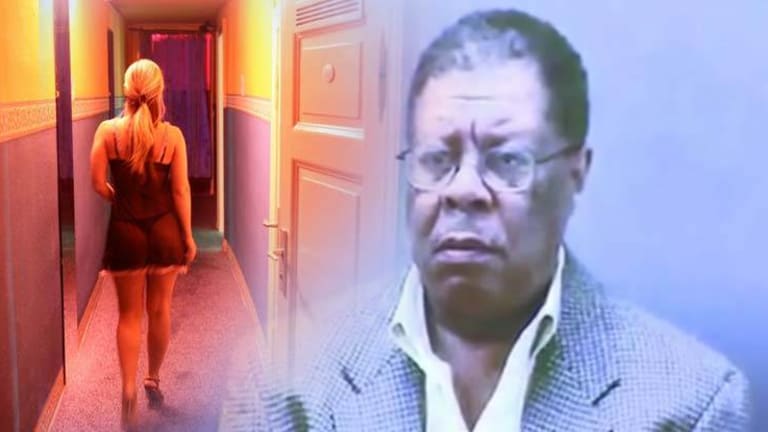 Top Prosecutor, "Outspoken for Ending Prostitution" -- Busted Buying Sex HUNDREDS of Times
A prosecutor responsible for arresting countless sex workers and their clients was one of the business' most popular clients.
Ingham County, MI -- When it comes to the government, in general, the notion of 'do as I say, not as I do' rings true through every level, from the parking transit officer to the president.
Hypocrisy is a function of the state.
The citizens of the US are often reminded of this hypocrisy when members of the government commit such heinously criminal and hypocritical acts that they are cast out from their curtain of government protection.
The most recent case of government hypocrisy comes from a Michigan prosecutor, who, for the past 20 years, has been the top prosecutor for sex workers, a man who put sex traffickers in jail and built a reputation as "an outspoken advocate for ending human trafficking and prostitution," according to a statement released by Michigan Attorney General Bill Schuette (R).
Prosecutor Stuart Dunnings III was arrested Monday at a coffee shop near Lansing, on not one, not 10, but hundreds of illegal encounters in Michigan over the last 6 years.
"This is not a going into Barnes and Noble and buying something as a client or a customer," Schuette said. "This is an instance where an officer of the law, an officer of the court, the prosecutor in the capital city of Michigan has a responsibility to enforce the law, report crimes, but he did just the opposite. He was a participant in commercial sex activity."
According to the Washington Post, 
Dunnings faces 15 criminal charges across three counties, including willful neglect of duty and pandering. The latter charge stems from the prosecutor paying for sex with a woman who was seeking help resolving a child custody dispute, according to the affidavit.

He was also charged with 10 counts of engaging in the services of prostitutes, a misdemeanor, in Ingham, Clinton and Ionia counties.

After being processed in the Ingham County jail, Dunnings was arraigned and released on bond.
Dunnings was known for his harsh sentences for prostitutes and their customers. "In the first two years alone, his prosecutors charged 19 people with felonies and impounded 53 vehicles," according to the Lansing State Journal.
Dunnings was the highest paid official in Ingham County, with a salary of $132,000 -- most of which went to his sex habit. Dunnings was shelling out hundreds of dollars at a time, three to four times a week to pay for sex workers.
Then, after he was done getting his rocks off, he'd go back to court like nothing happened, and continued to ferociously attack sex workers in his position as prosecutor. His hypocrisy is sickening.
"I've known Stuart for a long time," Ingham County Sheriff Gene Wriggelsworth said at a news conference. "We've done some campaigning together. This was a huge betrayal of his trust, his oath of office, his service to the people of this county."
The idea of Dunnings paying for sex is not the repulsive part of this scenario either, as many will attempt to imply. What's forbidding is the fact that he would lock people up for an act he actively participated in.
In the Land of the Free, it is against the law to get paid to have sex, unless that sex is filmed, distributed on DVD, and taxed. One of the least talked about systems of oppression in the US is that of persecuting prostitutes.
When referencing prostitution, we are talking about the mutually beneficial exchange of sexual favors for money by two or more consenting partners; not forced human trafficking.
It's called the "oldest profession in the world" for a reason. Sex is a basic human need. One need only observe the explosive population growth of humans in the last 10,000 years to see that desire to mate is inherent in each and everyone one of us.
When one takes this into consideration, the notion of outlawing consensual sex is seen for what it is, sheer insanity.
Just like the war on drugs creates crime by pushing the unending demand for illicit substances into the black market, the war on the sex trade creates crime in the same manner.
Because the demand for sex is pushed into dark alleys and late night street corners, a woman working in the sex trade becomes far more vulnerable than if they were legally allowed to operate out of brick and mortar setups. This danger of working on the street drives the need for protection from pimps who are often more abusive than any customer would be.
Despite the tens of thousands of arrests each year, the market has found a way to provide the service of sex using safer solutions. In spite of the laws, sellers of sex have found ways to safely conduct business by setting up "massage" parlors, using phone books, and, of course, the internet.
Besides being an immoral gang of thieves, the state is also relentless. They have deep pockets of extorted tax dollars of which to dig in to enforce their distorted will on the people.
Despite prostitution arrests dropping from 2001 to 2010, the cost of arresting people for sex remains staggeringly high. Individual cities continue to spend up to $23 million a year stopping people from having voluntary sex.
Meanwhile, involuntary sex goes uninvestigated at an alarming rate. Hundreds of thousands of rape kits are sitting in police departments across the country -- collecting dust, as cops petition the government to allow them to have sex with prostitutes so they can then bust them.
In police state USA, truth is stranger than fiction.