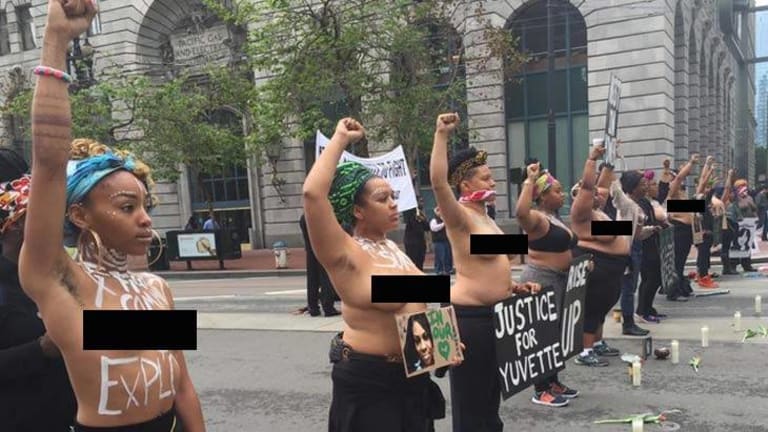 #SayHerName: Women Across the Country go Topless to Protest Police Brutality Against Women
Topless protestors, demonstrating in support of the #SayHerName campaign, staged a topless rally in San Francisco that shut down traffic.
San Francisco, Calif. - During a nationwide day of action Thursday to raise awareness about the killing of black women and children by police, topless women blocked traffic in downtown San Francisco.
The demonstrations were part of a national campaign to protest the police killings of Tanisha Anderson, Rekia Boyd, Aiyana Jones, Yvette Smith, along with numerous other females killed by police.

The national demonstrations came on the heels of a report released Wednesday by the African American Policy Forum titled Say Her Name: Resisting Police Brutality Against Black Women. The forum is dedicated to telling the stories of a number of black women who were victims of police brutality.
Protestors around the country held signs with the hashtag #SayHerName along with pictures and names of the numerous black women that have died as a result of police brutality.

Organizers felt compelled to put together the rallies to raise awareness about the victimization of black women at the hands of police after their deaths were seemingly overlooked by the media.
Jay Syrmopoulos is an investigative journalist, freethinker, researcher, and ardent opponent of authoritarianism. He is currently a graduate student at University of Denver pursuing a masters in Global Affairs. Jay's work has previously been published on BenSwann.com and WeAreChange.org. You can follow him on Twitter @sirmetropolis, on Facebook at Sir Metropolis and now on tsu.